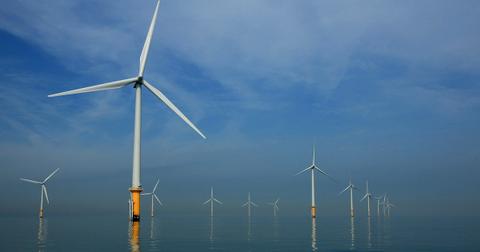 Biden Approves Historic Offshore Wind Farm, Vineyard Wind
By Sophie Hirsh

Mar. 10 2021, Published 11:44 a.m. ET
It will be a while before the U.S. is entirely powered by renewable energy — even though we so desperately need it to be — but a new project is helping bring the nation a bit closer to that goal. President Joe Biden just approved an offshore wind project called Vineyard Wind, located in Massachusetts. 
The project has been in the works for years, and environmentalists are applauding the move, which brings Vineyard Wind one step closer to becoming a reality.
Article continues below advertisement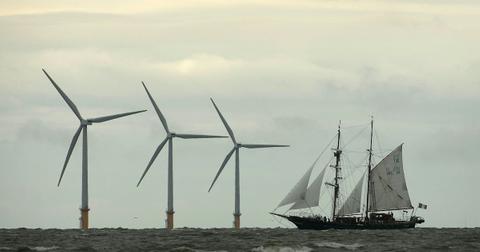 Biden just approved an offshore wind farm in Massachusetts.
Article continues below advertisement
Assuming those last two agencies do sign off, Vineyard Wind is expected to start providing electricity to Massachusetts homes in 2023, according to Vineyard Wind.
What is the Vineyard Wind project?
Vineyard Wind is an offshore wind project, being managed by Avangrid Renewables and Copenhagen Infrastructure Partners (CIP). The project was first proposed in 2009, and it has been subjected to more than three years of governmental review.
Article continues below advertisement
The $2 billion project has already leased a 160,000-acre area of water, located about 15 miles south of Martha's Vineyard's shore, near Cape Cod. If completed, Vineyard Wind claims the project will produce affordable renewable energy for more than 400,000 homes and businesses in Massachusetts, which would help reduce carbon emissions by more than 1.6 million tons every year.
Vineyard Wind also claims that the project will be the first utility-scale offshore wind energy project in the U.S., marking an exciting milestone in the country's journey toward a renewable energy economy.
According to Vineyard Wind, Massachusetts has a goal of generating 3,200 megawatts of offshore wind by 2035 — that would represent about 20 percent of the state's entire electricity consumption.
Article continues below advertisement
The offshore Vineyard Wind project could create jobs in Massachusetts.
"This is truly a significant step forward in the process for moving towards more offshore wind development in the United States," Amanda Lefton, director of BOEM, told reporters on a call today, according to E&E News.
Article continues below advertisement
Lefton and Vineyard Wind CEO Lars T. Pedersen both drew attention to jobs this project will create across Massachusetts. "Offshore wind is a historic opportunity to build a new industry that will lead to the creation of thousands of jobs, reduce electricity rates for consumers and contribute significantly to limiting the impacts of climate change," Pedersen said in a statement on Vineyard Wind's website.
Many experts have noted the importance of a green recovery plan from the coronavirus pandemic — that's one that would prioritize repairing the economy, creating jobs, fighting emissions, and improving public health. Building new renewable energy projects like Vineyard Wind and transitioning away from fossil fuels is an important step in achieving all that.