6 of Our Favorite Organic Tampons
Organic tampons can lower the environmental impact of your menstrual cycle — and they're much better for you and the planet.
Choosing a period management product to use during menstruation is very much a "personal choice." But as we learn more and more about climate change, the current state of our environment, and just how laden with trash our planet is, it's becoming clearer that making a decision about period products is also a decision about the planet. Whether you choose to use organic tampons, a reusable silicone menstrual cup, organic pads, or something else, it's important to reconcile with the environmental impact of having a period.
Article continues below advertisement
After all, when the average menstruating human discards anywhere from 250 to 300 pounds of pads, plugs, and applicators in their lifetime, that's nearly 300 pounds of non-recyclable trash that goes straight to landfills.
Aside from sitting in landfills, tampons have been getting a bad rap in recent years as tampon companies don't have to legally disclose the ingredients. If you are a person who gets a period, then of course you want to know what you're putting in and around your body. That's where organic tampon options come in.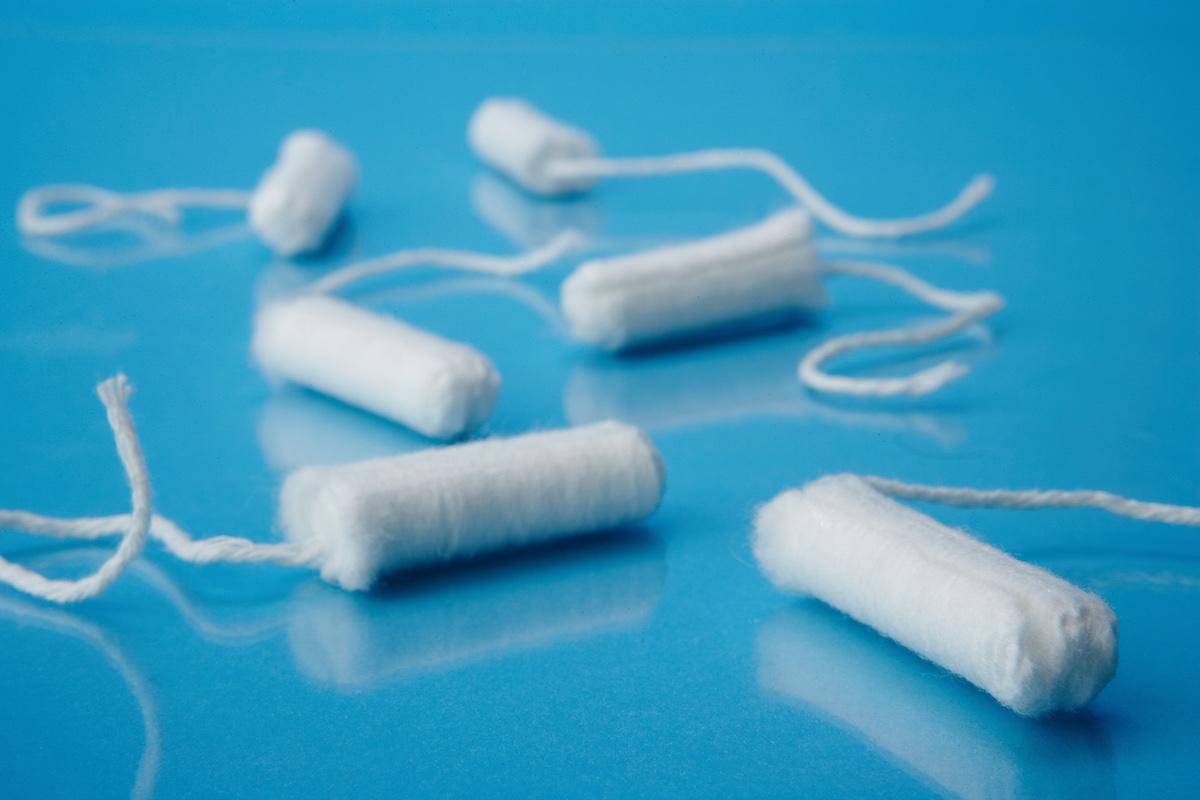 What's an organic tampon?
Organic tampons are an effective period management choice for people who aren't ready to make the leap to a reusable method like menstrual cups, cloths, or period underwear. Organic tampons are a great first step as they are made of more natural materials and are non-toxic.
Organic tampons are generally chlorine-free and made from 100 percent organic cotton. Regular tampons are generally made with a blend of rayon and non-organic cotton, though as mentioned before, tampon companies do not have to disclose their ingredients.
Organic tampons are also bleached with peroxide whereas traditional tampons are dosed with chlorine, which creates dioxin as a byproduct. Dioxin is a carcinogen, and might even be a hormone disruptor that can affect your fertility, but more research is needed. While dioxin is terrifying, it is worth noting that the FDA requires tampon companies to monitor dioxin levels in their tampons.
But since organic tampons don't use chlorine, they don't make dioxin as a byproduct, so you can live a carefree life never worrying about dioxin at all. Organic tamps also claim to be made without synthetic materials that add to absorbency, pesticides, and GMOs.
What are the benefits of using organic tampons?
First off, organic tampons are the better option for the planet. Because they don't contain synthetic and toxic ingredients like pesticides, herbicides, bleach, chlorine, and other disinfectants, they are certainly the more natural option, and will break down quickly and more safely for the environment. Plus, if you have a compost pile in your backyard and are comfortable with this, you can even compost 100 percent cotton tampons.
Organic tampons are also healthier for you and your body. Since tampons go inside your body, it's important to know what's inside of them. Would you really choose to insert something inside your body if it had the potential to cause cancer or affect your ability to have children?
Because organic tamps are generally made without synthetics, they're also generally fragrance-free. Fragrance can cause a bad reaction or irritation in some people. Especially if you have sensitive skin, unscented organic tampons are the way to go.
Article continues below advertisement
Which are the best organic tampons?
You're in luck, as there are more organic tampon manufacturers out there than ever. Menstrual product brands like Maxim, This Is L., Natracare, and Cora not only make organic tampons, but they also practice more sustainable production, so you don't have to have that on your conscious each time you insert a tampon.
Here are a few of our favorites.
Article continues below advertisement
Cora
Buying Cora's organic tampons means championing your own menstrual health, but did you know it also means doing good on a broader scale, too? For each one-month period care subscription purchased, Cora provides one month of products and health education to a girl in need through non-profit organizations in both Kenya and India. Cora also makes an applicator-free organic tampon, so there is no unnecessary waste, and doesn't use any plastic packaging. Get them here.
Article continues below advertisement
LOLA
LOLA, too, makes organic tampons that are applicator-free. Guaranteed to provide leak protection, these tampons are hypoallergenic, so they're also the clear choice for someone with sensitive skin. They may look small, but they be mighty (absorbent). It's worth noting though that LOLA uses plastic in its packaging. Get them here.
Article continues below advertisement
This Is L.
You may recognize This Is L. from its super cute (but unfortunately, not sustainable) packaging, as Target carries this GOTS-certified organic cotton tamp brand. This Is L.'s tampons are made free from pesticides, chlorine, fragrances, and dyes. While the brand's tampons do come with a single-use plastic applicator, it claim they are BPA-free. We do wish This Is L. would make the move to remove plastic packaging and switch to cardboard though. Get them here.
Article continues below advertisement
Natracare
Natracare offers cardboard packaging and a cardboard applicator in its organic tampons. Made with 100 percent organic cotton and totally free of chlorine, plastic, rayon, and dyes, Natracare claims there is less fiber loss with the brand's tampons. Fiber loss is when the fibers of the tampon (it usually happens with rayon) sheds inside the vagina, leaving behind fiber residue. Since cotton fibers are less likely to do that, Natracare claims that its tampons are safer. Natracare also bills its tampons and applicators as biodegradable and compostable. Get them here.
Article continues below advertisement
Bon
Bon Certified Organic Cotton Tampons are a New Zealand product made with 100 percent GOTS-Certified cotton. Free of dyes and fragrances, Bon never uses any pesticides, fertilizers, insecticides, or bleaches in its production, so you can feel safe opting for a Bon tampon during your period. Get them here.
Article continues below advertisement
Seventh Generation
Seventh Generation has all the benefits of most organic tampons but is one of the cheaper and more widely-available brands. Never made with fragrances, deodorants, or chlorine, these are also made applicator-free, so there is no plastic involved at all. Get them here.