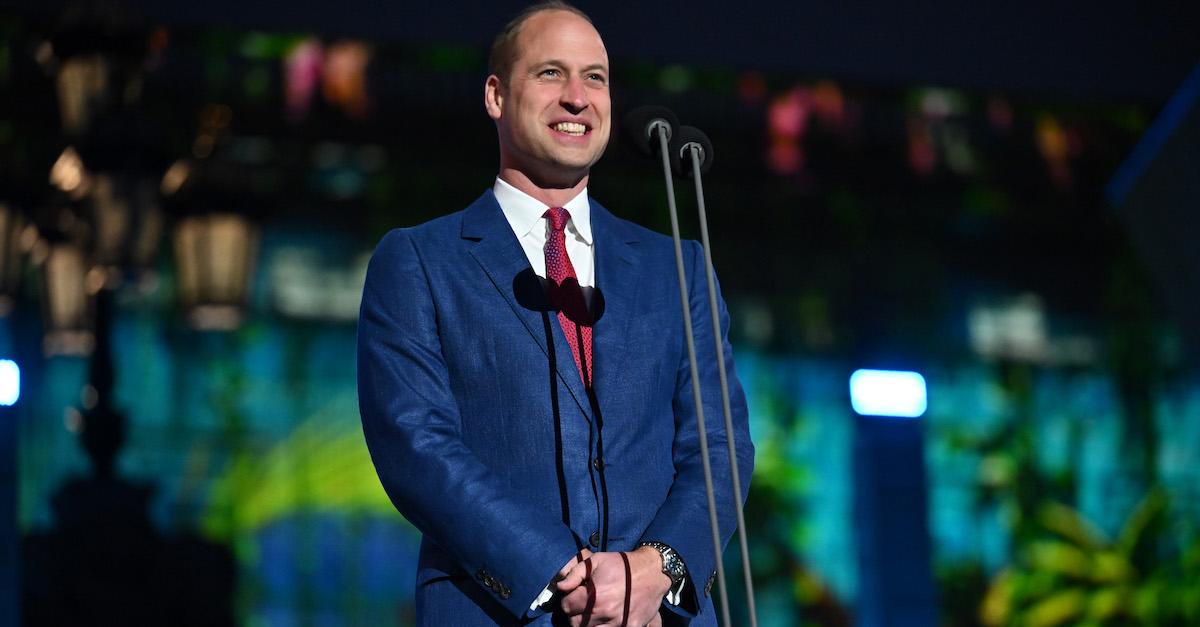 Prince William's Earthshot Prize Innovation Summit Speech Addresses Climate Change
On Wednesday, Sept. 21, Prince William addressed the ongoing fight against global warming, to the Earthshot Prize Innovation Summit, which took place in New York City. Although he could not be there in person, due to the recent passing of his grandmother, he was eager to get a word in about the importance of lowering your impact and continuing the fight against climate change.
Prince William's Earthshot Prize Innovation Summit speech was hopeful — despite his recent tough go.
Article continues below advertisement
"Although it is the saddest of circumstances that means I cannot join you in person today, I am pleased to be able to join you in video," he stated in the video, eluding to the recent passing of his beloved royal grandmother, Queen Elizabeth II, a few weeks ago on Sept. 8. "During this time of grief, I take great comfort in your continued enthusiasm, optimism and commitment to The Earthshot Prize and what we are trying to achieve."
"Protecting the environment was a cause close to my grandmother's heart," he continued, "and I know she would have been delighted to hear about this event and the support you are all giving our Earthshot Finalists — the next generation of environmental pioneers."
Watch the full speech in the video, below.
Article continues below advertisement
What is the Earthshot Prize Innovation Summit?
The Earthshot Prize Innovation Summit is an initiative launched in October 2020 by Prince William and the Royal Foundation. Per Earthshot, it was created to inspire change and help curb climate change over the next 10 years. The summit seeks out a worldwide search, and selects five innovative winners out of 15 finalists, spanning a wide range of categories, including: Protect and Restore Nature, Clean Our Air, Revive Our Ocean, Build a Waste-Free World, and Fix Our Climate.
Article continues below advertisement
The winners of the Earthshot Prize Innovation Summit receive a cash prize of $1 million. They also gain the opportunity to network with other like-minded professionals in the sustainability field. Ideally, as a result, said innovators will find others to support their projects, in order to foster environmental change.
In 2021, the ceremony took place in London, and prizes were awarded to projects from Costa Rica, Italy, the Bahamas, and India.
Article continues below advertisement
What did Prince William say about climate change in his Earthshot Prize Innovation Summit speech?
Though Prince William has had a rough few weeks, his speech was both hopeful and focused.
"I know that the world is an uncertain place right now," he stated. "Many families and communities across the globe are facing unimaginable challenges – from conflict to energy crises and food shortages. While addressing these in the short term, we must also remain resolutely focused on tackling the greatest challenges that threaten our tomorrow."
"Because if we don't, the changing climate will only serve to entrench these immediate challenges into fundamental global issues, severely impacting the lives of each and every one of us," he continued.
William also quoted former U.S. president John F. Kennedy Jr., and nodded to Caroline Kennedy, the US ambassador to Australia, praising her father as an inspiration.
Article continues below advertisement
"As the moonshot [speech] inspired a great decade of technological transformation, our Earthshot decade must inspire action, creativity and collaboration around the globe," he stated. "Together, we need to ensure the transition to sustainable solutions is the fastest and most endemic change the world has ever known."
Article continues below advertisement
What were Queen Elizabeth II's views on climate change and environmentalism?
In addition to being an animal lover, Queen Elizabeth II was a proponent of environmentalism.
As recently as 2021, per E&E News, she publicly criticized worldwide inaction on climate change while visiting the Welsh parliament. During a Christmas Day speech in the early 2000s, she also mentioned the importance of taking action. And in 2004, she pressed former Prime Minister Tony Blair about his avoidance of addressing climate change — these were only a few examples of how she spoke out about it.
Prince William's late grandfather and Queen Elizabeth II's husband, Prince Philip, also held the title of president of the World Wildlife Fund. Meanwhile, Prince William's father, King Charles III, has also spoken out about global warming.