Solar-Powered School In Denmark Lets Kids Grow Their Own Food
Looking back at our childhoods, we've probably learned and remembered more from hands-on experiences than we did studying textbooks. A secondary school in Denmark hopes to be more engaging with students with a solar-powered building that teaches them how to grow and cook food in the rooftop garden. Not only will it boost an education, but it will also provide a number of energy-saving features.
Article continues below advertisement
Architecture form C.F. Møller has been tasked with creating the New Islands Brygge School in Copenhagen. Boasting a size of 105,690 square feet, this new school allows for up to 784 students with additional rooms for the staff and various activities. An additional 43,000 square feet around the building will feature an outdoor area with more gardens.
Article continues below advertisement
The central room of the school is a massive space that acts as a dining hall and a gathering point for student activities. Multiple kitchens will be in the area, including one geared for the outdoors. A large rooftop garden will also mesh with the entire building, being accessible from every classroom. There will be an additional biology garden and greenhouses in the outdoor area.
Focus isn't limited to just teaching students how to grow fruits and vegetables and cook their own meals. There's an emphasis in physical activity, meaning there will be a number of recreational facilities in the complex's four levels. The entire school can be accessed from three different entrances, each having its own unique feel when reaching the center room.
Article continues below advertisement
"We wish to create a school of high quality for teachers, pupils and staff, to facilitate play and learning, with special focus on the indoor environment and a good outdoor environment," Martin Lose, section director at MT Højgaard, said in a press release. "The school will also be the gathering point for local associations and sports clubs, with easy accessibility and openness at the ground floor level, so that people from outside also feel welcome at the school."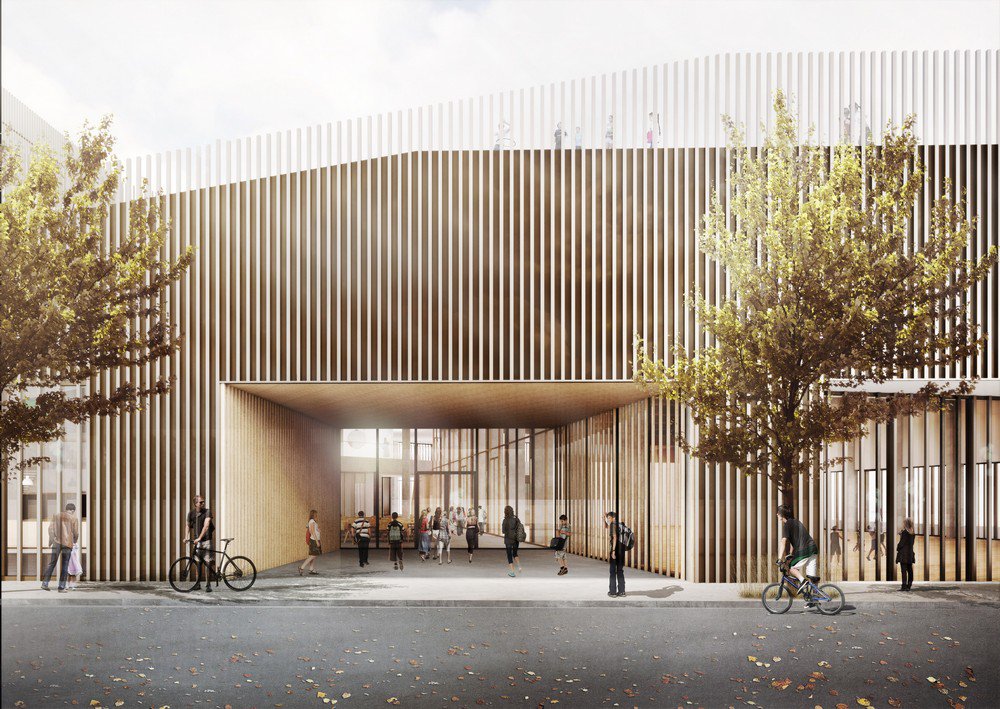 Article continues below advertisement
C.F. Møller hopes to achieve certification from the German Sustainable Building Council (DGNB). The organization holds strict guidelines for six aspects of a building, including the environmental impact, technology, and location. According to Inhabitat, the school will feature "ventilation with heat recovery, natural ventilation, day-light-controlled lighting, and a highly insulated envelope." There will also be solar panels in the rooftop gardens to provide an energy source for the school.
The New Islands Brygge School is expected be completed by May 2020, in time for the following school year and to give school employees and children time to transfer over. This provides ample time for planning and construction while also trying to meet sustainable needs.