Volkswagen's Mini Bus Is Coming Back And It's All Electric
The Volkswagon Mini Bus was the most popular vehicle for hippies, and soon it will be back with an all-electric drivetrain.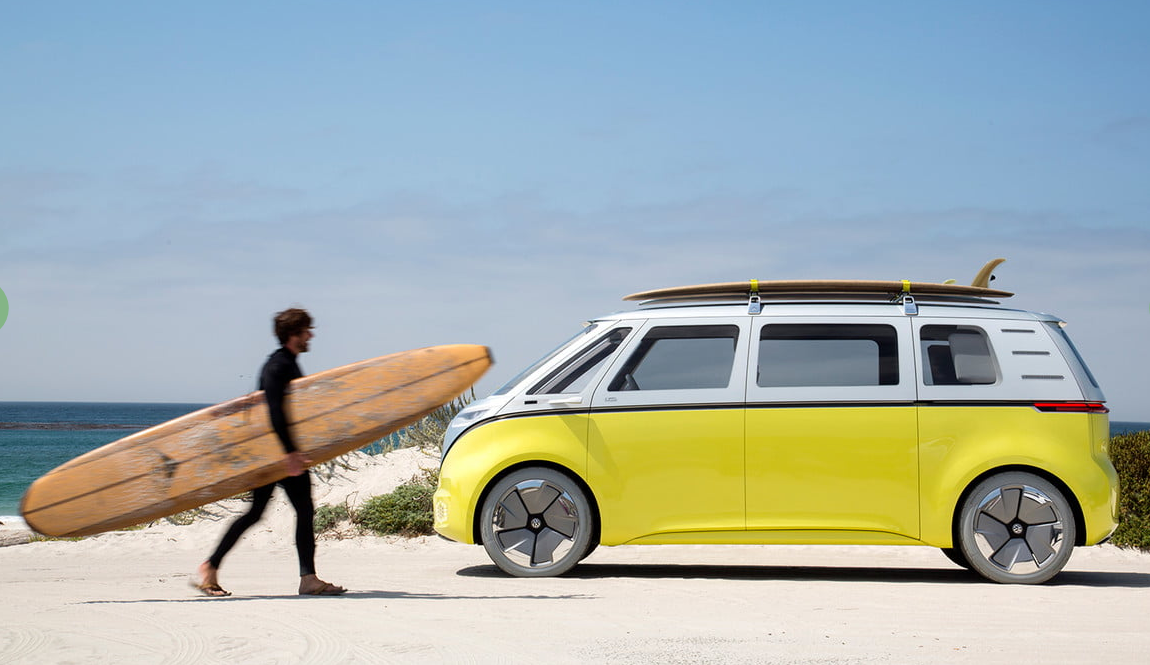 Good news for all you nostalgia buffs: The iconic VW minibus is back, and this time it's going to be devoid of the noxious fumes that come with the originals. That's right – the new minibus is going electric.
Article continues below advertisement
Called the I.D. BUZZ, the new VW will be an eco-friendly four-door van with a range of 270 miles, 369 horsepower from an all-electric drivetrain, and a 111 kWh battery pack can reach 80 percent charge in 30 minutes. The only downside is you'll have to wait a bit: the BUZZ won't hit showrooms until 2022.
Volkswagon announced their new project at the 2017 Pebble Beach Concours d'Elegance in Monterey, California last week, a decision the company made as a nod to the role California played in creating the culture that made the minibus an icon.

Article continues below advertisement
"This vehicle unites past and future, as well as Pebble Beach and Silicon Valley," Volkswagen CEO Dr. Herbert Diess said in a statement. "The Microbus has long been part of the California lifestyle. Now we're bringing it back by reinventing it as an electric vehicle."

Article continues below advertisement
The new electric bus is part of Volkswagen's grander goal of introducing 30 electric or hybrid models by 2025 and sell two to three million of them a year, a response to last year's Volkswagen emissions scandal.
The original minibus hit the market in 1950 and quickly became a symbol of America's counterculture movement. Hippies traveled across the country in the buses, following the Grateful around, posting up at rallies or living an off-the-grid lifestyle in the converted campers. It was such a symbol of the movement that when Grateful Dead guitarist and cultural icon Jerry Garcia died, Volkswagen ran an ad of the bus with a single teardrop as an homage.
Article continues below advertisement
After many iterations and a long history, the bus was discontinued in 2013 due to its lack of modern safety requirements, including airbags and anti-lock brakes. Then in 2016, VW unveiled a new version called the BUDD-E, a high-tech electric concept able to get up to 373 miles on a single charge. And now it has introduced the I.D. BUZZ, a concept more closely harkens back to the original minibus.
VW is not alone in its quest to crack the case of the eco-friendly long-range recreational vehicle. The announcement of the I.D. Buzz comes in close succession to the announcement of a solar-powered electric motorhome by another German company, Dethleffs. And both companies join the rush of unconventional vehicles taking advantage of rechargeable technologies: There are electric semi-trucks, solar-powered tiny homes, and an influx of renewables-powered everyday vehicles. Still, nothing quite beats the sentimental dream of a cross country roadtrip in VW bus. And now you can match that dream to your eco-friendly, guilt-free lifestyle.