Hugh Jackman's Basal Cell Carcinoma Scare — Its Symptoms, Stages, Treatment, and More
Hugh Jackman recently announced that he may have basal cell carcinoma, and is undergoing tests. Here's what you should know about the cancer.
Article continues below advertisement
"I just went to my doctor... and she just saw little things — could be or could not be basal cell, in her opinion. She doesn't know... Just to remind you, basal cell, in the world of skin cancers, is the least dangerous of them all," Jackman said, reassuring his fans in an Instagram video. "I'll find out [the results] in two or three days, and as soon as I know, I'll let you know."
"If I can just take this opportunity to remind you summer is coming, for those of us in the Northern Hemisphere, please wear sunscreen," he continued. "No matter how much you want a tan, trust me, trust me, trust me. This is all stuff that happened 25 years ago; it's coming out now. Put some sunscreen on. You'll still have an incredible time out there. Please be safe."
Watch the full video, below.
Article continues below advertisement
What is basal cell carcinoma?
According to The Skin Cancer Foundation, basal cell carcinoma (BCC) is a type of skin cancer.
It's caused by sun exposure or by UV damage to the outermost layer of the skin. This causes the already-existing basal cells on the outermost layer to reproduce en masse. With more than 3.6 million people diagnosed in the U.S. every year, it's the most common variety of skin cancer, and fortunately, it's highly treatable as long as it's caught early on.
Article continues below advertisement
But with that in mind, it's important to address BCC and skin conditions as quickly as possible, to ensure you're receiving the proper treatment. So recognizing the signs and symptoms, and seeing a dermatologist on the regular, is crucial to prevent it from possibly getting worse. However, it's important to note that this article isn't medical advice, and if you're concerned, you should refer to an actual doctor.
Article continues below advertisement
Warning signs and symptoms of basal cell carcinoma:
According to American Academy of Dermatology Association, basal cell carcinoma generally appears as a shiny, round, raised growth on the head or neck. However, its appearance can vary, depending on where it is, your skin tone, age, and more. It can also also look like a dry patch, a sore, a skin irritation, or a scar.
Article continues below advertisement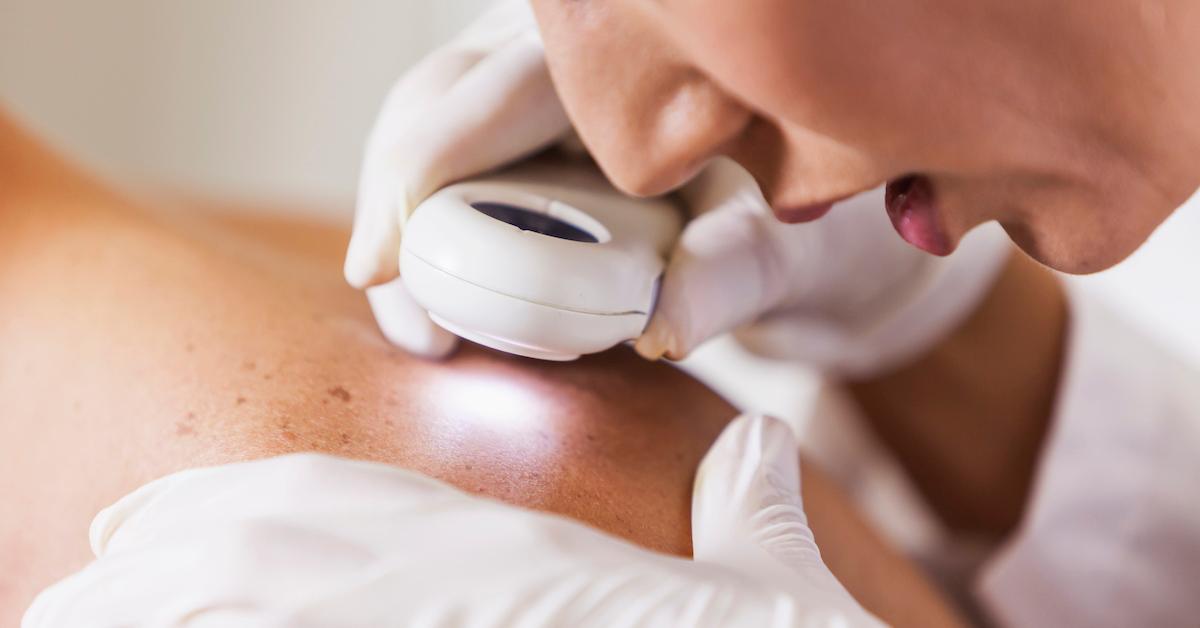 Basal cell carcinoma stages and treatment:
Usually, basal cell carcinoma isn't assigned stages. But when it is thick or has impacted lower layers of the skin, per Moffitt Cancer Center, it's assigned a stage, ranging 1 to 4, with 4 being the highest — or most aggressive.
Stage 0 means the cancer is only affecting the outermost layer; stage 1 means it's 2 centimeters max; stage 2 is larger than 2 centimeters and is likely to return or spread; stage 3 has spread to lymph nodes; and stage 4 has spread to lymph nodes, organs, and/or bones.
Article continues below advertisement
If it's caught early, treating basal cell carcinoma is incredibly, easy because it can be removed. According to The Mayo Clinic, this is most often done with surgery, to ensure all unhealthy tissue is removed from your body. If you can't or don't want to undergo surgery, you can receive curettage and electrodessication (C and E) which involves scraping it off; radiation; freezing; topical treatments; or photodynamic therapy.
If the cancer spread to other parts of the body — meaning you're in stage 3 or 4 of the disease — patients may need to undergo targeted drug therapy or chemotherapy, though hopefully that won't be the case for you, or for Mr. Hugh Jackman.