Vegan Philadelphia Cream Cheese Is the Cruelty-Free Shmear of Our Wildest Dreams
Plant-based folks and lactose intolerant bagel lovers alike are looking forward to getting their hands onVegan Philadelphia cream cheese.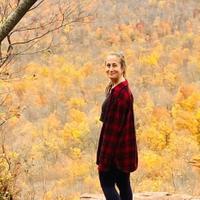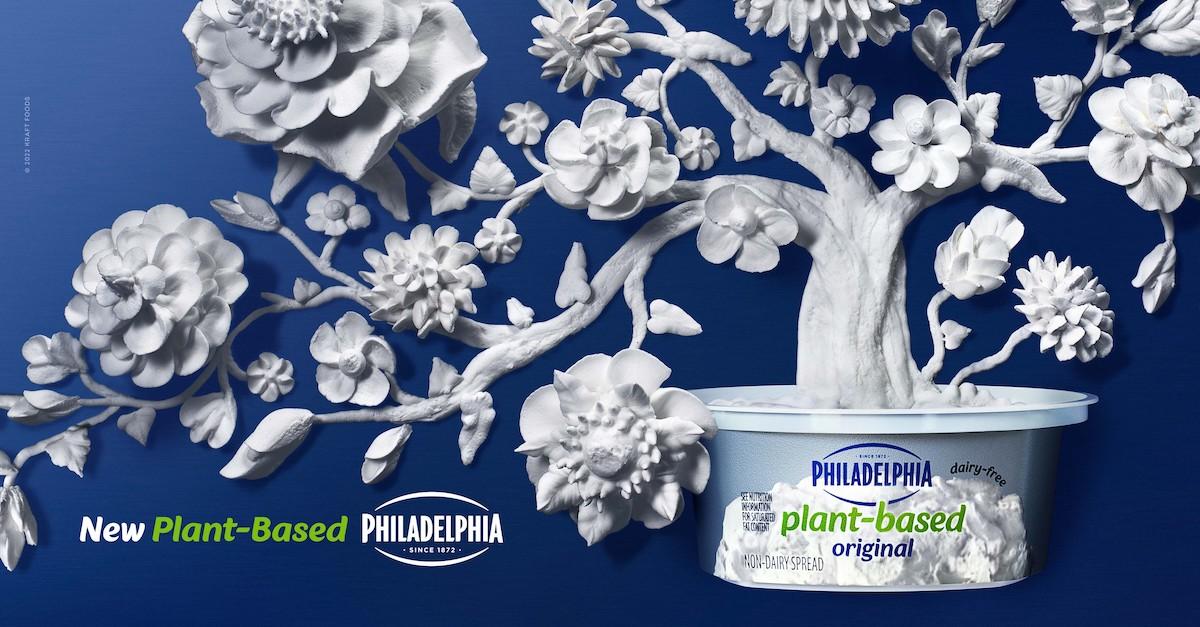 While options for plant-based butter and plant-based cheese has become increasingly abundant with the progression of the vegan movement, the selection of cream cheese is still limited.
Yes, smaller vegan brands such as Miyoko's and Kite Hill have released dairy-free iterations of the spread. But no major brands like Land O' Lakes, which has produced vegan versions of its beloved butter, have attempted to recreate shmear... until now. That's right — Philadelphia is releasing vegan cream cheese.
Article continues below advertisement
Research from Kraft Heinz, which owns Philadelphia Cream Cheese, shows that less than half of folks who try vegan schmear aren't repeat customers — meaning there's still room for improvement in the vegan cream cheese space. So Philadelphia has stepped up to fill that role.
"The influx of flexitarian consumers has driven growth within the plant-based market, which is now more than 20 times the size of the vegan population," Robert Scott, President of Research & Development at Kraft Heinz, stated.
"As the brand that has set the cream cheese standard for 150 years, we realized the current options weren't meeting consumer expectations and there was no trusted leader," he continued.
"Philadelphia Plant-Based spread not only provides a solution that mirrors the taste and texture of our iconic Philadelphia brand, but it also reinforces Kraft Heinz's bet to bring plant-based offerings to the masses."
Article continues below advertisement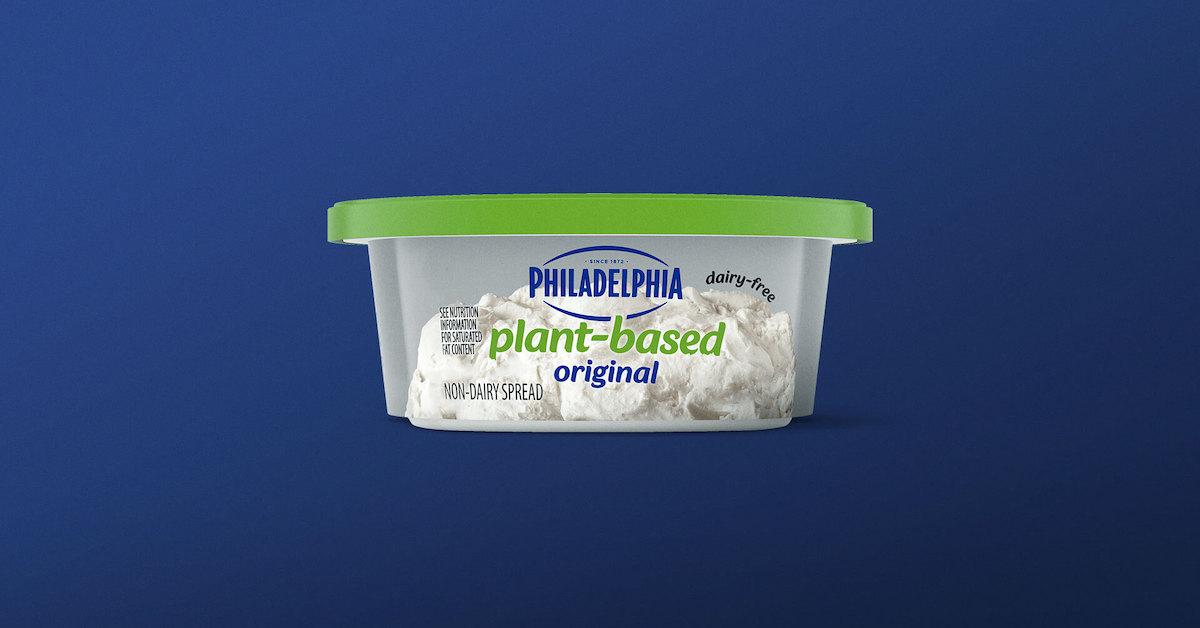 Philadelphia's vegan cream cheese: where and when to get it, specs, and more.
After more than 150 years of making cream cheese with dairy, Philadelphia is releasing a version that's free of animal products and byproducts. The brand has been developing a recipe for more than two years now, but as of Dec. 6, it is available at grocery stores in the Southeast U.S., including: Atlanta, Ga.; Houston, Texas; Miami, Fl.; and more.
It will become available at grocery stores nationwide in summer 2023, which is only a few short months away — so get your bagels ready for action.
Article continues below advertisement
This glorious creation, which is labeled as Philadelphia Plant-Based spread, contains no added flavors, dyes, dairy, lactose, or gluten. You can expect super high quality ingredients with pronounceable names, as well as a creamy, spreadable texture, and the familiar Philadelphia taste that you've always known and loved (sans the cruelty of the dairy industry, of course!).
Although the company has released no plans to eliminate plastic, this is certainly a start for its sustainability measures.
Only the plain flavor will be available for the next few months in the previously mentioned cities. But when the product officially rolls out on a national level, the brand plans to release additional flavors beyond plain.
Our fingers are crossed for vegan scallion spread.
Article continues below advertisement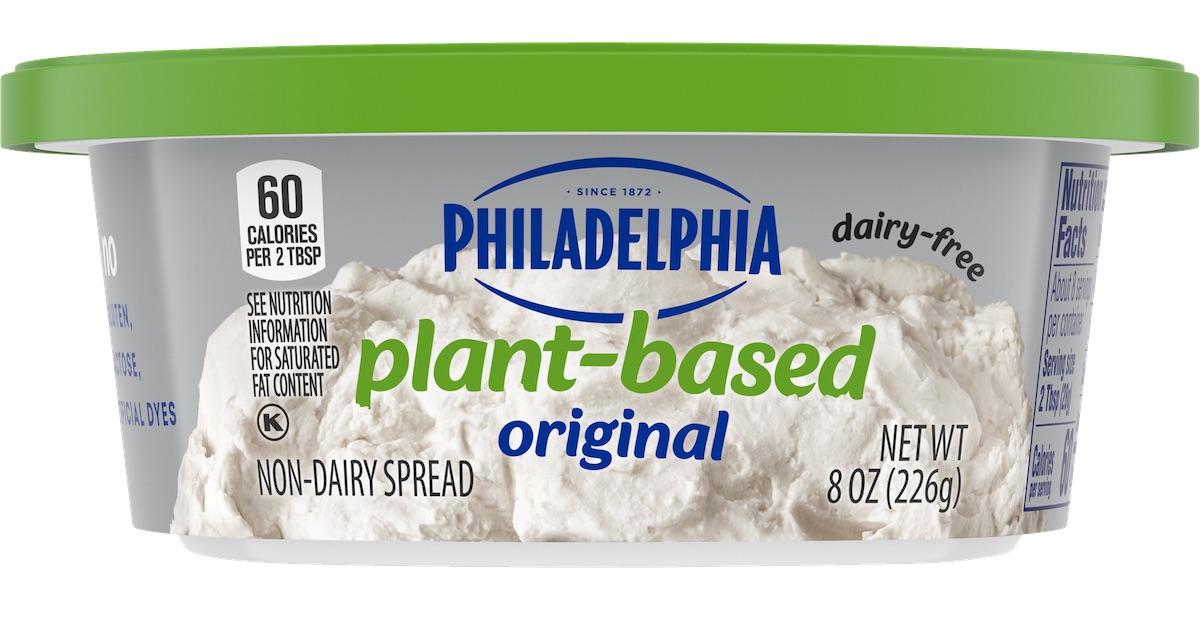 Until Philadelphia's version debuts, try these vegan cream cheese brands:
Until Philadelphia releases vegan schmear, there are many plant-based versions of cream cheese that will rock your world.
Daiya's Cream Cheeze has gotten increasingly better — earlier this year, the brand reformulated its recipes, removing a number of undesirable ingredients. You can try them in four flavors.