Mouthwatering Vegan Party Food: Perfect for Celebrations of All Kinds
Elevate your gatherings with these vegan party food recipes. Enjoy savory, cruelty-free bites for a memorable event — or for yourself!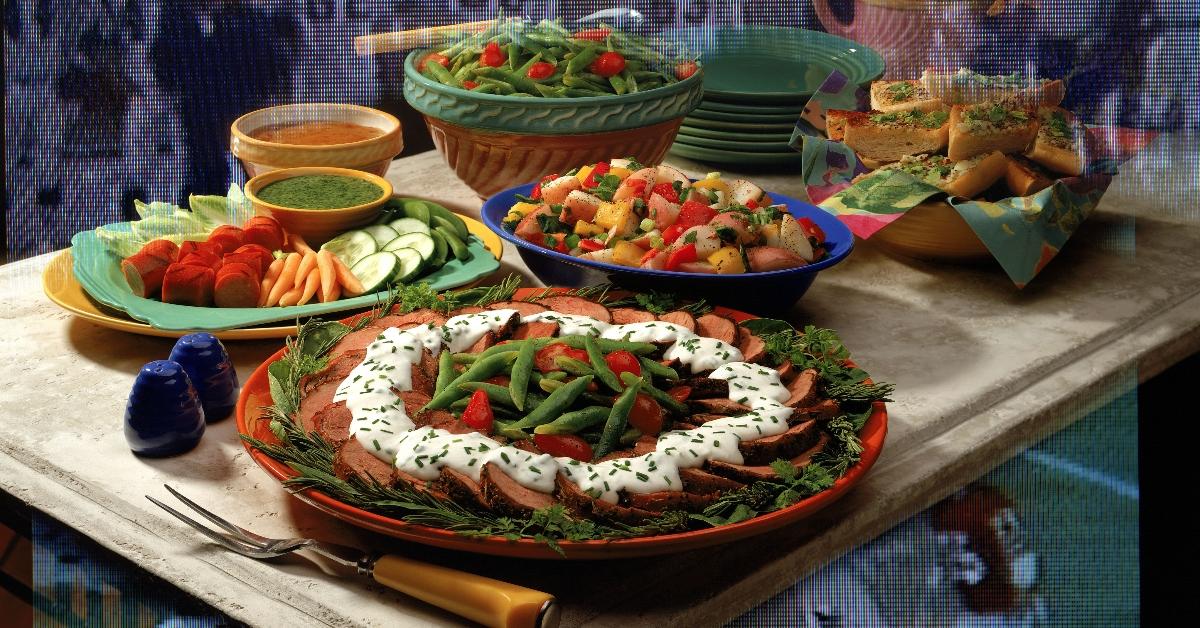 Fall is a great time for a house party with friends or family. Whether you're gathering to watch your favorite football team or to celebrate the holidays, chances are everyone will be eating a lot of munchies.
Article continues below advertisement
Vegans don't have to miss out on parties because there are plenty of vegan party food ideas and recipes available that everyone can enjoy. Here are some of our favorite vegan party food recipes.
@SweetSimpleVegan's Vegan Filipino Barbecue
Being vegan doesn't mean you have to give up good barbecue. Vegan blogger Jasmine Briones of @sweetsimplevegan offers a vegan spin on Filipino barbecue skewers. Traditionally, Filipino barbecue uses pork or chicken, but Briones' vegan recipe uses soy curls instead.
Article continues below advertisement
The recipe also calls for vegan beef broth, vegan oyster sauce, and banana ketchup (which doesn't taste like bananas but is made with them). You can substitute regular ketchup if you can't find the banana kind.
Article continues below advertisement
@NikkiVegan's 5-Minute Vegan Cream Cheese Dip
No party is complete without a cheese dip for guests to nosh on. Your guests will love this 5-minute Vegan Cream Cheese Dip from Nicole Vranjican's Nikki Vegan blog. Just mix an eight-ounce container of dairy-free cream cheese with apricot jam. Set the jam and the vegan cream cheese on the counter for a few minutes. It will be easier to mix if it is closer to room temperature.
Article continues below advertisement
Once everything is mixed, top it with dried apricots and a sprig of rosemary and serve with crackers. Your guests won't be able to distinguish between your vegan dip and one that uses real dairy products.
Article continues below advertisement
@gabbacado's Easy Air Fryer Black Bean Taquitos
If you don't have enough time to throw together some ingredients for a party appetizer, check out these Easy Air Fryer Black Bean Taquitos by Instagramer @gabbacado. To make these yummy treats, saute onion and garlic in a pan, and add black beans, diced tomatoes with chilis, and spices. Once the mixture is heated and most of the liquid has been cooked off, roll up a spoonful each in a corn tortilla, then air fry at 400 for 15 minutes. You can serve the vegan taquitos alone or with salsa.
Article continues below advertisement
@psovegan's Vegan Nachos
Nachos are another staple of any party, and @psovegan has a recipe for Vegan Nachos that your guests will love. You top your favorite tortilla chips with refried beans, plant-based meat, shredded vegan cheese, pico de gallo, guacamole, and vegan sour cream. Voila!
Article continues below advertisement
@beextravegant's Vegan Cheddar Cheese Poppers
Spicy up your party with @beextravegant's Vegan Cheddar Cheese Poppers. Saute chopped jalapenos with diced vegan bacon or smoked tofu. Once the peppers and tofu mixture is cooked, mix it with vegan cream cheese, vegan cheese shreds, nutritional yeast, and spices. Then fill little bread bowls with the dip and bake for 15 minutes. Let the poppers cool for a couple of minutes before serving.
Article continues below advertisement
@fancyplantsfoodie's Spicy Baked Buffalo Cauliflower Wings
It's hard to imagine a football watch party without wings, and @fancyplantsfoodie has a recipe for vegan buffalo wings made with cauliflowers that are much healthier than traditional buffalo wings. The cauliflower florets, or "wings," are dipped in a batter made of plant milk, gluten-free flour, and spices before being baked in the oven for 20 minutes. These vegan-friendly wings can be served with a side of vegan garlic mayo.
Article continues below advertisement
@rachelsvegandiary87 Vegan Coronation Chicken Sandwich
The recipe for coronation chicken, a dish that became popular after the 1953 coronation of Queen Elizabeth, typically incorporates chicken with curry and mango chutney. Vegan influencer @rachelsvegandiary87 put a vegan spin on this traditional dish using plant-based chicken breasts.