Cracker Barrel's Vegan Sausage Controversy Is Inciting Hilarious Outrage Among Meat-Eaters
Although many Cracker Barrel customers are excited about the new plant-based sausage, it's incited hilarious controversy among certain customers.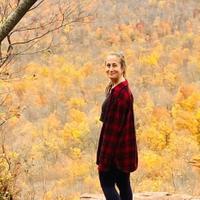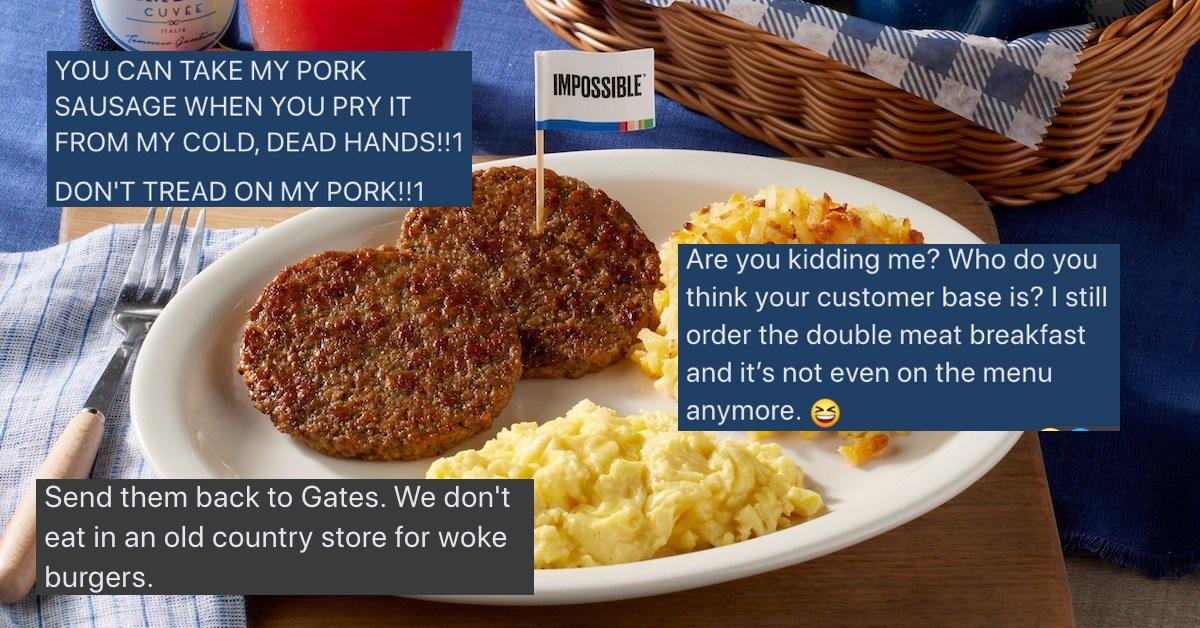 Over the last few years, fast food chains have started offering more meatless options — Burger King introduced its highly popular Impossible Whopper, and Taco Bell added an entire vegetarian section to its menus.
Likewise, southern country-themed breakfast chain, Cracker Barrel, recently got in the mix by adding Impossible Sausage to its menus — and while meatless fans rejoiced, controversy over Cracker Barrel's plant-based sausage from its meat-eating fan base has been hilarious.
Article continues below advertisement
"Discover new meat frontiers. Experience the out of this world flavor of Impossible Sausage Made From Plants next time you Build Your Own Breakfast," Cracker Barrel posted to Facebook, introducing the new menu item on on Monday, Aug. 1.
Little did the chain know that this seemingly innocent announcement would incite pure outrage from old angry white guys.
Cracker Barrel backed up its decision, telling CBS MoneyWatch it wants to add choices "to satisfy every taste bud — whether people want to stick with traditional favorites like bacon and sausage or are hungry for a new, nutritious plant-based option like Impossible Sausage."
The responses to Cracker Barrel's Impossible Sausage offering, though, are seriously worth taking a look at.
Article continues below advertisement
For the most part, responses to Cracker Barrel's new offering have been positive.
If you're vegetarian, vegan, or simply inclined to eat meatless every so often, you were likely excited to hear that Cracker Barrel introduced Impossible Sausage to its menus.
That said, the chain's announcement sparked quite a bit of excitement from its plant-based fans.
Article continues below advertisement
"That's great for those of us shifting to plant based diets!" one person responded.
"I know we don't live near any Cracker Barrels. But THANK YOU! I am not vegan by choice, but I do now have alpha-gal meaning I can't eat mammal meat like many thousands of other people," another person commented. "You doing this allows for people to look like a normal meat loving human beings! I wish more people, and more companies allowed for this."
"I'm a big meat eater but Impossible burgers and sausage are sooooo good!! I couldn't even tell the difference," someone else wrote. "I think it's great for people who can't eat meat for whatever reason!!"
"I prefer the real stuff, but glad these options are available for those who want/need them," another said.
Article continues below advertisement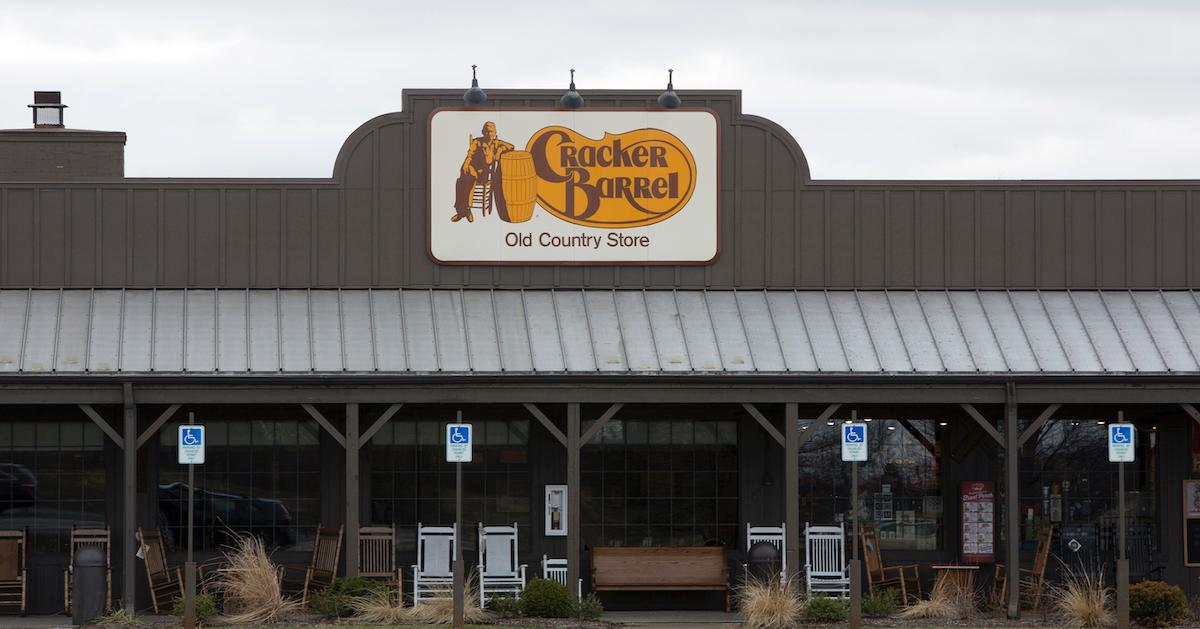 But the best part? Those hilariously offended by the plant-based offering.
For whatever reason, Cracker Barrel's mostly red fan base was appalled by the chain's new offering... which resulted in some pretty funny comments.
"YOU CAN TAKE MY PORK SAUSAGE WHEN YOU PRY IT FROM MY COLD, DEAD HANDS!!1DON'T TREAD ON MY PORK!!1," one person wrote with exuberance.
"Won't be eating hear any more," another, who seemingly doesn't have spell check, responded.
"Are you kidding me? Who do you think your customer base is? I still order the double meat breakfast and it's not even on the menu anymore," another added.
Article continues below advertisement
"I Use to Love your store Now No Way," another who liberally uses caps followed up.
"Go Woke, Go Broke!" one person responded.
"I'm not a rabbit. I love meat!! Lettuce is as far as I'll go," said someone who wants to make hating veganism their personality.
"What is this nasty sausage? Stick to the real deal, country sausage," another added.
"Send them back to Gates," someone else said. "We don't eat in an old country store for woke burgers."
Article continues below advertisement
We also appreciate those who called out the "offended" meat eaters.
Getting offended by a plant-based offering is a strange hill to die on. And those willing to call out the negativity had some pretty good points.
"I'd like to know why people who hate Impossible sausage don't know how to spell," one person noted, in reference to the many typos left behind by Cracker Barrel's angry fanbase.
"I'm just here to thank everyone here for giving me a far better time reading the comment section of the Cracker Barrel Facebook page than I could have ever predicted or imagined," another said.
"I also hate the idea of a menu having options that I specifically don't want to eat! Restaurants should limit their options to exactly my specifications and nothing more! How dare they cater to anybody other than myself," someone else pointed out.
"I often wonder if Mark Zuckerburg envisioned that his little project to rate girls on the internet would turn into a forum for thousands of old people to yell at Cracker Barrel for adding a menu item they didn't want. Absolutely wild," another noted.
"The fact that you sell stuff other than crackers in barrels is why I'll never go here again!!!!" someone joked.
"Wow, the "we didn't get so easily offended" generation getting offended over vegetarian sausage lmao classic," another said, poking fun at the angry Boomers commenting.
We aren't sure why this got so much attention, but it's definitely made for funny internet content, nonetheless.