Burger King Is Finally Trialing a Vegan Chicken Sandwich — In Just One City
A Burger King vegan chicken sandwich is coming to select locations, in partnership with Impossible Foods.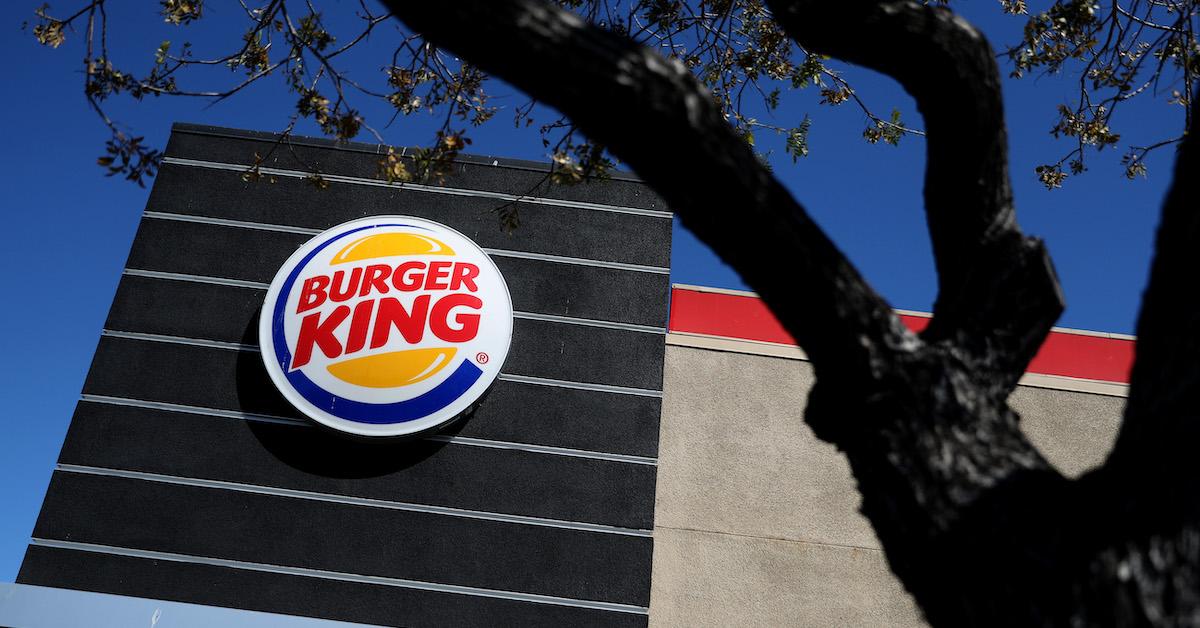 Burger King's partnership with Impossible Foods has long been a success, with the Impossible Whopper delighting BK customers every day for the last few years. And now, the two companies have another meatless menu item in the works: a Burger King vegan chicken sandwich.
Article continues below advertisement
The sandwich is only launching in one U.S. city for now — but it's still exciting, as there's always the possibility that it could go nationwide. Keep reading for the details.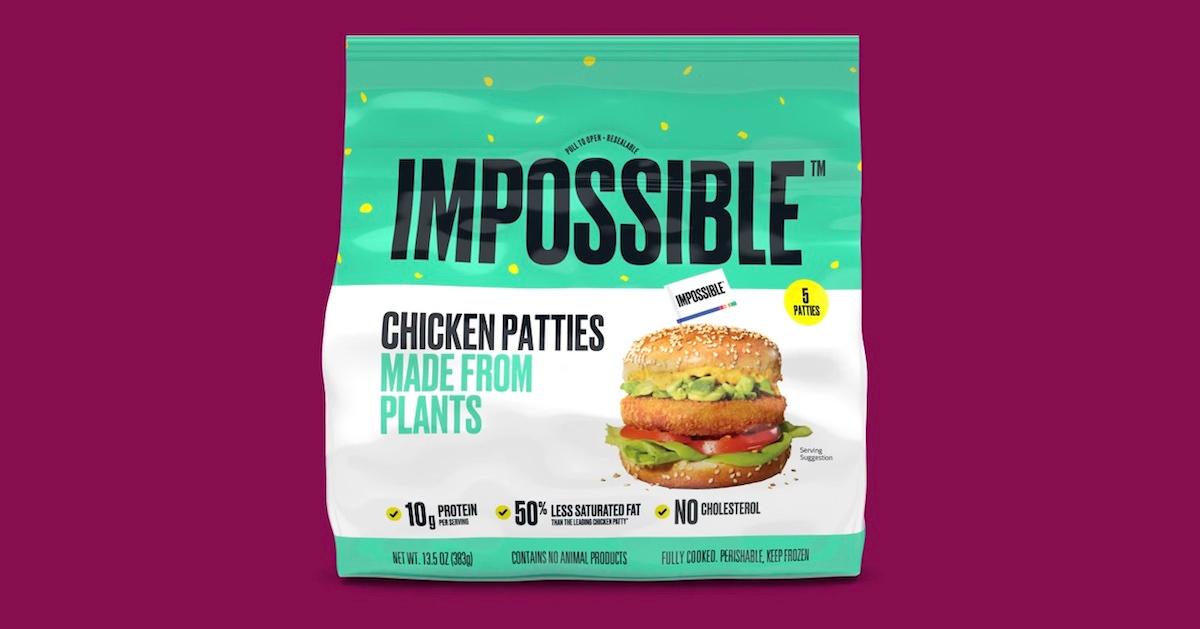 Article continues below advertisement
Burger King is trialing a vegan chicken sandwich.
Burger King has finally unveiled a new product, called the Original Chik'n Sandwich, as VegNews reported on Aug. 22. The sandwich, a vegan version of the fast food chain's Original Chicken Sandwich, will be made with Impossible Chicken Patties.
The sandwich will be served the same way as the original one: on a sesame seed bun, be topped with lettuce and mayonnaise. That said, the new sandwich is only vegetarian as-is, but you can order it without the mayonnaise to make it vegan.
Article continues below advertisement
According to Impossible Foods, the company's chicken patties are primarily made from wheat flour and soy protein concentrate. They contain 10 grams of protein per serving, they have 50 percent less saturated fat than typical chicken patties, and they are free of cholesterol (which is only found in animal products).
Impossible chicken patties also have a lighter impact on the planet than animal-based chicken, as they are responsible for about 49 percent less land use, 44 percent less water, and 36 percent less greenhouse gas emissions, as per Impossible Foods.
Article continues below advertisement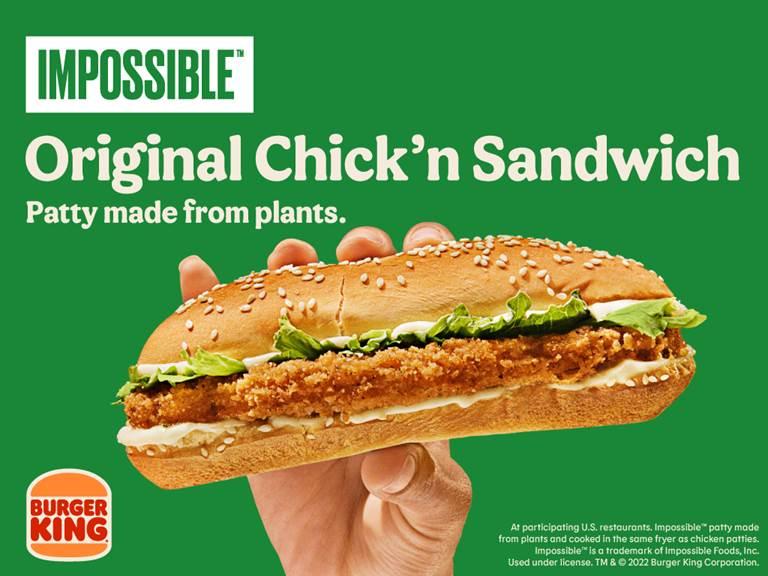 A rep for Impossible Foods tells Green Matters that the patties, which are not yet in stores, will launch in U.S. supermarkets sometime this month, starting in Safeway and Sprouts stores, and rolling out into "thousands more locations" this fall, including Kroger and Albertsons.
Article continues below advertisement
"Burger King has demonstrated once again that they know how to deliver innovative options that taste great," Impossible Foods SVP of North America Sales, Dan Greene, stated in honor of the launch, as per VegNews.
"Working with them to launch our first-ever chicken patty has been a fun way to continue our partnership," Greene added. "We think fans are going to love this new plant-based twist on the Original Chick'n Sandwich."
Article continues below advertisement
How to try Burger King's vegan chicken sandwich — in just one USA city.
Starting today, Aug. 22, 47 participating Cincinnati, Ohio Burger King restaurants will be serving the new plant-based sandwich, up until Oct. 13, 2022. If you live in the Cincinnati area, we recommend calling your nearest BK before heading in to make sure they are serving the sandwich.
If the trial goes well, hopefully Burger King will decide to introduce the new vegan menu item to other cities around the U.S. The possibility is definitely real, considering the fact that the Impossible Whopper is a permanent menu item at all BK locations across the country.
Article continues below advertisement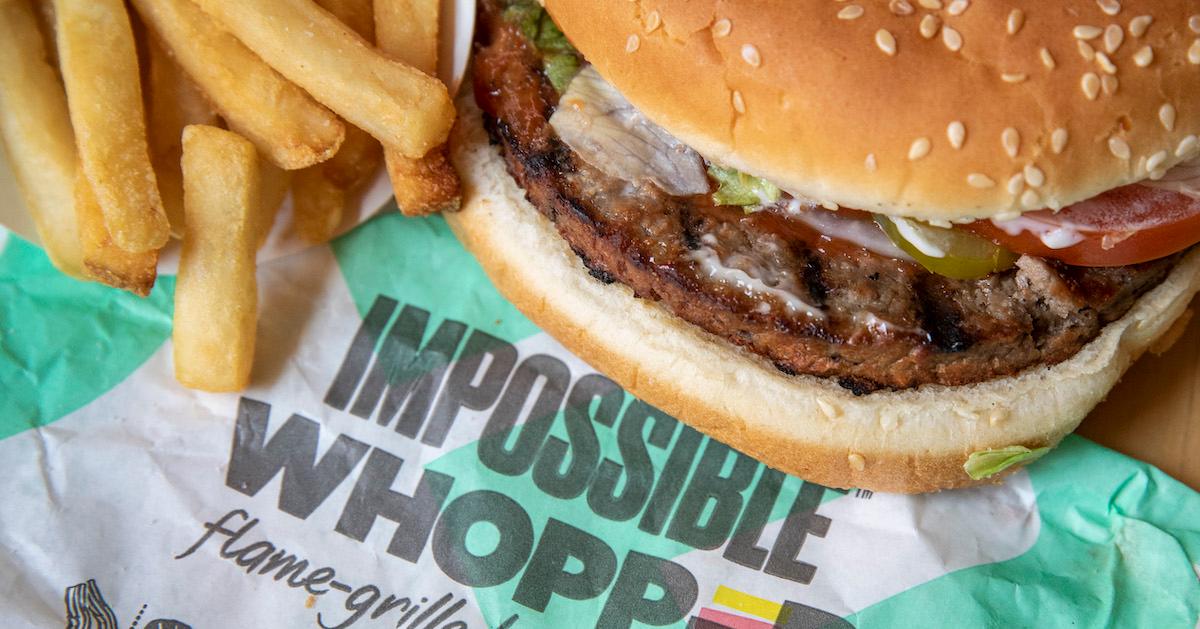 Burger King's vegan chicken nugget trial seemingly did not go well.
Interestingly, the Original Chik'n Sandwich is not the first meatless chicken product Burger King has offered in the U.S. In October 2021, Burger King started offering Impossible Nuggets at Burger Kings in Boston, Miami, and Des Moines, Iowa, just a few weeks after Impossible launched the nuggets in stores.
Unfortunately, Burger King's vegan nuggets did not wind up going national. But considering the viral popularity of fast food chicken sandwiches at other restaurants in recent years, we're crossing our fingers that BK's new Original Chik'n Sandwich could become a permanent fixture on Burger King menus everywhere.
This article has been updated to include info on Impossible Patties launching in supermarkets, and the dates of their trial at Burger King.