Feeding the Future: The Most Innovative Vertical Farming Companies
Vertical farming is expected to grow in the coming years. Here are six of the top vertical farming companies in the U.S. in 2023.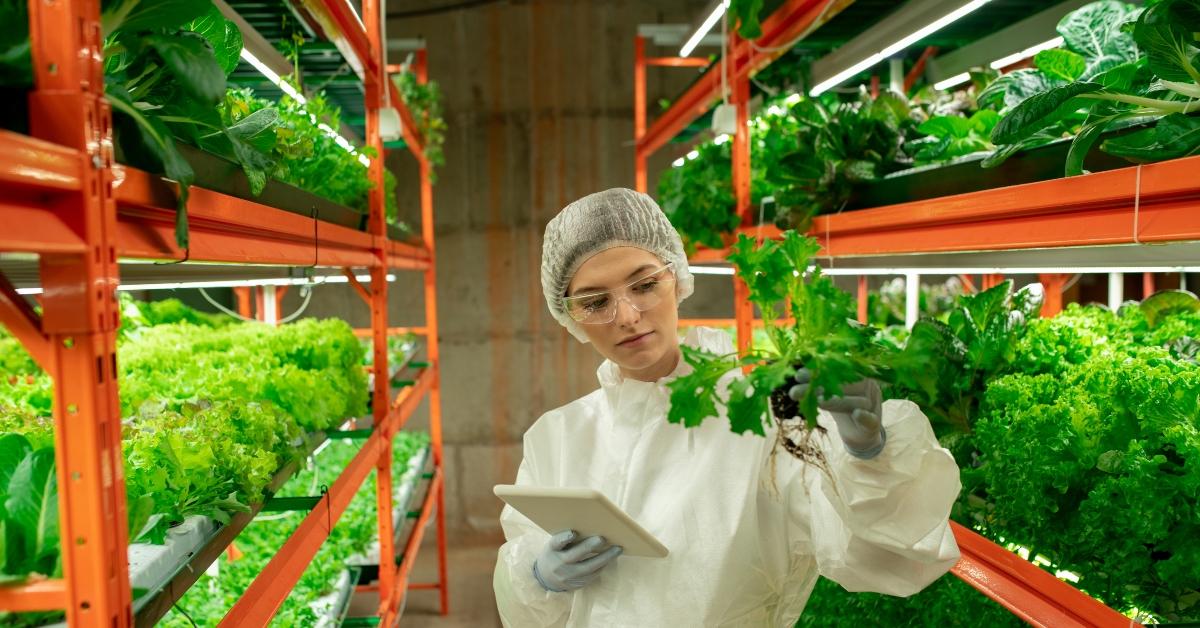 Article continues below advertisement
Some benefits of vertical farming, which involves growing crops in vertical stacked layers, include year-round production, reduced water usage and use of fossil fuels, and less impact on crops from extreme weather conditions.
Article continues below advertisement
The study, by market intelligence firm Acumen Research and Consulting, predicts the vertical farming market will grow significantly due to "increasing demand for fresh, locally-grown produce, urbanization, and a growing awareness of the environmental benefits of vertical farming."
That said, here are six U.S.-based vertical farming companies that are leading the way.
Article continues below advertisement
1. AeroFarms
AeroFarms has been around since 2004. The Newark, N.J.-based company uses a patented aeroponic growing system where water and nutrients are misted onto the plants' exposed roots. AeroFarms sells its baby bok choy, microgreens, and other products through retailers like Whole Foods, AmazonFresh, FreshDirect, and more.
2. Bowery Farming Inc.
Based in New York City, Bowery Farming is considered the largest vertical farming operation in the U.S. The company was founded in 2015 and operates farms in New Jersey, Maryland, and Pennsylvania. Bowery Farms uses a proprietary artificial intelligence (AI) operating system called BoweryOS to grow its crops.
Article continues below advertisement
According to the Bowery Farming website, the BoweryOS can "simultaneously identify an unhappy arugula plant that needs more light while also alerting our modern farmers to several trays of baby butter lettuce that need to be harvested tomorrow."
Article continues below advertisement
3. Crop One
Crop One is headquartered outside of Boston. The company sells its produce under the FreshBox Farms brand. In 2018, Crop One entered a $40 million joint venture with Emirates Flight Catering (ECO) to provide high-quality produce to the Middle East under the Bustanica brand. Together, the companies built the world's largest vertical farming facility in Dubai.
4. Farm.One
Located in the heart of New York City, Farm.One grows its produce using hydroponic technology, where the plants grow in water, not soil. The company specializes in growing luxury salad greens, specialty herbs, and edible flowers for New York City restaurant chefs. Farm.One also provides a direct-to-consumer subscription service for local residents to get fresh greens delivered right to their door.
Article continues below advertisement
5. Plenty
Plenty is a San Francisco-based company that operates a research facility in Laramie, Wyoming and a vertical indoor farm in Compton, California. The company also plans to build a multiple-farm campus near Richmond, Virginia, that could eventually deliver over 20 million pounds of produce.
6. AppHarvest
Tomatoes are the main focus of AppHarvest's vertical farm business. The company operates two 60-acre vertical farms in Kentucky's Appalachia region that are dedicated to growing tomatoes. It also has a 15-acre farm for salad greens and a 30-acre farm producing strawberries and cucumbers. The one and only Martha Stewart sits on the AppHarvest Board of Directors.