When Can You See the Full Moon in August 2023? All About the Next Blue Moon
August 2023 must be lucky, because the full moon is coming twice! Here's what to expect from the Blue Moon.
Okay, astronomy-loving friends, prepare for another full moon in August 2023. Full moons happen about once a month, but the beauty and majesty never get old. There are plenty of superstitions, myths, and legends about full moons being vital for releasing the past and stepping into your future — but what happens when there's more than one in a month?
Article continues below advertisement
There's already been one full moon in August 2023, called the Sturgeon Moon. Don't worry; you haven't missed your chance at a full moon this summer since the end of August brings another moon called a Blue Moon! (If you're thinking of the phrase "once in a blue moon," there's a good reason it's used to describe infrequent events.)
Here's what you need to know about the event, explained.
Article continues below advertisement
The August 2023 full moon will be a blue moon.
According to Almanac.com, there was a full Sturgeon Moon on Aug. 1, 2023, and the second full moon will happen on Aug. 30, 2023. This full moon is expected to peak at 9:36 p.m. and be the "closest, biggest, and brightest full supermoon of 2023". This moon will be fairly close to Earth at 222,043 miles, and the next time the moon will be closer to Earth won't happen until Nov. 5, 2025.
Brittanica explains that a blue moon is the second full moon in a calendar month, which can happen because the time from one full moon to the next is 29.5 days. The name doesn't refer to the moon's color at that time.
The average frequency of blue moons is about once every 33 months or about 41 times a century. Hence, the phrase "once in a blue moon," which we use to mean rarely or infrequently.
Article continues below advertisement
If you don't see the full moon on Aug. 30, be prepared for the Harvest Moon on Sept. 28, CBS News reports. But if you're hoping for a blue moon, the next one won't happen until May 2026.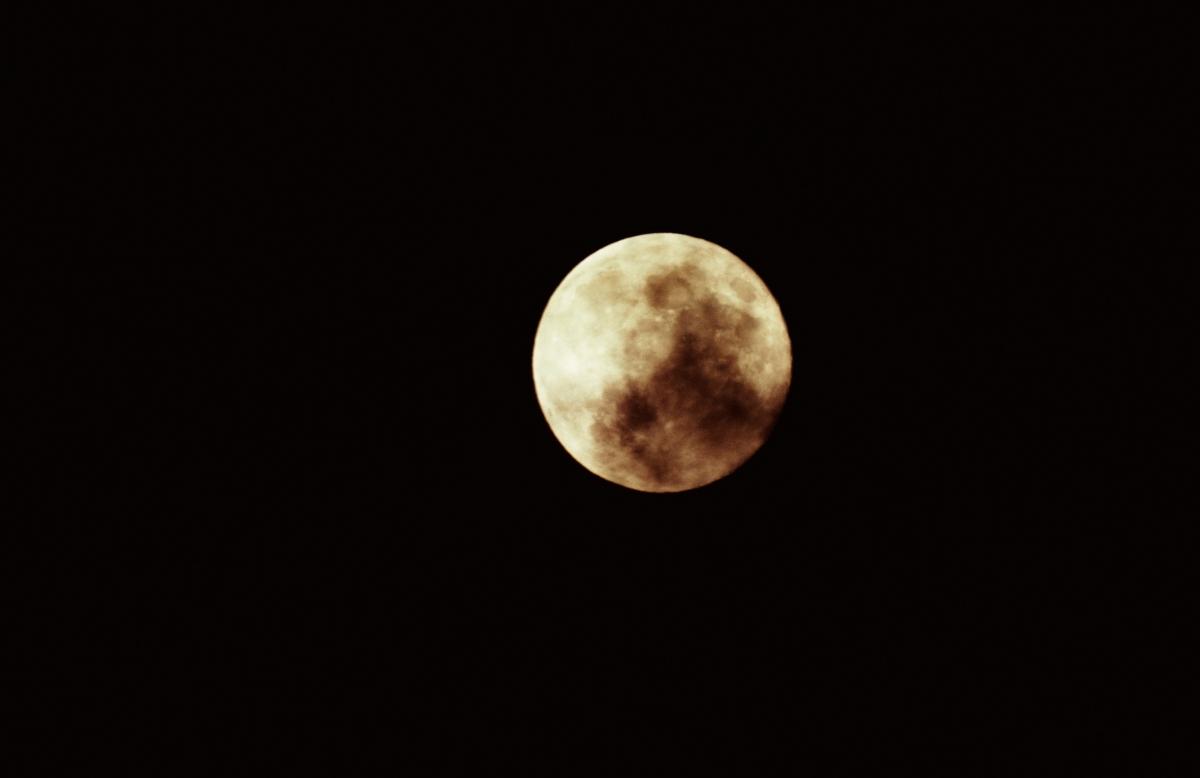 Article continues below advertisement
Here's how to see the August 2023 full moon.
The Aug. 30 full moon should be fairly easy to see because it will be so bright and large, per Space.com. You should be able to look to the east right after sunset to see the full moon. This particular Blue Moon is a supermoon and will look larger to the naked human eye than usual — about 7 percent larger. Good binoculars can also help you get the best view of the full moon.
Professor Sara Russell at the Natural History Museum in London explains that a supermoon occurs when a full moon coincides with the moon being positioned closest to Earth. The moon's position ranges from about 360,000 and 400,000 kilometers from Earth, and when the moon is at its closest, that's called "perigee". It can appear about 14 percent larger than a full moon at the furthest point, called "apogee".
In addition to supermoons like the August blue moon looking larger than usual, they also appear much brighter. The Natural History Museum notes supermoons can send about 30 percent more light on Earth than when the moon is in a dimmer phase. The reason for this is that the closer the moon becomes, the more the sun's rays reflected off the moon's surface end up back on Earth.