Seattle's Air Quality Is So Bad Right Now, Residents Are Encouraged to Stay Inside
Why are Seattle residents being encouraged to stay inside? The Pacific Northwestern city's air quality is so bad right now, it could be dangerous.
There are many factors that contribute to bad air quality. Oftentimes, factories, highways, and other pollutive structures are constructed in BIPOC and other vulnerable communities, which poses a risk to everyone who lives there. Other times, wildfires, ozone, and other natural disasters negatively affect the air quality.
But Seattle's air quality is so bad right now, that people are being encouraged to stay inside. So, what is the cause?
Article continues below advertisement
Experts blame the Bolt Creek Fire — it's creating so much smoke, that it's slamming surrounding communities with dirty air.
"The smoke right now is remarkable, it's really laser focused, it's like we have a laser beam of smoke hitting Puget Sound," said Erik Saganić, Technical Analysis Manager for the Puget Sound Clean Air Agency, told KIRO7. "When we get smoke from Eastern Washington, we'll often see a more diffuse smoke that the whole region experiences."
And even though those in poor health are the most at risk, the poor air quality impacts people differently.
"Everyone's so different, right? So, something that may affect me in two hours might not affect you in 24 so I would still be extremely cautious even though we know (the smoke) may be short lived," Dr. Patricia Egwuatu, a family practice physician with Kaiser Permanente, told KIRO7.
Article continues below advertisement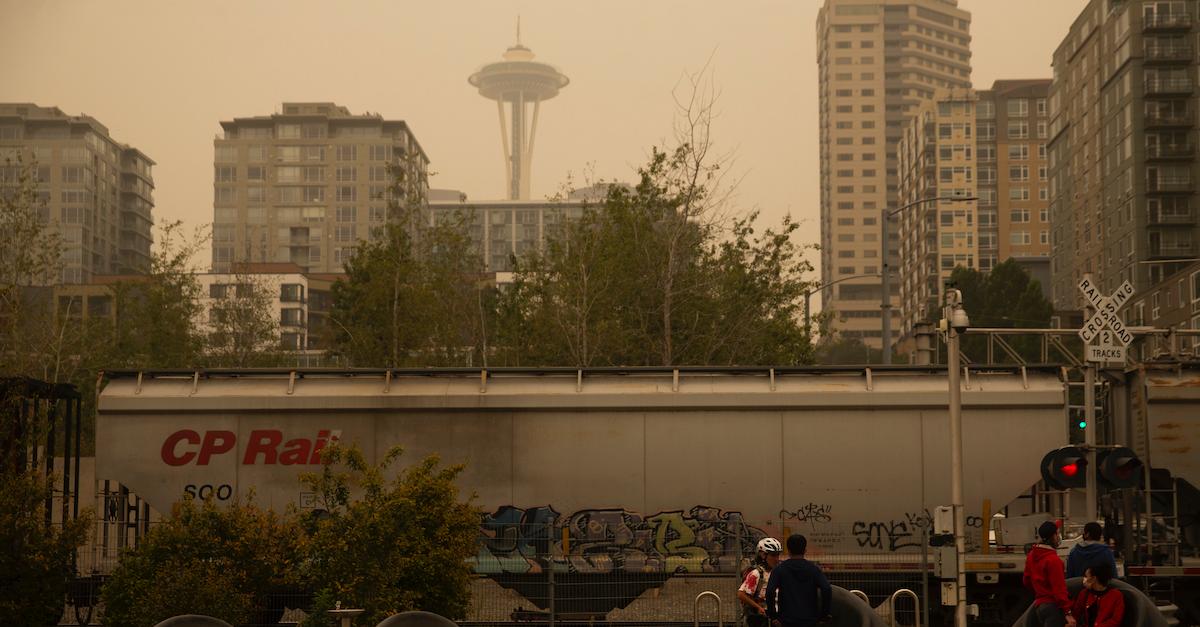 What's causing the poor air quality in Seattle?
On Wednesday, Sept. 21, Seattle's air quality hit "unhealthy levels" because of a wildfire in the eastern part of the state, according to KING5. It's reportedly expected to improve by Thursday, with most of the city's air quality considered "moderate" as of Thursday morning, however, it was deemed "very unhealthy" for downtown and north Seattle residents only a few hours prior.
However, the Puget Sound Clean Air Agency is still recommending residents to stay inside as much as possible.
Article continues below advertisement
Many are feeling the effects of the smoke, while others are embracing it as the "new normal." But authorities are doing what they can — a wildfire smoke shelter was erected at the Compass Housing Alliance by the King County Regional Homelessness Authority. Meanwhile, after-school activities have been canceled by public schools across the city.
A professor of atmospheric sciences at University of Washington, Dan Jaffee, says northern Puget Sound areas suffered the most.
"We're getting almost a direct plum of smoke that's coming down the mountains on easterly winds, down the valley, and it's really hitting some areas quite hard," he stated via KING5.
So, what should people be doing to stay safe during these times?
Article continues below advertisement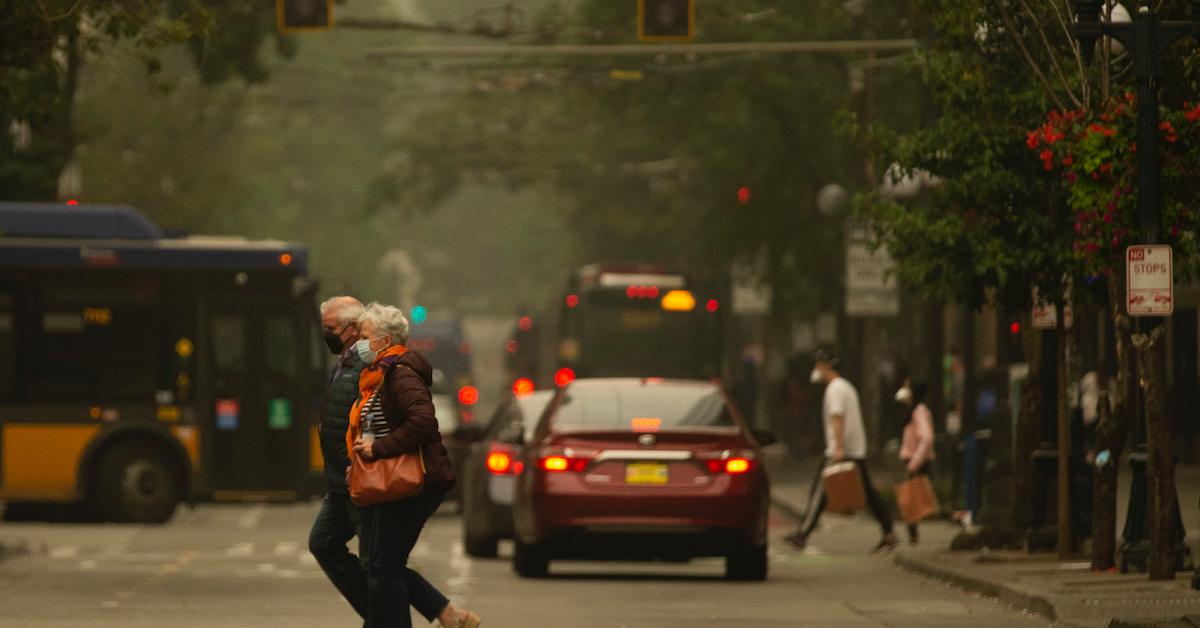 What should Seattle residents do to stay safe from bad air quality?
There are a few steps you can take to ensure you're staying safe from the poor air quality.
Air quality apps are showing moderate-good or moderate air quality, despite the noticeably poor air quality, according to The Seattle Times. This is because sensors in the area may be recording data from cleaner spots. That's why it's important to not necessarily rely on the apps in times like these — it's more important to trust your own judgement, based on where you live, and how things look and smell.
Article continues below advertisement
Though cleaner air is expected to come in the next few days, it's still recommended to stay inside as much as possible, to turn on any high-efficiency HEPA filters in your air cleaner or an HVAC system, or even air conditioners to drive smoky air from your home.