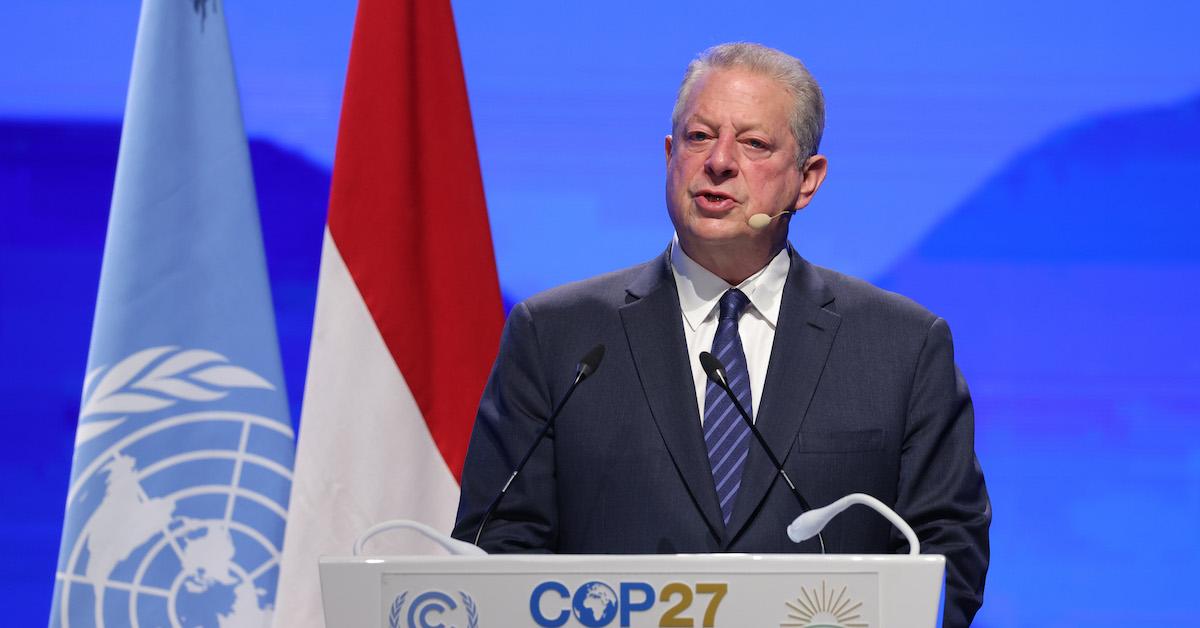 Al Gore Presents Climate TRACE's AI-Based Emissions Data on 70,000 Polluters at COP27
While at COP27 in Sharm El Sheikh, Egypt, former Vice President Al Gore unveiled new data from a special tool that helps track — and eventually, will hopefully help mitigate — emissions. The nonprofit Climate TRACE, which Al Gore is a founding member of, has published new data identifying more than 70,000 polluting sites that are purportedly the top known sources of emissions in the top-emitting business sectors.
Article continues below advertisement
In fact, UN Secretary-General António Guterres applauded Climate TRACE at COP27, calling the platform one that "[makes] it more difficult to greenwash and to cheat."
Keep reading to learn more about this new data, how the tracker works, and what Al Gore has had to say about Climate TRACE.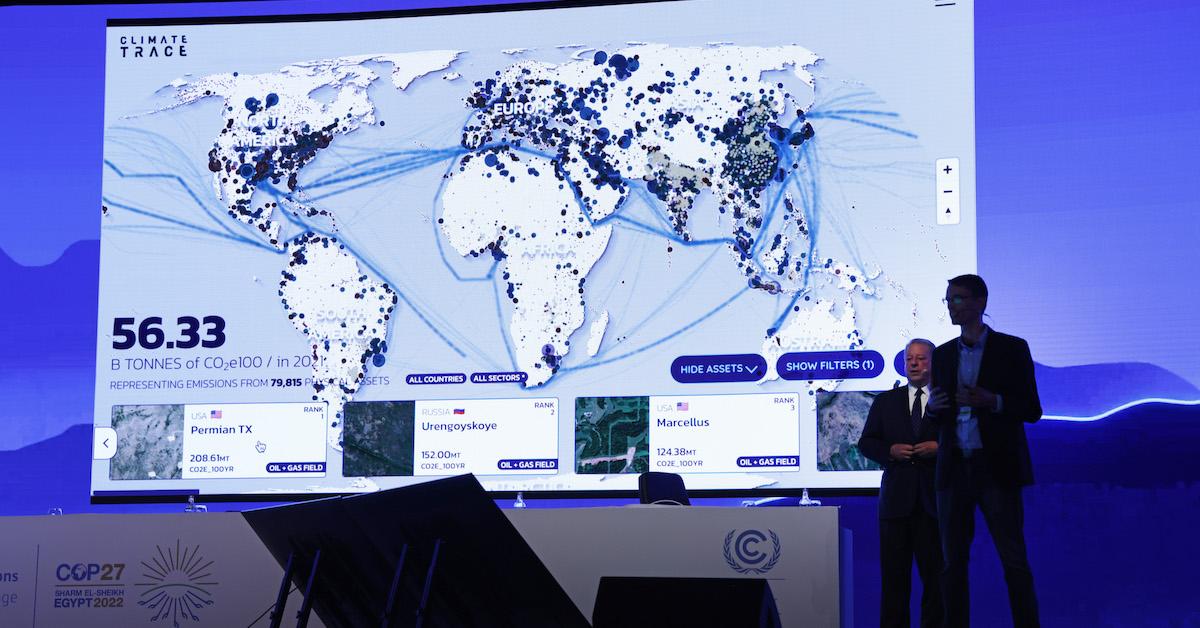 Article continues below advertisement
Climate TRACE coalition: Here's what you need to know.
Founded in the summer of 2020, Climate TRACE (Tracking Real-Time Atmospheric Carbon Emissions) is a coalition primarily composed of Al Gore as well as nine organizations and companies. Together, the group is working to track global greenhouse gas emissions from each anthropogenic activity that produces significant emissions.
Climate TRACE uses satellite imagery, air-, land-, and sea-based sensors, AI (artificial intelligence), public information, and data science to track these emissions "with unprecedented detail and speed."
"Climate TRACE will reveal the 'where,' 'when,' and 'who' behind GHG emissions," Al Gore and Gavin McCormick (one of the organization's leaders) wrote in a blog post announcing the venture back in July 2020.
Article continues below advertisement
Climate TRACE has unleashed new data about the world's biggest emitters.
The report, which Climate TRACE describes as "the most detailed facility-level global inventory of greenhouse gas (GHG) emissions to date," includes emissions data on a total of 72,612 sources from across the planet. The sites come from industries including mining, waste, refining, agriculture, shipping, and manufacturing.
Article continues below advertisement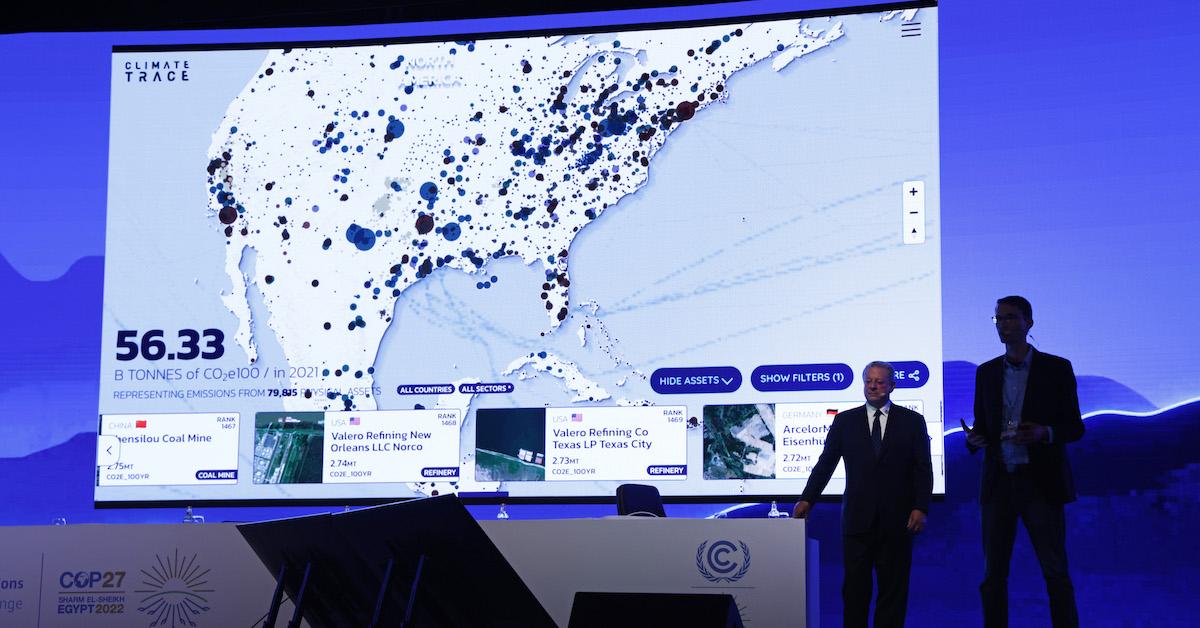 A lot of the emissions data we've seen before this is self-reported — which can easily lead to companies rounding down their emissions, taking far less responsibility than they should. What makes Climate TRACE's data helpful is that it was sourced independently, and mostly gathered via direct observations.
Article continues below advertisement
So what exactly did Climate TRACE discover? For one thing, of the top 50 sources of emissions, half of them are oil and gas fields or facilities. This is unsurprising, as reports on global emissions breakdowns often report that the fossil fuel industry is the top source of human-caused GHG emissions.
Additionally, Climate TRACE found that the top 500 sources of emissions in the report (which account for less than 1 percent of the 72,612 sites) produced 14 percent of global emissions in 2021. This shows how the top polluters are responsible for substantially more emissions than other major polluters — and it's a reminder that the top polluters are the ones who need to make the most changes.
Article continues below advertisement
Overall, Climate TRACE believes that in particular emissions are "significantly underreported," especially in the gas and oil industry. "We found [the oil and gas industry's] emissions are three times higher than they have been telling the United Nations," Gore said on a recent episode of NPR's All Things Considered.
Article continues below advertisement
That said, the coalition hopes that this data will be used to help government leaders, business leaders, climate activists, journalists, and more keep tabs on who is — and who isn't — on track to achieve emissions-reduction goals.
Article continues below advertisement
Al Gore believes Climate TRACE's data must "enable us to act decisively."
"Cheating is impossible with this artificial intelligence method, because they would have to somehow falsify multiple sets of data," Gore said on All Things Considered. "There's great danger, but there is hope … If we can summon the will to act."
And in a statement for Climate TRACE, Gore explained that this data will "enable us to act decisively," and "prioritize efforts to achieve the deep cuts in greenhouse gas pollution we need to prevent the most catastrophic impacts of the climate crisis."
That said, this will only happen if current world leaders actually pay attention to this data, and heed experts' advice to swiftly cut emissions.