Portland Pub Replaces Beef With Vegan 'Impossible' Burgers
White Owl Social Club in Portland is replacing beef with the Impossible burger.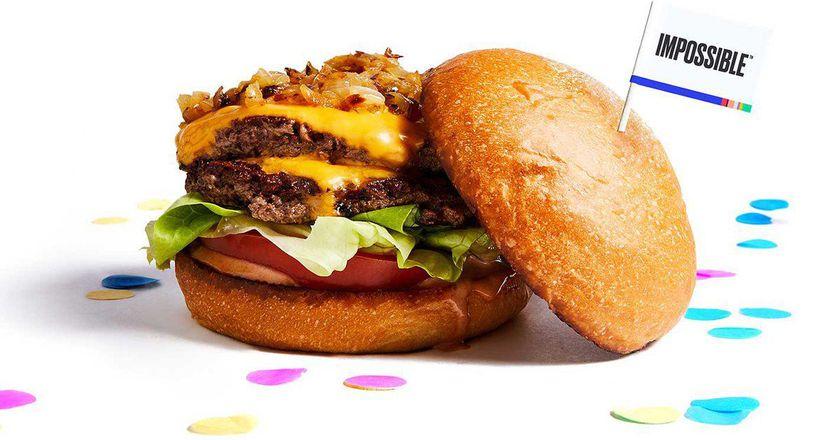 White Owl Social Club is a pub in Portland that is known for taking a stand on environmental issues in its supply chain. The eatery recently announced that they only offer compostable products when serving food and drinks, and do not automatically offer a straw—you have to ask. But it's compostable, too!
Article continues below advertisement
White Owl has been experimenting with vegetarian options on the menu, and introduced a burger made with vegan meat from Impossible Foods, according to Live Kindly. The pub's owners have been concerned about how mass-producing meat negatively impacts the environment. They've now made the move to eliminate both beef and lamb from what they offer customers permanently, saying they "leave the largest environmental footprint of all meats."
Article continues below advertisement
The menu is not completely meat-free, but they told PDX Monthly that they sold $80,000 worth of beef and lamb last year. This year that number will be significantly reduced to none at all. They do still offer chicken sandwiches and buffalo wings.
Article continues below advertisement
"Most people know that meat burgers are unsustainable and extremely damaging to the environment, not to mention [mass-produced] beef is a criminally cruel industry," said White Owl's co-owner Matt Relkin.
"At first we thought [lamb] was a better choice environmentally, but upon further research, we learned that lamb was even worse than beef in regards to greenhouse emissions," he added.
Article continues below advertisement
Relkin says the decision has been a long-time coming. They'd tried various ways to limit the pub's environmental impact, but ultimately decided eliminating red meat was the only way.
"We were getting more responsibly sourced beef and lamb from a local farm, but we couldn't keep ignoring the big picture," said Relkin. "It was bulls**t thinking just because I knew where our lamb and beef was coming from, that there wasn't still this underlying presence of the environmental footprint. It's still there, no matter the quality and how happy the animal is."
Impossible foods make their vegan "meat" product with 75 percent less water and 95 percent less land than beef requires. It also sounds like the White Owl's burger is delicious; it's made with a beetroot/wakame/hazelnut patty, with pea shoots and ribbon carrots on top. If you can get it with cheese, it sounds pretty much perfect.