If Your Dog Is Suffering, a Veterinary Chiropractic Treatment Could Change Everything (Exclusive)
Just as they are for many people, chiropractic treatments for dogs can be an effective treatment for various conditions. We spoke with a vet tech to learn more about this field.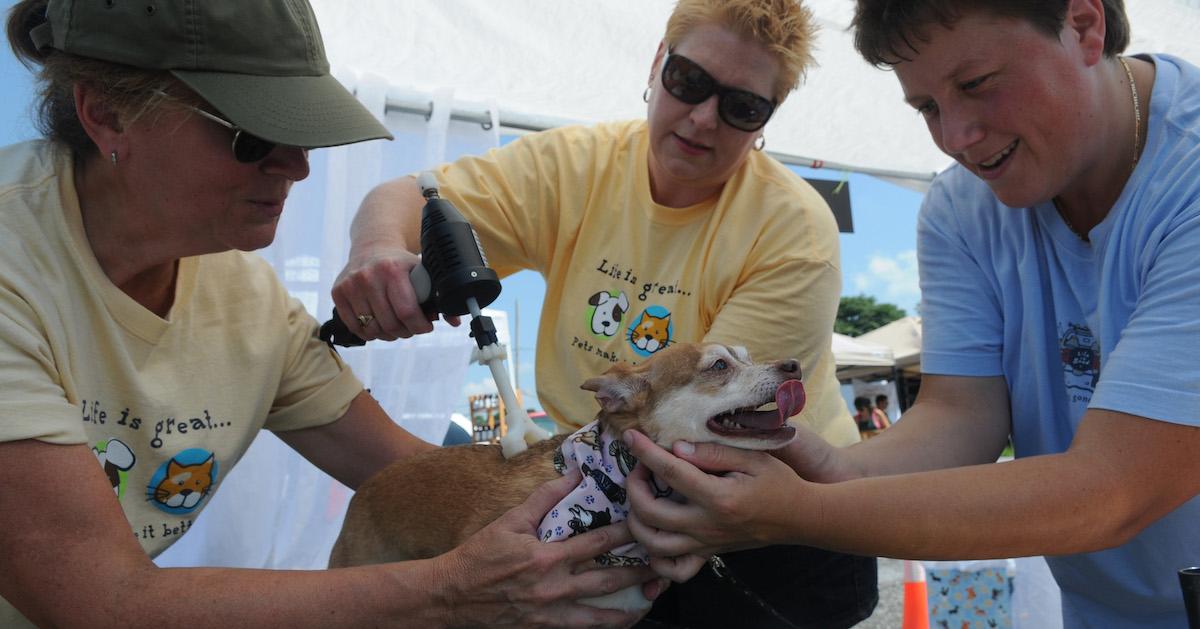 The Gist:
Just as both dogs and humans can get the hiccups, both can benefit from chiropractic care.
If your vet recommends a chiropractic treatment for your dog, it's worth checking out.
A vet tech tells Green Matters that only using a trained and certified veterinary chiropractor is vital.
Article continues below advertisement
Chiropractic treatments for dogs has gained a lot of public interest thanks to the trend spreading on TikTok. But does it really work? Green Matters spoke with a veterinary tech to learn more about veterinary chiropractic medicine for dogs — keep reading to learn all about this medical field.
Article continues below advertisement
What is chiropractic for dogs?
If you've visited a chiropractor for an adjustment for your human body, you already know what this treatment is.
As Canine Journal explains, chiropractic medicine for dogs is the treatment of misaligned vertebrae, and veterinary chiropractic treatments are "nearly identical" to what is used for humans. Veterinary chiropractors conduct adjustments through manual manipulation of the spine or joints.
Article continues below advertisement
Is veterinary chiropractic medicine for dogs legit?
According to Olivia Hernandez, a licensed vet tech, former veterinary hospital manager, and current Veterinary Technology Program Director at Carrington College, veterinary chiropractic treatments are "considered safe if done by a professionally trained individual" with a certification from the American Veterinary Chiropractic Association (AVCA).
"Veterinary chiropractors must have specific training in chiropractic medicine and animal anatomy to possess the appropriate knowledge and skill to treat animals," Hernandez tells Green Matters in an email. "Veterinary chiropractic medicine is a legit profession and a valuable resource in the veterinary industry."
The AVCA, which certifies professionals as veterinary chiropractors, asserts that the treatment is legitimate. The organization claims that animal chiropractic can be helpful in post-surgical care, treatment after injury, problems chewing, treating pain, muscle spasms, nerve issues, and more.
Article continues below advertisement
Hernandez adds that a veterinarian and veterinary chiropractor usually work together to support whatever the animal needs.
She says that chiropractic treatments can be "combined with traditional medicine for the best optimum care for pets," and even "alleviate the need for long term drug use."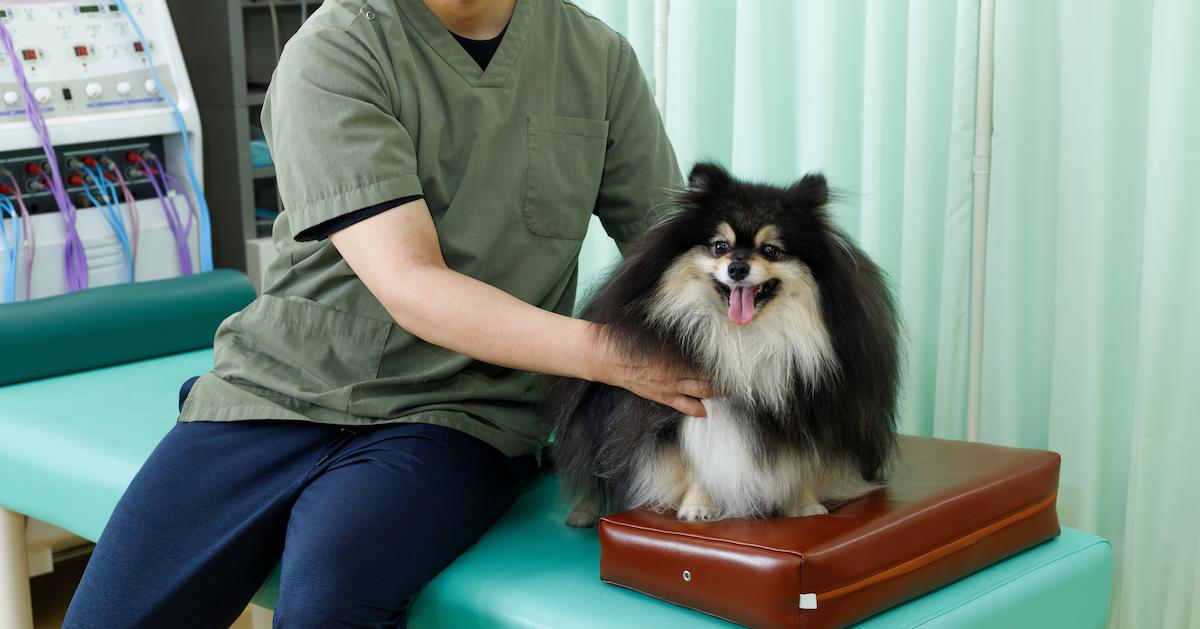 Article continues below advertisement
When should you take your dog to a veterinary chiropractor?
"The most common reason for chiropractic visits I have seen is for pain that is resistant to conventional treatment or a patient that has chronic musculoskeletal weakness," Hernandez tells us. "Examples include chronic back and neck pain, secondary problems due to fractures or ligament tears, hip dysplasia, spondylosis, and intervertebral disk disease."
Other signs that might tip you off to your dog possibly needing a chiropractic adjustment, according to Canine Journal, include: an inability to jump, difficulty climbing stairs, reluctance to move, decreased mobility, walking with a limp, dragging their back legs, and more.
Hernandez adds that "working" and athletic animals can also benefit from chiropractic adjustments.
So, if your dog is suffering from anything at all, and you suspect that seeing a chiropractor could help your dog or other companion animal, Hernandez advises consulting with your vet.
Article continues below advertisement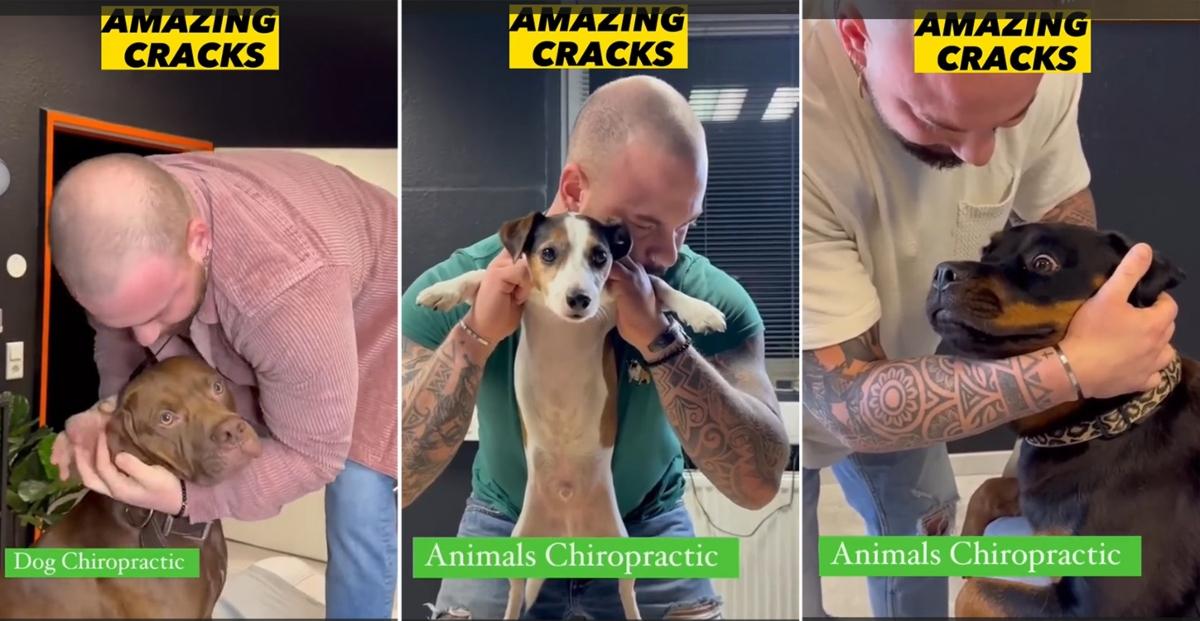 How can I find chiropractic for dogs near me?
That said, it's best to consult with your veterinarian first to get their opinion on how appropriate chiropractic treatments are for your pet. If your vet's office does not offer chiropractic treatments, your vet should be able to refer you to a certified veterinary chiropractor.
Additional reporting by Sophie Hirsh.