Is Peanut Butter Hazardous for Cats? What You Need to Know
Can cats eat peanut butter? When feeding your cat, you need to know what foods are safe or toxic, so here's what you should know about peanut butter.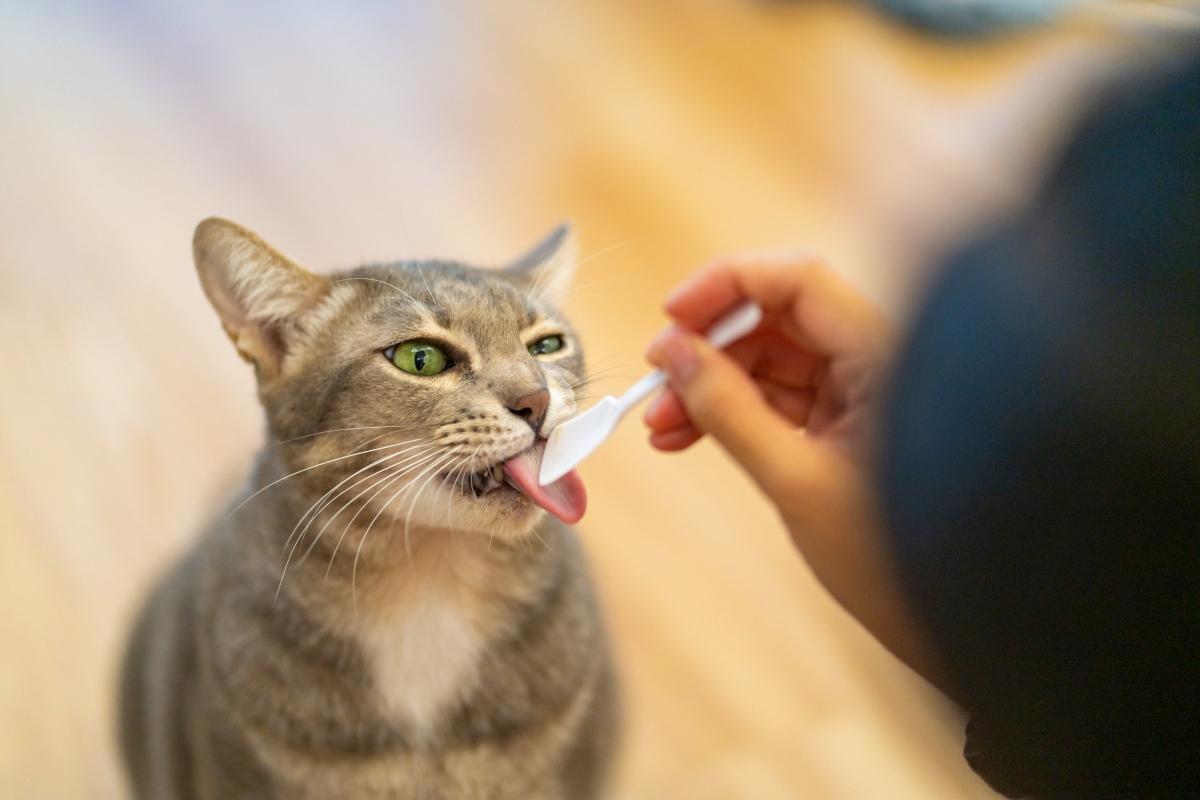 It's natural to want to give special treats to your pet, but parents of house cats need to be cautious about feeding their cats food made for people. Certain foods may actually be toxic to animals including cats, and others can simply be unhealthy for them, so it's best to avoid them. Can cats eat peanut butter?
Article continues below advertisement
Eating peanut butter is often a go-to snack for dogs, especially when you need to get a dog to ingest medicine. But dog-safe foods aren't necessarily safe for cats.
Article continues below advertisement
Can cats eat peanut butter?
Peanut butter is generally not a recommended food for cats due to the ingredients that are typically found in it. The American Society for the Prevention of Cruelty to Animals (ASPCA) says that nuts are among the worst foods to give to pets. Nuts contain high levels of oil and fat and can lead to vomiting, diarrhea, and even pancreatitis in pets.
As HillsPet.com explains, peanuts are not technically nuts but legumes because they grow in pods like peas and lentils. However, in terms of nutritional content, peanuts are similar to nuts with high fat and oil content.
Article continues below advertisement
That said, there are certain, occasional exceptions to this rule — so long as your cat is completely healthy.
According to Dr. Sarah J. Wooten, a Colorado-based veterinarian at Sheep Draw Veterinary Hospital, cats who have any sort of health issues — such as diabetes, kidney issues, and gastrointestinal issues — need to "stay far, far away" from peanut butter.
"Plus, I don't like it for fat cats or for those who are sick in any way. It can just add to their problems," Dr. Wooten told Chewy.
Article continues below advertisement
So long as your cat doesn't have any health issues, Dr. Deborah Bayazit, an NYC-based veterinarian at Brilliant Veterinary Care told Chewy that you can give your cats small amounts of xylitol-free peanut butter on certain occasions.
"For pet parents who use it daily, in order to hide a pill, I'd recommend a 1/8 to 1/4 teaspoon max," she said.
After first feeding your cat PB, monitor them for any signs that the PB is hurting your cat, and definitely check with your vet to be safe.
Be aware of these ingredients in peanut butter.
When deciding whether to feed your cat a peanut butter snack, it can seem a little complicated. If peanuts aren't technically nuts, then they wouldn't qualify as a toxic food based on that. However, certain brands of peanut butter may contain ingredients that are definitely harmful to pets.
Article continues below advertisement
The Animal Poison Control Center (APCC) states that peanut butter can be a safe treat for cats. However, one key ingredient found in some peanut butters is xylitol, an artificial sweetener that can be lethal to pets. Therefore, you should avoid any peanut butter varieties that contain xylitol.
Article continues below advertisement
The high levels of oil and fat in peanut butter are also problematic when considering it as a cat treat. Too much oil and fat isn't good for your kitty.
Finally, consider the sodium levels of peanut butter. Although peanuts don't naturally contain sodium, it's common for roasted salted peanuts to be used in peanut butters. As is true for humans, too much salt in the diet of cats is also dangerous. According to Pet Poison Helpline, cats can get salt poisoning resulting in vomiting, diarrhea, excessive thirst, and other issues.
Article continues below advertisement
Can cats eat other nut butters like almond butter?
Other nut butters should also be avoided for cats, since they're not supposed to eat nuts. Almonds and other nuts are not safe for your cat.
Ultimately, peanut butter for cats should be considered like candy or potato chips to a human — they don't provide nutritional value to your cat and can cause health problems.
Veterinarians.org explains it this way: felines are carnivores so they need to obtain the majority of their nutrition from animal foods, such as fish and chicken. Cat parents should avoid giving peanut butter to their cats — with a few exceptions — as it's not a recommended food, and can even be toxic in some cases.