How to Make Your Own Zero-Waste Makeup
Learn how you can DIY your own zero-waste makeup!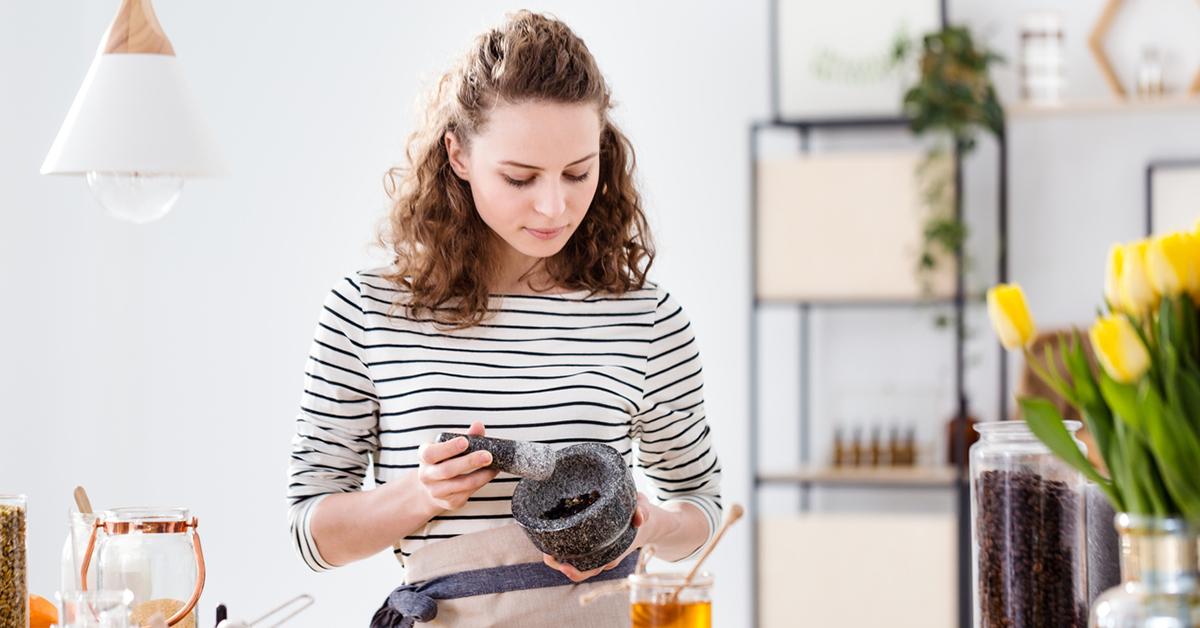 Going plastic-free should not mean sacrificing makeup. As someone who both loves zero-waste living and playing with a full face of lipstick and eyeshadow, I don't think I could ever choose one or the other. Of course, dedicating yourself to a plastic-free life can be difficult once you realize just how much minimal-use plastic is used in the makeup industry.
It might not be "single-use" technically, but makeup is most often housed in short-term use containers. How long does a tube of mascara last? Two or three months maybe. Add that up over a lifetime, plus all the other makeup you may use and the number becomes astronomical. So how can we have our cake and eat it, too? Or in this case, play with makeup and still save the environment?
While there are some eco-friendly makeup brands out there, if you consider yourself a DIY queen or Susie Homemaker, then there's always the option of making your own zero-waste makeup at home. Yep, that's right you can make this stuff at home! In most cases, all you need is a few ingredients typically found around the zero-waste home. Just a few quick trips to the pantry and move over, Sephora, we don't need you anymore.
Article continues below advertisement
Eyeliner and Mascara
Yup, they're the same recipe. Green Matters borrowed this recipe from our go-to zero-waste guru, Kathryn Kellogg of the blog Going Zero Waste. The mother of all things zero-waste went through the trial and error of it all (eyeballs burning, unable to rinse it off) so that you don't have to.
Here's what you'll need:
1 tablespoon of activated charcoal
½ teaspoon of shea butter
1 teaspoon bentonite clay
2-3 drops of either sweet almond or olive oil
Using a mortar and pestle, mix all of the ingredients together, taking special care to work the oils into the powder ingredients. Note: If you use a metal utensil, it will deactivate the active ingredients in the clay that detoxify your skin. Since this recipe is for mascara and eyeliner, it's not really being used to detox the skin, but it's worth noting.
You can use this mixture as both mascara and eyeliner. To use as an eyeliner, dip a line brush into water, then into the mixture (which should be powder-like in texture). To use as mascara, run a used mascara wand under water, dip into the mix, tap to shake off excess, and apply to your lashes. With traditional mascara, you generally curl lashes before applying mascara, but because you have to dip the mascara wand into water before applying this at-home, zero-waste mascara, you'll have to curl lashes after applying.
Article continues below advertisement
Blush
Ever wondered where blush comes from? Well, that blush-pink, natural red needs to come from somewhere and if you're choosing to make it at home, the most obvious place from which to borrow that bold hue is beets, of course. We found this easy, all-natural blush recipe from Shelbizleee on YouTube.
Here's what you'll need:
Peel and cut beets into thin slices. Put them outside to dry out for at least an hour; after sitting out for an hour, the beets should resemble beet chips in appearance and texture. Add the dried-out beets to a food processor, which will turn the chips into a very fine powder.
That's it! Add the powder to a small tin and when ready, use a blush brush to apply.
Article continues below advertisement
Bronzer
Bronzer can be tricky as this makeup is a bit more dependent on the user's skin tone. Some zero-wasters use a one-ingredient bronzer, relying on cocoa powder. However, depending on your complexion, cocoa powder might be either too light or dark. If cocoa powder is too dark for your skin tone, you can mix it with arrowroot powder or cornstarch to lighten it. If cocoa powder is too light for your skin tone, you can try mixing it with ground nutmeg or ground cinnamon. It may take a few tries to customize the bronzer to your specific skin tone, but once you get it right, take note!
Here's what you'll need:
Cocoa powder
Ground cinnamon
Ground nutmeg
Arrowroot powder
Cornstarch
Based on your skin tone, use trial and error to find out which mixture of powders work for you. The above ingredients are all powders, so this recipe will make for a fine powder bronzer. If you prefer a creamier bronzer, add 10 to 15 drops of either cedar or lavender essential oil. Pour the bronzer into a reusable tin and use a bronzer brush to apply to the area underneath cheekbones and outer perimeter of forehead.