What Senate Seats Are Up in the Election?
Find out what senate seats could be switched in the upcoming election.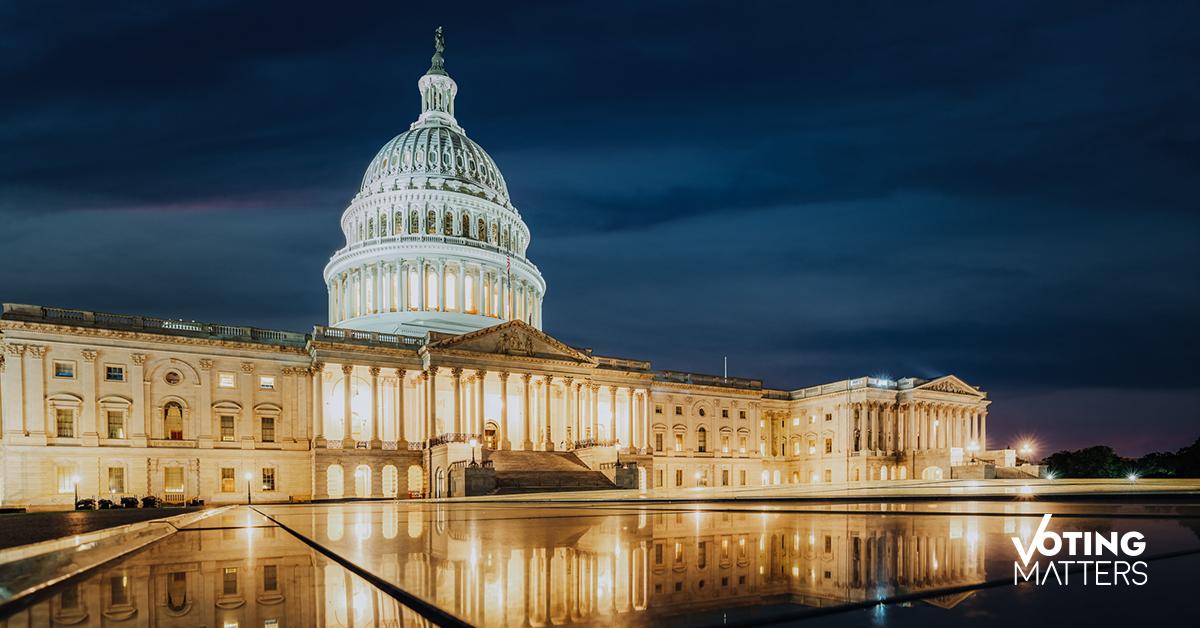 This year — like every year — there are several races that'll be on your ballot when you cast your vote. In addition to voting for the president, there are 35 Senate seats up for election, including a special election that'll take place in Arizona, per Axios. With so many seats up for grabs in 2020, there could be major changes to our legislative branch of government.
Article continues below advertisement
As the Senate stands now, it is currently made up of 53 Republicans, 45 Democrats, and two Independents. In order for Democrats to take control of the Senate, Democrats would have to win three seats (currently held by GOP) if Joe Biden and Kamala Harris win the big ticket; if the incumbents stay in office, and Vice President Mike Pence stays in office this November, the Democrats will then need to win four seats in the Senate to take control.
Do senators get reelected?
Most Americans are more familiar with a presidential term — four years per term with a cap on two consecutive or non-consecutive terms; however, rules for the Senate (including term lengths) are different.
Article continues below advertisement
According to the United States Senate, a senate term lasts six years and senators are allowed to run for reelection at the end of their term. These reelections are designed so that only one-third of the Senate is up for reelection at once during an election year. However, if it is a special election (like we're seeing with the race between Democrat Mark Kelly and Republican Martha McSally, who are fighting to replace the seat left by late Sen. John McCain) or a senator is appointed to a position to serve the remainder of the term, the senator can do so until the full term is served.
To qualify to run for the U.S. Senate, a candidate must be at least 30 years old, have been a U.S. citizen for a minimum of nine years, and must be a resident of the state in which they are running at the time of the election.
Do all senators go up for reelection at the same time?
They do not. U.S. Senate reelections are specifically designed so that, at most, one-third of the Senate is up for reelection at one time.
Article continues below advertisement
How many Senate seats are up in the election this year?
In 2020, a total of 470 seats in the U.S. Congress are up in the upcoming election; 35 of those seats are Senate seats up in the election. The remaining 435 are House seats.
What Senate seats are up in the election?
According to Axios, 23 Republican Senate seats are up in the election and 12 Democratic Senate seats are up in the election.
Article continues below advertisement
The Republican Senate seats open in the election include Sen. Martha McSally (special election in Arizona), Sen. Thom Tillis (North Carolina), Sen. Susan Collins (Maine), Sen. Steve Daines (Montana), Sen. Joni Ernst (Iowa), Sen. Cory Gardner (Colorado), Sen. David Perdue (Georgia), Sen. Lindsey Graham (South Carolina), Sen. Kelly Loeffler (Georgia), Sen. James Risch (Idaho), Sen. Dan Sullivan (Alaska), Sen. John Cornyn (Texas), Sen. Mitch McConnell (Kentucky), Sen. Mike Rounds (South Dakota), Sen. Ben Sasse (Nebraska), Sen. Bill Cassidy (Louisiana), Sen. Cindy Hyde-Smith (Mississippi), Sen. James Inhofe (Oklahoma), Sen. Tom Cotton (Arkansas), Sen. Shelley Moore Capito (West Virginia), and three open seats due to senators retiring. These retiring senators include Pat Roberts of Kansas, Mike Enzi of Wyoming, and Lamar Alexander of Tennessee.
The Democratic Senate seats open in the election include Sen. Doug Jones (Alabama), Sen. Gary Peters (Michigan.), Sen. Cory Booker (New Jersey), Sen. Chris Coons (Delaware), Sen. Dick Durbin (Illinois), Sen. Ed Markey (Massachusetts.), Sen. Jeff Merkley (Oregon), Sen. Jack Reed (Rhode Island), Sen. Jeanne Shaheen (New Hampshire), Sen. Tina Smith (Minnesota), and Sen. Mark Warner (Virgina). There is one open Democratic seat due to a senator retiring and that is the seat of Tom Udall (New Mexico).
Article continues below advertisement
Which Texas senators are up for reelection in 2020?
According to the Texas Secretary of State website, United States Senator John Cornyn — a right-leaning senator — is up for reelection and is running against Democrat MJ Hegar. Cornyn, 68, has served as the Texas U.S. senator since 2002 and was also the Republican Senate Majority Whip for the 114th and 115th Congresses. This year, the incumbent senator intends to run for reelection for what would be his fourth term.
In addition to Cornyn's position in the Senate, Texas also has 16 state senator seats up for grabs. State senators serve a four-year term and the positions up for reelection include: Bryan Hughes (District 1), Brandon Creighton (District 4), Carol Alvarado (District 11), Jane Nelson (District 12), Borris Miles (District 13), Lois Kolkhorst (District 18), Pete Flores (District 19), Juan "Chuy" Hinojosa (District 20), Judith Zaffirini (District 21), Brian Birdwell (District 22), Dawn Buckingham (District 24), José Menéndez (District 26), Eddie Lucio, Jr. (District 27), Charles Perry (District 28), and José Rodriguez (District 29).
To find out who or what you'll be voting for this election day, head on over to Vote 411 to see what your exact ballot will look like on Election Day.
This article is part of Green Matters' #VotingMatters, a campaign encouraging our readers to vote in the U.S. election on Nov. 3 to protect our planet and the people on it.