Is Vegan Teacher Kadie Diekmeyer Okay? Rumors of Her Death Might Be Exaggerated
Kadie Diekmeyer, also known as "That Vegan Teacher" on social media, reportedly had a heart attack and died on April 22. Are the rumors true?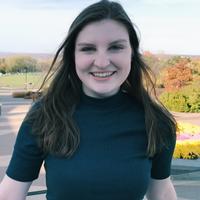 Social media influencer and vegan Kadie Karen Diekmeyer, more commonly known as @its.that.vegan.teacher on TikTok, That Vegan Teacher on YouTube, and @thatveganteachermisskadie on Instagram, alarmed fans just before Earth Day on April 21, 2022, when That Vegan Teacher reportedly died of a heart attack at age 57. Immediately, followers on social media jumped to see if the rumor was a hoax or true.
Article continues below advertisement
Did That Vegan Teacher have a heart attack? Did she pass away? Here's everything you need to know.
Article continues below advertisement
Is That Vegan Teacher dead? Did she die of a heart attack?
For the uninitiated, Diekmeyer is a vegan activist and animal rights champion who rose to internet fame through her TikToks, which frequently feature her debunking or refuting points made against veganism. She also has a YouTube channel where she creates similar content. Per her YouTube page, Diekmeyer has been a vegan since 2016, and she is also a registered nurse and English and ESL teacher.
Concerned fans need not worry any longer because as soon as the rumors started, Diekmeyer ended them. On April 21, 2022, she uploaded a YouTube video titled, "Responding to your comments: Why does everyone always think I'm dead?" to refuse persistent claims of her death.
Article continues below advertisement
Diekmeyer's main argument around veganism is that any other way of living contributes to animal cruelty and suffering. Vegetarianism is no exception to this rule; for example, someone asked about the difference between vegan and vegetarian, and she replied, "I'll get to the conclusion first: you must always be vegan, and never be vegetarian." Diekmeyer argues that being vegetarian is still paying for animals to suffer by consuming products such as cheese and milk.
Article continues below advertisement
On TikTok, Diekmeyer continues to refute claims of her death, responding to one TikTok user on April 28, 2022, saying, "There's been a rumor going around that something happened to me. I don't know who started it or why but, no, I'm fine! I'm healthy, I haven't been to the hospital for anything, my blood work is fine, my dog Bella is fine ... but how are you doing?"
Article continues below advertisement
Diekmeyer is a highly controversial figure on the internet, and in 2021, Paper Mag reported that she had been banned from TikTok after reaching 1.7 million followers on the platform. The reason for the ban is unknown but cites violating "multiple community guidelines." She did eventually reclaim her account.
A Change.org petition calling for her removal read, "She has made blatantly racist, bigoted, discriminatory statements against anyone who doesn't view veganism her way and her way alone. She has promoted multiple films that are dangerous to children given TikToks 13 yr old age requirement and many children under that age access it on a daily basis. These videos show violent depictions of animal slaughter in graphic detail."
Twitter users have also criticized Diekmeyer's videos, especially ones where she attempted to reclaim a racial slur as a white woman and reportedly mocked 9/11 victims. Diekmeyer has responded to a few critiques of her work on TikTok, but it is unclear if she will apologize directly for the harm caused by her previous videos.