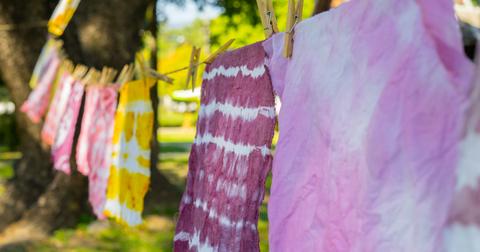 How to Tie-Dye With Plants
By Sophie Hirsh

Updated
Even though most people aren't leaving their houses right now due to coronavirus lockdowns, this time period has still brought about a few new (rather, revived) fashion trends that fashionistas are celebrating in quarantine. One such trend is tie-dye loungewear — and with so much extra downtime, crafty people are tie-dyeing clothing at home. But if you want to keep your new tie-dyeing habit as eco-friendly as possible, why not try tie-dyeing with plants?
DIY tie-dyeing is more eco-friendly — and affordable.
There are endless official DIY tie-dye kits on the market that can be used to dye clothes. However, there are a few reasons to try your hand at dyeing with plants first. For one thing, tie-dyeing with plants is often more eco-friendly — not only will tie-dye kits likely be made with plastic packaging, but they also may contain undisclosed ingredients or toxic chemicals. And when you rinse off your creations, that dye will either go down your drain into the water system, or into the soil on your lawn — so it's important to use non-toxic ingredients during this process.
Additionally, tie-dyeing with plants can save you money, as the ingredients will likely cost less than purchasing a tie-dye kit (or may already exist in your kitchen). Not to mention, using tools you already have at home — i.e. rubber bands, squeeze bottles, buckets, and white clothes that you already have as opposed to purchasing new ones — will help you save both money and waste.
Plus, when you tell your friends about your latest project (or, let's be real, when you post about this on Instagram), you can brag that you used ingredients from your spice cabinet and compost bin to craft your killer tie-dye ensemble.
How to Tie-Dye With Plants
Before gathering your dye, you'll want to find a garment made from natural fibers, such as 100 percent cotton or linen, since natural dyes do not stick to synthetic fibers as strongly. Also, thinner fabrics, such as dish towels, pillowcases, or thin T-shirts, may hold onto dye better than thick sweatshirts or sweatpants.
Additionally, many recommend pre-washing your fabric to help absorb the colors more — so make sure you've prepared all that before you start boiling ingredients. You'll also need rubber bands or string to create patterns in your fabric.
So many plants that can be used to dye clothing (such as berries, onion skin, tea, and cabbage), and the internet is filled with numerous different dye techniques. But since many people have limited resources during quarantines, we've compiled three of the simplest plant tie-dye recipes on the internet.
How to Tie-Dye With Avocado Pits
If you're anything like me, one of the most common items in your compost bin is avocado scraps — aka the pits and peels. One great way to put your avos to an additional use before chucking them in the compost is using the avocado pits to dye clothing pink. Simply rinse off and store the pits in your freezer until you have two saved up for each garment you want to dye.
According to an excerpt from the book Natural Color: Vibrant Plant Dye Projects for Your Home and Wardrobe as published on Apartment Therapy, to dye five pillowcases, all you'll need is water and 10 avocado pits. Place the pits in a large pot, and fill it about two-thirds of the way with water. Bring it to a boil, and let simmer for about an hour, or until the water turns bright red. At that point, use tongs or a slotted spoon to remove the pits. Make sure to add them to your compost.
Keeping the water at a low simmer, place your fabric in the pot (after tying it up with rubber bands or string, if desired) and let sit for at least 10 minutes. At that point, the dye should already be bonded to the fabric, thanks to the fact that avocados naturally contain mordant, a natural substance that fixes dye to material, according to Apartment Therapy.
Once the fabric reaches your desired shade of pink, remove it and rinse it in warm water and a neutral soap, and then hang to dry in the sun, if possible.
How to Tie-Dye With Turmeric Powder
To create a yellow hue, you can use turmeric powder to tie-dye clothes. According to a recipe by The Planthunter, you'll need 3 tablespoons of turmeric powder, 1 cup of white vinegar, and 4 liters of water.
First, use rubber bands or string to arrange your fabric, so that the dye will create a pattern. Then, submerge your fabric in water until it's completely soaked.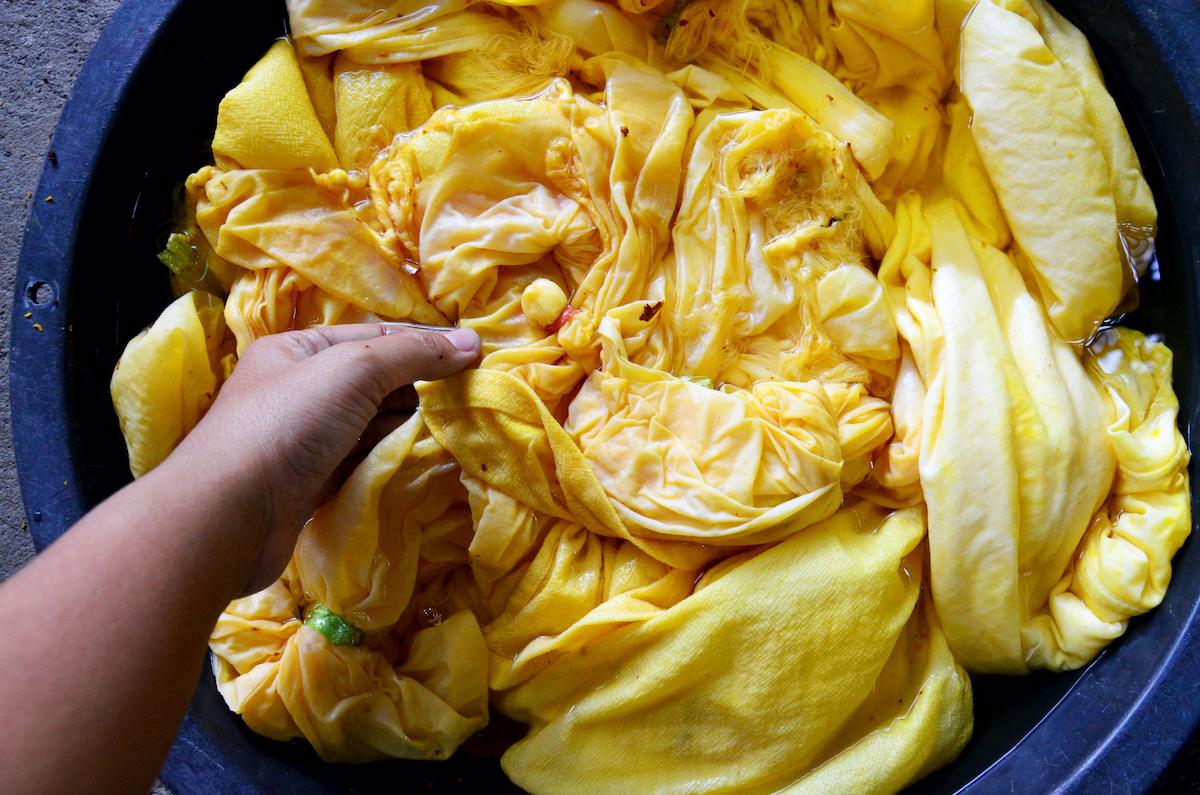 To prepare the dye, fill a large pot with the vinegar, water, and turmeric powder. Once the water is boiling, carefully put the fabric into the pot of boiling water. Once the color reaches your desired vibrancy, shut the heat, remove the fabric, and run under cold water before unwrapping.
Alternatively, after shutting off the stove, you can leave the fabric soaking in the pot for 8 to 10 hours before removing and running under cold water, to help it become even more vibrant, according to vlogger Emily Elizabeth.
The Planthunter warns that the yellow hue may fade over time — so take care when washing your new yellow garment to help the color last as long as possible.
How to Tie-Dye With Beets
Fresh beets can be used to dye clothing a vibrant pink hue. According to the blog Hello Nest, you'll need 1 bunch of beets, 2 cups of vinegar, and 8 cups of water. Combine the vinegar and water in a large pot. Bring the mixture to a boil, and place your fabric in the pot (after rubber banding it) to simmer for an hour.
As your fabric soaks, wash, peel, and roughly chop a few beets. Add the chopped beets to a second pot, and cover them with water. After simmering for about an hour, the water should be dark red. At that point, use a slotted spoon to take out the beets. (Feel free to then pickle the beets so they don't go to waste.)
Then, remove the fabric from the water and vinegar mixture, and dip it into the beet dye. Let it sit for at least 3 hours, or for a more vibrant dye, let it sit overnight. After taking the garment out of the dye, gently squeeze it to let extra liquid come out.
Hello Nest suggests letting the garment hang dry overnight rather than rinsing or washing it right away. Once dry, iron the garment to help set the dye, and then wash and dry it on a low setting.