Taco Bell Is Developing Sustainable Packaging and Making Dining Easier For Vegetarians
Taco Bell just announced goals to make packaging more sustainable and to remain a safe space for vegetarians.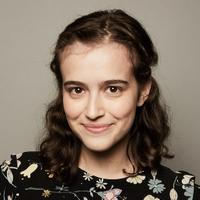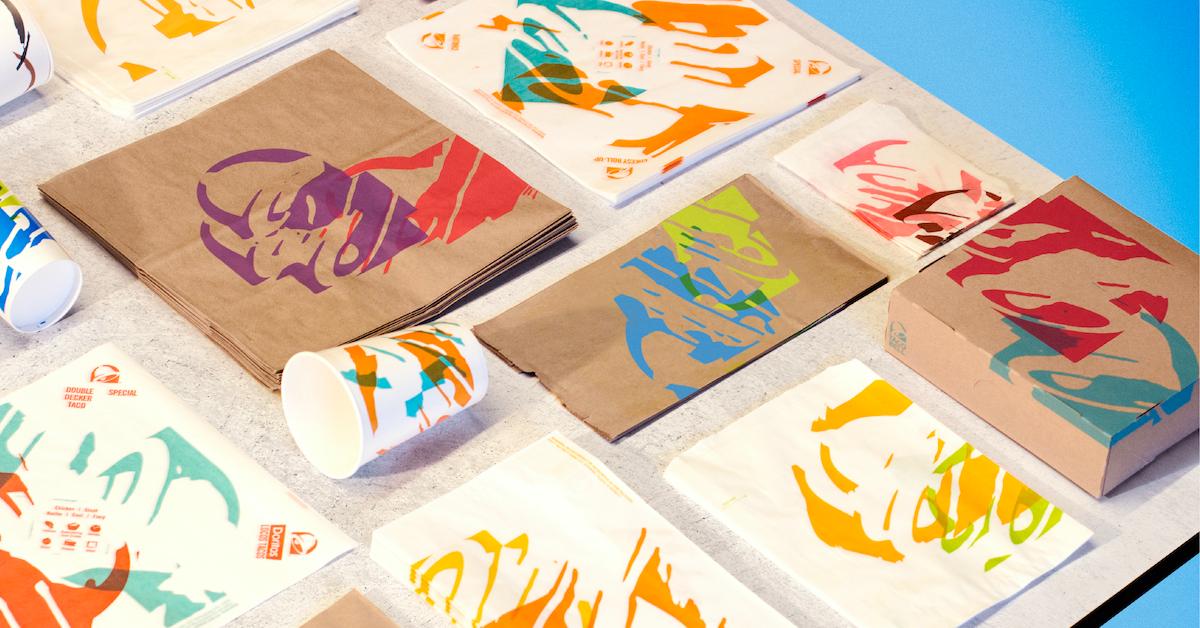 Taco Bell has been a longtime favorite spot for vegetarians and vegans to get a quick meal on-the-go — and the company plans to continue catering to eco-conscious consumers over the next five years and beyond. The fast food chain just announced a list of commitments for the near future, including goals to make packaging more sustainable and to "celebrate vegetarian."
Article continues below advertisement
Taco Bell announced the company's 2020 commitments on Thursday, Jan. 9. As detailed in press materials sent to Green Matters, by 2025, Taco Bell aims to make all consumer-facing packaging recyclable, compostable, or reusable. To supplement that, Taco Bell locations (where infrastructure allows) will install recycling and/or compost bins. Additionally, Taco Bell's consumer-facing packaging will no longer include PFAS, Phthalates, or BPA. Those three ingredients are commonly found in plastic packaging and have been linked to various health concerns.
Even though compostable and recyclable packaging is certainly better than plastic-based packaging that is destined to go to the landfill, the truth is, most customers do not properly recycle or compost their packaging, even if recycling and compost bins are available in fast food restaurants. Hopefully as Taco Bell rolls out new packaging between now and 2025, the company will also create efforts to educate customers on how to properly dispose of it.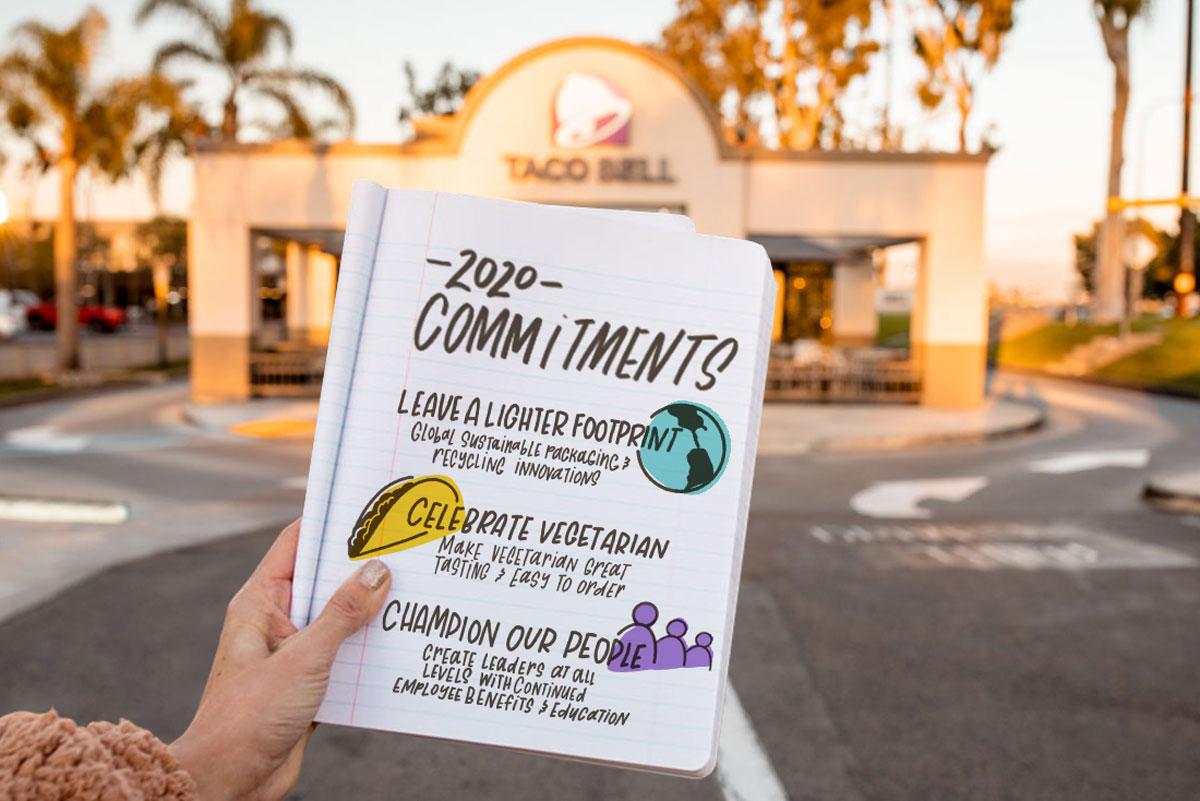 Article continues below advertisement
Additionally, Taco Bell is doubling down on its status as a vegetarian- and vegan-friendly restaurant. The chain "vows to continue providing the most vegetarian choices," and to "make vegetarian great tasting and easy to order" in all restaurants, at the drive-through, and on the app. It's unclear exactly what Taco Bell's plans are to become a safer space for veggie-loving customers, but it would be great to see more explicitly vegan options on the menu along with vegetarian options so that customers can order planet-friendly meals without having to make any customizations.
In 2019, when many other fast food chains launched meals featuring plant-based burgers made by Beyond Meat and Impossible Foods, Taco Bell proudly stated that it's been offering customers vegetarian meals for years, making it clear that the company had no interest in offering meat alternatives. According to Taco Bell's website, Taco Bell's menu includes 36 American Vegetarian Association-certified vegetarian ingredients (of which 26 are also vegan) that can be used to customize any order.
Article continues below advertisement
But in September, Taco Bell caved a tiny bit and rolled out its "first-ever dedicated in-store vegetarian menu board." The board, currently in every restaurant across the U.S., features four new items: Black Bean Crunchwrap Supreme, Black Bean Quesarito, 7-Layer Burrito, and Bean Burrito, according to USA Today.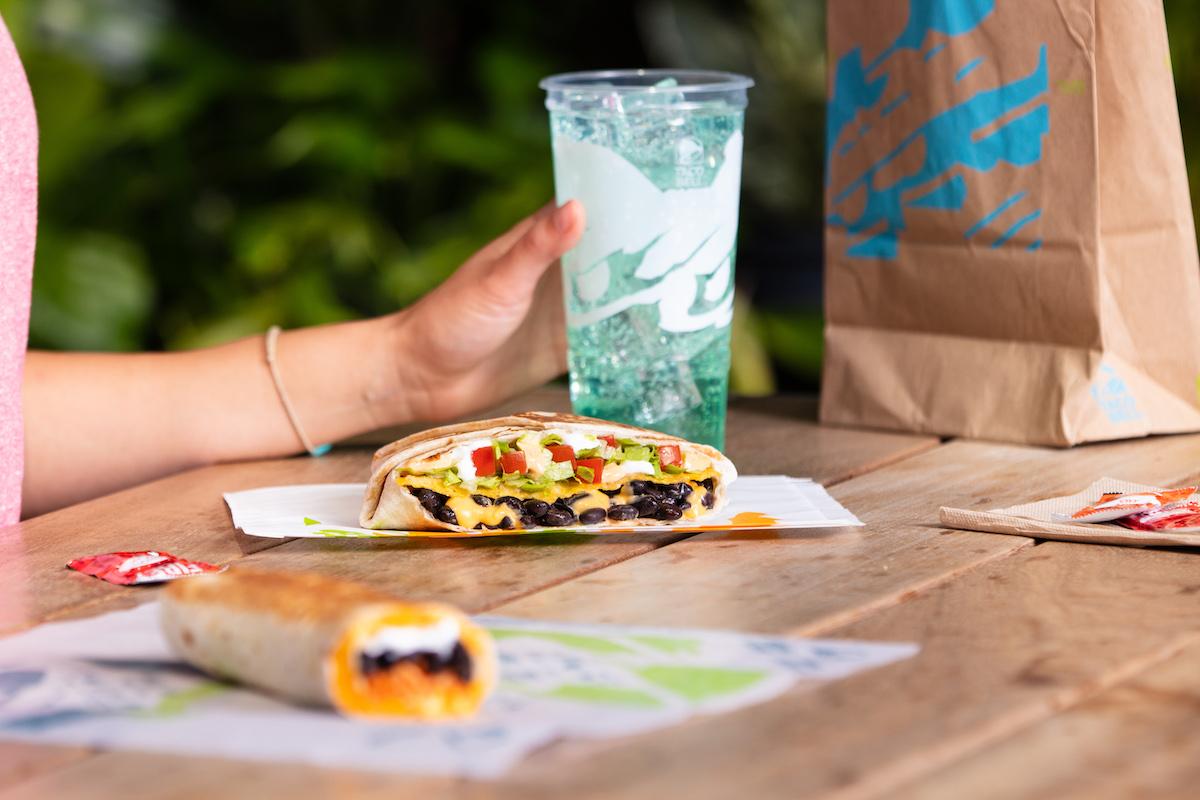 Article continues below advertisement
"As Taco Bell expands its footprint, our responsibility to drive positive impact increases," Taco Bell CEO Mark King said in a statement sent to Green Matters this week. "Our business growth in the last decade has positioned us to create change for good and implement creative solutions for our planet, our people and our food. We're excited to shake things up and make 2020 even more about what matters most: our purpose."
If we want the planet to live más, we need major corporations to commit to using more sustainable packaging and to serving less animal-based foods. While Taco Bell still has a long way to go, these commitments put the brand ahead of many other fast food chains in terms of sustainability.