6 Tips for Shopping for Toilet Paper Sustainably
We spoke with Seventh Generation about how to choose the most eco-friendly toilet paper.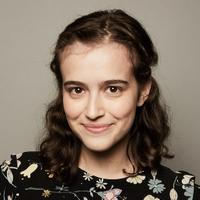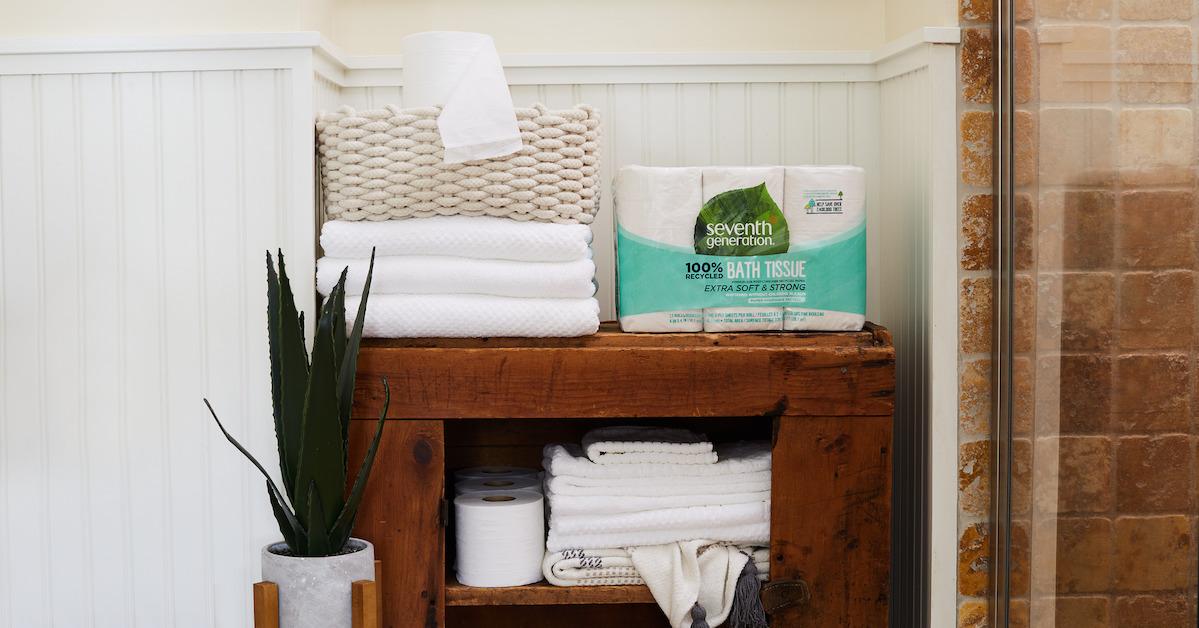 From razors to oral care to household cleaners to menstrual products, there are infinite ways to reduce waste in your bathroom. One that tends to get overlooked is, well, the way we wipe (for lack of a daintier phrase). So to learn more about how we can reduce our impact when it comes to toilet paper and all things on the john, Green Matters spoke with Ashley Orgain, Seventh Generation's Director of Mission Advocacy and Outreach.
Article continues below advertisement
Toilet paper is zero waste because it doesn't go in the trash, right?! In actuality, the answer is a bit more complicated than that. If you want to lower your impact in the bathroom, one of the best ways is by shopping for sustainable toilet paper. Unfortunately, a lot of popular TP brands are pretty bad for the planet, according to a report called "The Issue with Tissue" that the Natural Resources Defense Council (NRDC) and Stand.earth published earlier this year.
The Issue with Tissue ranked a group of common toilet paper brands on a scorecard. Brands to score an A (due to their use of recycled paper) included Seventh Generation, 365 Bath Tissue (Whole Foods' in-house brand), and Trader Joe's Bath Tissue. However, the report found that three of the largest toilet paper manufacturers — Procter & Gamble (which owns Charmin), Kimberly-Clark (which owns Scott), and Georgia-Pacific (which owns Angel Soft and Quilted Northern) — all scored Ds and Fs on the scorecard. That's because each of those companies source paper for their toilet tissue by clear-cutting the Canadian boreal forest, which is having a massive negative impact on the environment.
Article continues below advertisement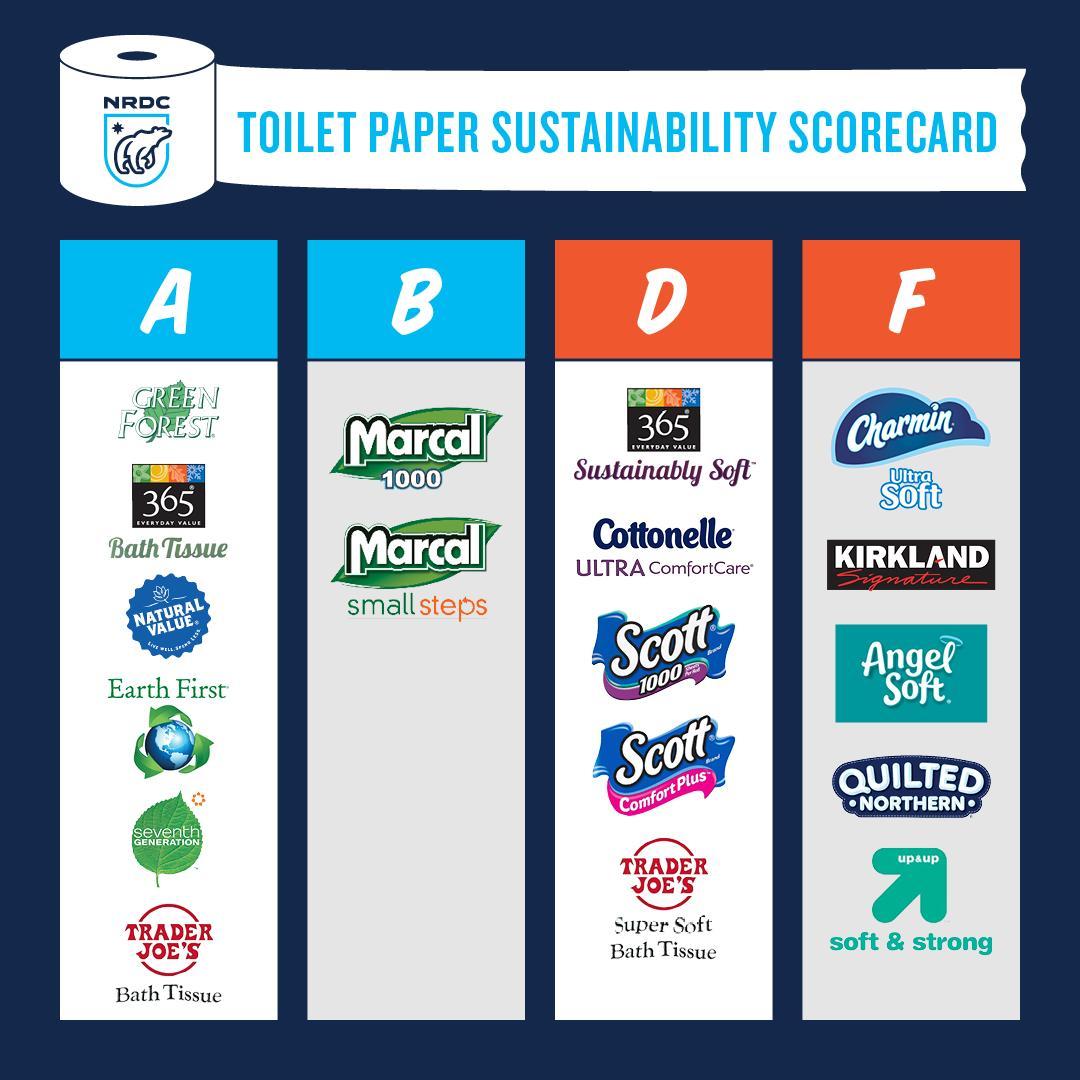 To make things easier for yourself (and the planet), you can just buy one of the TPs that scored an A or B by the NRDC and Stand.earth. But if you feel like getting a little more in touch with the stuff you wipe with, here are six tips for making toilet time as eco-friendly as possible.
Article continues below advertisement
1. Opt for Recycled Toilet Paper
Article continues below advertisement
Orgain tells Green Matters that the most important thing to look for on toilet paper packaging is for it to be 100 percent recycled. "We know that the Boreal Forests are being harvested at an unsustainable rate, and we're using some of our Earth's most precious resources as far as biodiversity and addressing climate issues," Orgain says. "So looking for a material that is 100 percent recycled and not virgin is the most important thing."
2. Look for TP Free of Certain Chemicals
Article continues below advertisement
As Orgain tells Green Matters, Seventh Generation toilet paper is whitened without chlorine bleach, and it does not include dyes or fragrance. She explains that those chemicals, especially chlorine, are pollutants to water, so you should always look for toilet paper that is either unbleached or that is free of chlorine bleach. Seventh Generation sells TP that is both bleached (which is white) and unbleached (which is a more natural tree color).
Article continues below advertisement
3. Buy TP Packaged in Paper
Article continues below advertisement
To keep your porcelain throne experience plastic-free, opt for toilet paper rolls packaged in paper whenever possible. Seventh Generation sells TP wrapped in both plastic and in paper, and all of the brand's cardboard tubes are made from recycled paper, Orgain says.
If the only toilet paper you have access to is wrapped in plastic, many grocery stores will take the plastic wrapping for film plastic recycling. To look up stores in your area with film plastic recycling bins, click here.
4. Consider Toilet Tissue Made From Other Materials
Article continues below advertisement
Orgain believes recycled paper toilet tissue is the most sustainable option, but there are a few other virgin materials that are used to make toilet paper that some people believe are just as sustainable. For example, bamboo. The companies No. 2 and Who Gives a Crap both offer toilet paper made from bamboo (which grows extremely fast) that is packaged in paper instead of plastic. Both companies' TP can be ordered online.
Some people find bamboo toilet paper to be a silkier, cushier option than recycled toilet paper — so if your favorite TP is something super plush like Charmin, a luxe bamboo option may be more up your alley than recycled TP.
Article continues below advertisement
5. Consider a Bidet
Article continues below advertisement
Even though you're about to have the most eco-friendly toilet paper on your block, you can lower your potty impact even more by investing in a bidet attachment for your toilet. After spraying your tush clean with a bidet attachment, you'll only need a small amount of toilet paper to pat dry. (Or if you really want to take things to the next level, you can read the Huffington Post's explainer on family cloth, which is reusable cloth toilet paper.)
A popular option is from the brand Tushy, which makes easy-to-install bidet attachments starting at $69.
6. Remember That This Issue Affects the Entire Planet
Article continues below advertisement
Orgain explains that Seventh Generation's 100 percent recycled toilet paper is a completely closed loop process, as no new materials are needed. This drastically reduces the product's environmental impact, which Orgain explains has an effect on all of the Earth's inhabitants. "The health of the people is intrinsically linked to the health of the planet," Orgain says. "You can't have a healthy community on a sick planet."