Recycling Cookware: How to Responsibly Get Rid of Old Pots and Pans
Even the rustiest, crustiest cookware can be recycled — you just need to know how to do it.
Replacing cookware is easy, and if you like cooking, it's kinda fun. But what do you do with your reliable old tools once you get the new ones — throw them away? After all, cookware can get scratched, rusted, dented, or otherwise ruined over the years. This makes it very hard to imagine passing them on to somebody else. But you might be surprised to learn that your old pots and pans can be recycled. Keep reading to find out how to recycle old cookware.
Article continues below advertisement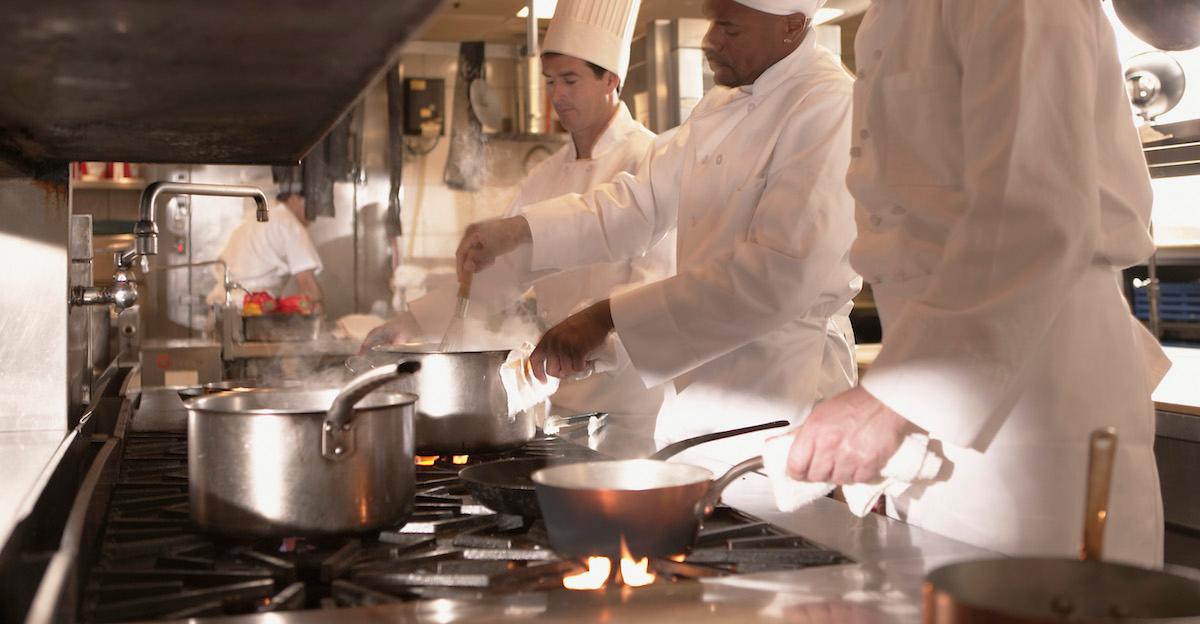 Can you recycle old cookware?
It might seem unusual, considering that cookware comes in all shapes, sizes, and combinations of materials, but it can absolutely be recycled. In fact, there are several different ways to go about doing this. According to Martha Stewart, the first step is determining what the cookware is actually made of. This is because many municipal and commercial recycling programs might only accept certain metals or materials for recycling.
Article continues below advertisement
How to recycle old cookware:
Modern cookware items are generally made of a blend of metal, plastic, ceramic, and wood. They often have chemical coatings like Teflon, which can be toxic if ingested. In addition, according to Martha Stewart, some municipalities have rules regarding ferrous metals (meaning it contains iron, and is typically magnetic). Cast iron is one of the easiest materials to recycle, as are copper, aluminum, and stainless steel.
All of these can be considered scrap metal, and it's important to note that most of them aren't considered ferrous metals. If you're unsure, take a magnet to the pan and see if it sticks. The second step is calling your local municipality or recycling department or checking the website to see what they do and don't accept.
Article continues below advertisement
According to Earth911, only about 5 percent of curbside recycling programs actually accept scrap metal. Fortunately, there is an easy way to locate recycling centers and scrapyards that accept cookware for recycling.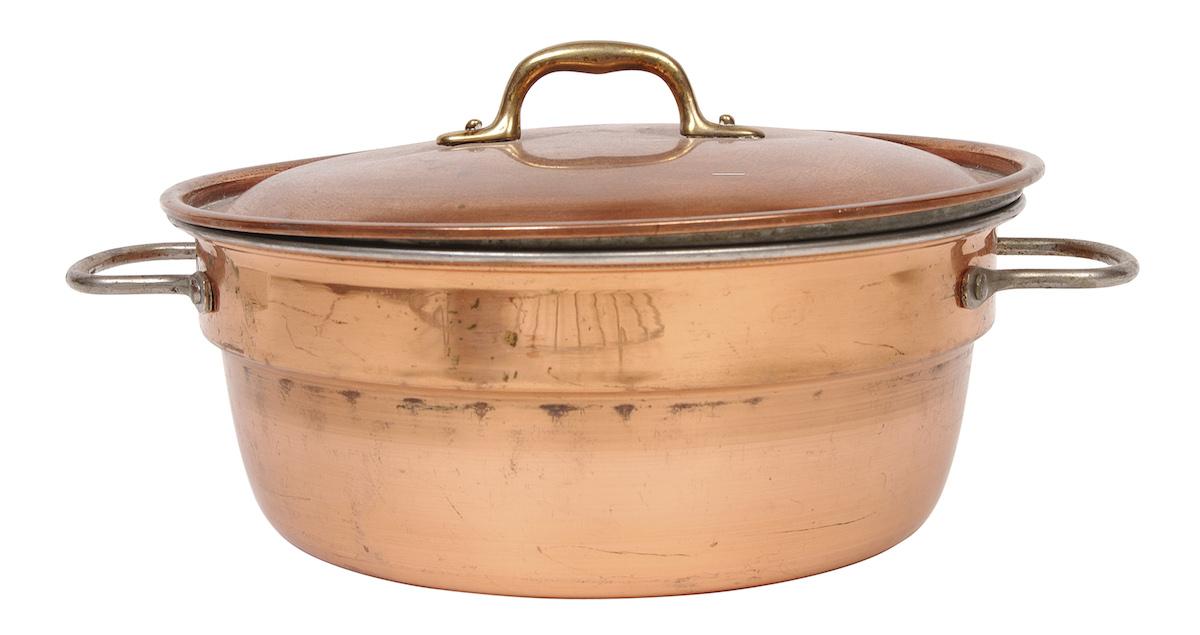 Article continues below advertisement
Earth911's recycling locator can help you get rid of old cookware.
Earth911 is a great site for finding recycling options for just about any recyclable product under the sun. You can visit Earth911's online recycling locator, enter "cookware" along with your zip code, and you'll find a list of local places where you can recycle cookware, along with the details on exactly what material cookware they accept.
To make things even easier, Earth911 recently partnered with ceramic cookware brand Caraway on the brand's Re-Store Your Kitchen recycling initiative. Just visit the initiative's page on Caraway's website, enter your zip code, and you'll be presented with the same list of nearby places that will let you drop off your old pots and pans for recycling. In honor of the initiative, Caraway will be making a donation to the organization 350. It's a win-win-win for everyone, including the planet.
Article continues below advertisement
Then, if you so choose, you can upgrade the old cookware by buying one of Caraway's non-toxic ceramic pieces. Note that those who donate do not need to purchase a piece of cookware from Caraway in order to use the recycling locator tool.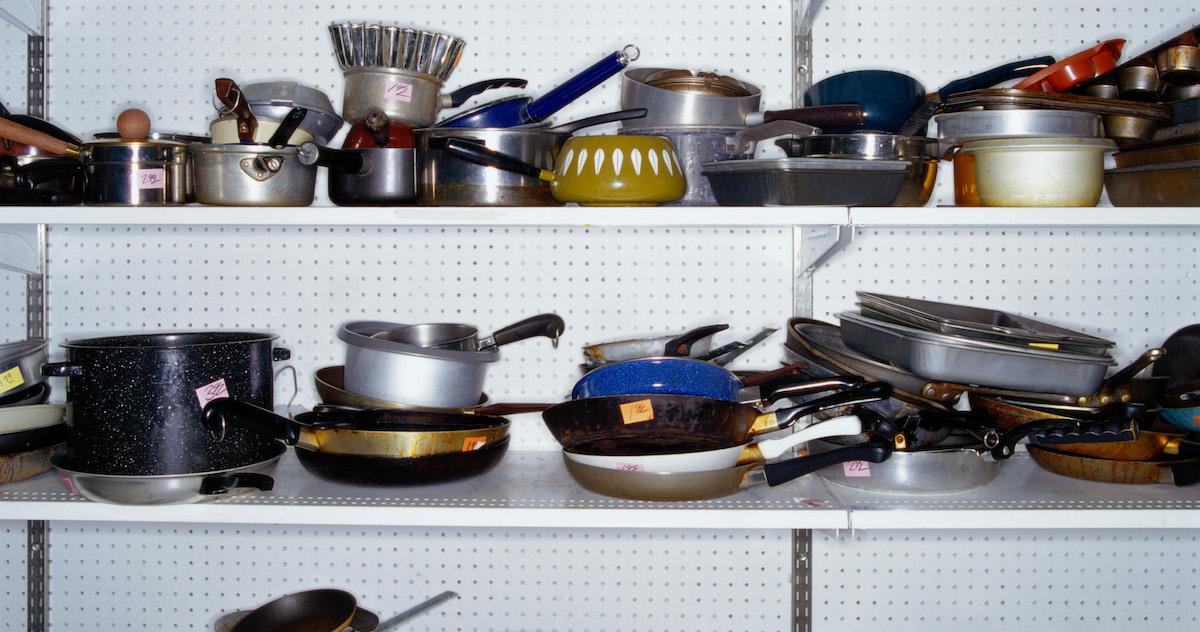 Article continues below advertisement
Recycle your old cookware through TerraCycle.
You can recycle cookware through TerraCycle's Kitchen Separation Zero Waste Box program. The process is simple but costly, and though the $109 price tag includes shipping, processing, and materials, it's not the most affordable for getting rid of old cookware. Still, it beats having it end up in a landfill.
Can you recycle nonmetal cookware?
According to Earth911, cookware without metal components can be tricky to recycle — so for these, TerraCycle or donating (as long as they aren't broken) are your best bets. For instance, Pyrex dishes and ceramic bowls are often treated with special chemicals to make them more durable and less meltable than your average cooking vessels, which means they can't be placed in a curbside recycling bin.
Article continues below advertisement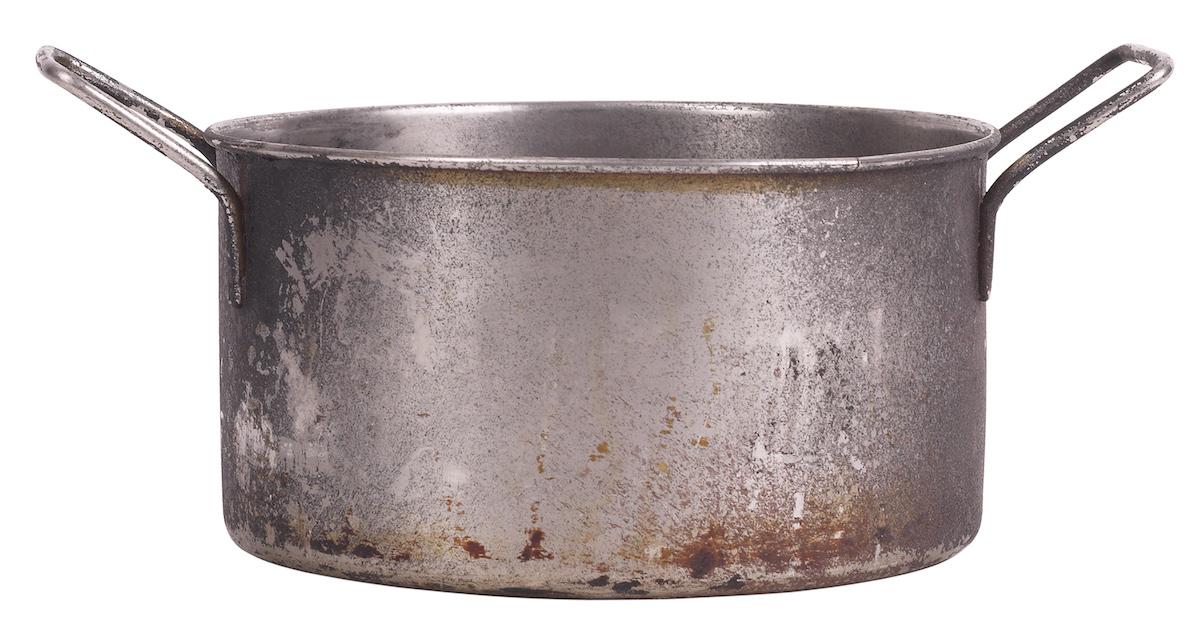 You can also donate old cookware.
So long as they are in good condition, old pots and pans can be donated to thrift and secondhand stores; you can also contact local food pantries and see if they are in need of cookware.
If your old pots and pans are not in good condition, you could try to give them away through websites like Craigslist or Freecycle. Many people might not consider a dented pot a dealbreaker, or they'll find a creative use for it outside of cooking.