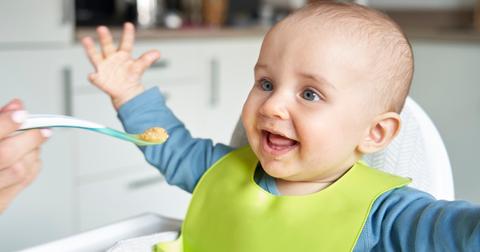 Your Questions About Organic Baby Food, Answered
By Stephanie Osmanski

Updated
Shopping for food can be super confusing with all the labels out there that exist. As a person, you want to get the healthiest, most affordable food on the market, but you have to sift your way through sometimes bogus claims like "all-natural" versus what's organic. And if you are a parent, you want to get the healthiest, most affordable food there is for your baby. Unfortunately, if you are a parent, that label-sifting only gets worse and the shopping only gets more confusing.
Article continues below advertisement
Luckily, we're here to help you take matters into your own hands and understand the ins and outs of organic baby food. Is organic baby food really better? Which are the best organic baby food brands out there? And so many more questions that parents ask about organic baby food — all answered below.
Is Organic Baby Food Better?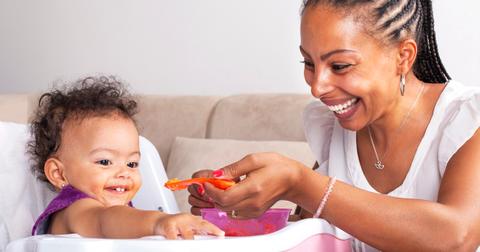 To understand the answer to this question, you first need to understand what it means to be organic. An organic label on food refers to an organism — plant, crop, food, or fabric — that has been produced without the acid of chemical or synthetic fertilizers, pesticides, herbicides, insecticides, and fungicides. Organic food cannot be genetically modified in any way (GMO) or use artificial growth hormones or antibiotics.
Article continues below advertisement
Now, knowing that organic baby food is devoid of synthetic fertilizers, pesticides, herbicides, insecticides, fungicides, GMOs, artificial growth hormones, and antibiotics, one could assume that organic baby food is generally better and safer for consumption.
In fact, according to the Organic Trade Association, organic food contains increased levels of nutrients and antioxidants, no use of artificial preservatives, colorings, added flavors, or ionizing radiation.
In terms of what organically grown foods do for the environment, the organic regulations set in place for soil encourage biodiversity. Biodiversity is key to supporting ecosystem productivity and ensuring sustainability for all life.
Are Organic Baby Foods Safe?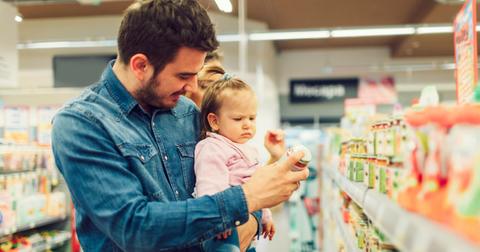 Because organic baby food is made without synthetic fertilizers, pesticides, herbicides, insecticides, fungicides, GMOs, artificial growth hormones, antibiotics, added flavors, artificial preservatives, colorings, and ionizing radiation, it is generally considered safe.
Article continues below advertisement
A big concern many parents have with conventional baby foods is their higher levels of pesticide exposure. According to the National Pesticide Information Center, infants and children are more susceptive to pesticides. Children take more breaths per minute, causing them to be exposed to more pesticides than an adult would be by the same food. Exposure to pesticides in young children and infants could negatively impact neurodevelopment.
What Is the Best Organic Baby Food?
If you have already decided that you'd like to switch to (or start) your baby on organic baby food, then you might be trying to find out which brands are best. Every family is different and every baby is different, but here are some of the best-rated organic baby food brands:
Plum Organics
Earth's Best
Gerber Organic
Sprout Organic Baby Food
Once Upon a Farm
Is Gerber Baby Food Organic?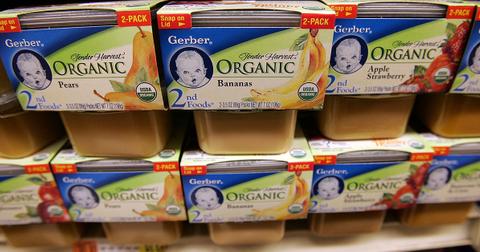 Gerber is one of the most popular baby food brands in the United States, so it's only natural that many parents wonder if it's actually organic and therefore, safe.
Conventional Gerber baby food is not organic. However, Gerber does have an organic line, aptly called Gerber Organic. Nicknamed "farm to highchair," Gerber claims their organic line is full of USDA Certified Organic products with no added starch and that are non-GMO. The Gerber Organic line features organic baby foods like organic cereal, organic baby food, organic beverages, organic formula, and organic snacks.
Article continues below advertisement
Does Organic Baby Food Have Arsenic?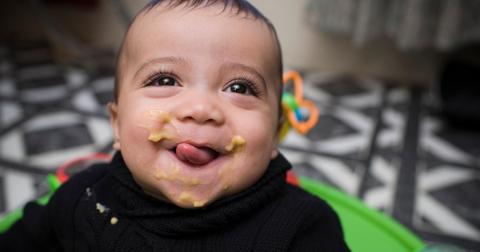 A study published in late 2019 found that 95 percent of tested baby foods in the U.S. contained some amount of toxic metals; among these heavy metals was arsenic.
Article continues below advertisement
The report stated, "Even in trace amounts found in food, these contaminants can alter the developing brain and erode a child's IQ. The impacts add up with each meal or snack a baby eats."
Among the baby foods tested, rice-based foods were by far and away the biggest culprits of the highest levels of heavy metals. The report found that sweet potato products and fruit juices were also high in trace amounts of heavy metals.
"These popular baby foods are not only high in inorganic arsenic, the most toxic form of arsenic, but also are nearly always contaminated with all four toxic metals," the report continued of infant rice cereal, rice meals, and rice-based snacks.
You may be wondering: Is organic baby food also affected by these numbers? A 2012 study found that brown rice syrup, which is a common ingredient in organic baby foods, was also a culprit of arsenic. To add insult to injury, an organic milk formula for toddlers was found to have inorganic arsenic levels six times what the US Environmental Protection Agency (EPA) designates as safe.
Do Organic Baby Foods Have Metals?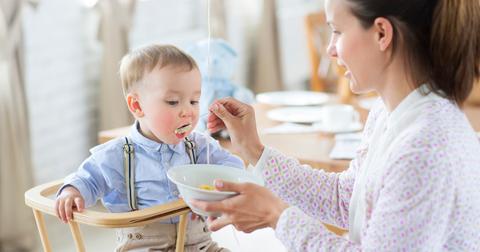 Arsenic is not the only toxic metal that has found its way into our children's food. The same 2019 report found that of 168 baby foods from major U.S. manufacturers, 95 of them contained lead, 73 percent contained arsenic, 75 percent contained cadmium, and 32 percent contained mercury. One-fourth of all 168 tested baby foods were found to contain all four metals.
Lead is also a concern for baby food. Apparently 1 in 5 baby foods tested contained 10 times the 1-ppb limit of lead deemed safe. Though no level of lead is actually "safe," it is still shocking that baby food, of all products, was 10 times over the acceptable limit.
Article continues below advertisement
Can I Get Organic Baby Food With WIC?
The Women, Infants, and Children Nutrition Program (WIC) does allow people to buy baby food — meats, cereal, rice and vegetables. However, in all three categories, organic versions are on the "not approved" list for WIC.
However, according to USDA, federal regulations state that WIC participants "will be able to purchase organic fruits and vegetables with their cash value vouchers or organic fresh bananas with the infant checks."
Can Dogs Eat Organic Baby Food?
If your dog has ever had to go to the emergency veterinary clinic, you may have noticed that the vets fed your dog organic or conventional baby food. According to American Kennel Club, vets sometimes do this in emergency situations because it is easy to swallow and digest, making it an effective way for vets to administer oral medications.
While it's not recommended to feed your dog baby food as an alternative to dog food, if you have to feed your dog organic baby food, AKC suggests Stage II meats — chicken, lamb, and turkey. Organic baby food is not recommended for dogs as an alternative to dog food because it is not fortified with the nutrients and vitamins that dogs specifically require. If you are going to feed your dog organic baby food, stay away from anything with garlic or onion powder as an ingredient.
How to Make Organic Baby Food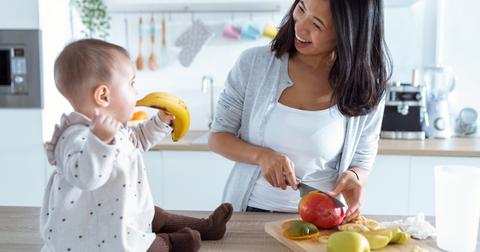 Knowing the state of both conventional and organic baby foods these days, making your own organic baby food at home might be the best, safest, and healthiest option for you and your family. Luckily, it's easy to make organic baby food at home, as long as you buy organic ingredients.
Article continues below advertisement
Organic baby food is basically puree or a mash. To make organic baby food, start with any organic fruit or vegetable as a base. If you prefer to add more nutrition into your baby's food, you can blend a grain like lentils into the mix. You can also mix veggies and fruits together.
According to Mother Nature Network, start off your organic baby food recipe with certified organic fruits and veggies. You'll want to peel the skins and scrub them well. If there are any seeds or stems, remove them. Boil or steam your produce, then once it's soft, drain and let it cool. Use a fork to mash up the boiled produce, then use a blender to get the consistency and texture to something a baby could eat. That's it! Easy, right? Serve ASAP or if you're saving it, freeze the homemade organic baby food. Frozen organic baby food can last in the freezer for up to two months.