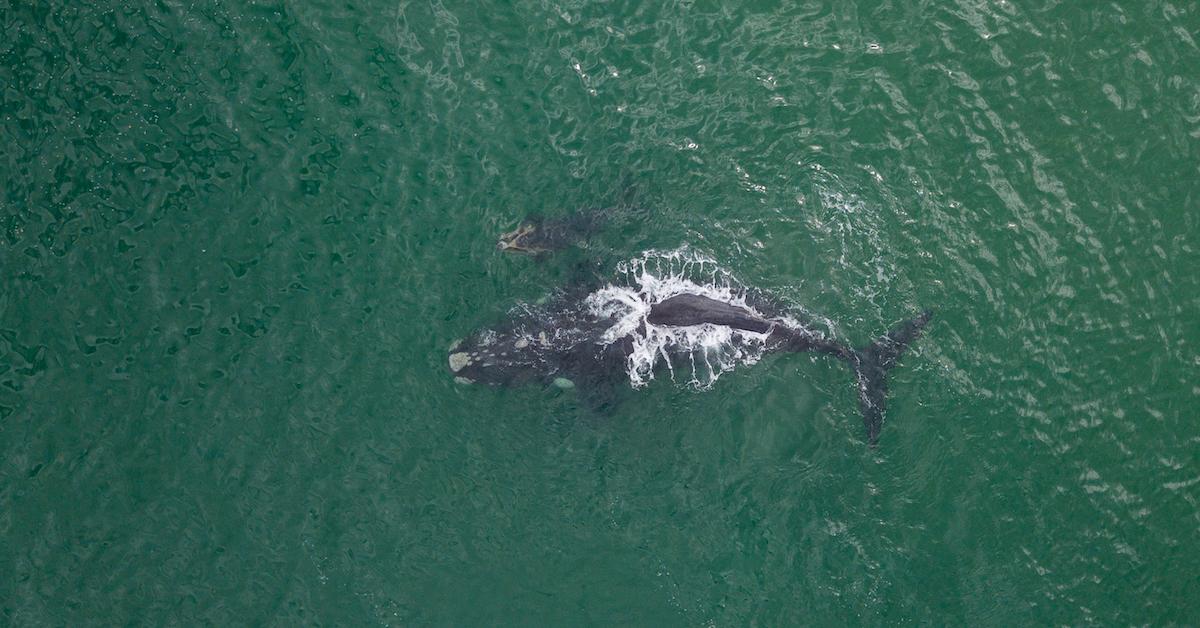 6 Endangered Right Whales Died in June
By Sophie Hirsh
Get green news right to your inbox!
Thanks for signing up!
The North Atlantic right whale population has been declining over the past decade, with just 411 of the endangered animal still alive as of May 2019. Unfortunately, that number recently took another dip, because as the The Atlantic reports, six North Atlantic right whales were found dead in Canadian waters this month.
The New England Aquarium has been logging North Atlantic right whales for decades in a database called the North Atlantic Right Whale Catalog. As the New York Times and The Atlantic reported via the catalog, the first right whale to pass away this month was a 9-year-old male named Wolverine. On Tuesday, June 4, he was spotted dead in the Gulf of St. Lawrence, in the Atlantic ocean. Five years ago, Wolverine's mother died after getting tangled up with fishing gear, according to the New York Times.
On Thursday, June 20, a 40-year-old female whale named Punctuation was found dead, floating on the Gulf of St. Lawrence's water. The Atlantic reported that necropsy results suggest her cause of death was a ship strike, which is when a whale is hit by a ship.
Punctuation was first spotted in 1981, and she was a mother to eight calves as well as a grandmother to several grandchildren, according to the New York Times. And as The Atlantic added, there are only about 100 reproductive female right whales still alive, so losing a reproductive female right whale is also like losing potential other calves that she could have had.
On Tuesday, June 25, two right whales were found dead near the Acadian Peninsula off of New Brunswick, Canada. One was a 33-year-old male whale named Comet, who was first spotted in 1985 in Cape Cod Bay; the other was an unnamed female 11-year-old female whale. Their necropsies were also inconclusive.
Since most of the North Atlantic right whale deaths this month occurred in Canadian waters, Fisheries and Oceans Canada is investigating the issue. "We are heartbroken to confirm that a dead #rightwhale was sighted today drifting off the Gaspé Peninsula during an aerial surveillance flight," Fisheries and Oceans Canada tweeted on Thursday, June 27. "This brings the total deaths in Canadian waters for 2019 to 6. We are currently assessing the recovery and necropsy options."
It's important to perform necropsies to understand what is killing so many right whales prematurely, so that conservationists can find ways to prevent future deaths and preserve the population.
Additionally, ocean plastic (which is mostly discarded fishing nets and other fishing gear) is a common cause of death for whales, so reducing human use of single-use plastic and consumption of fish could also help restore populations.
Despite the significant recent decrease in the North Atlantic right whale's population, researchers have already spotted three new calves this season. Hopefully birth rates will continue to boom, and the new calves will help get the North Atlantic right whale off of the endangered species list in the future.