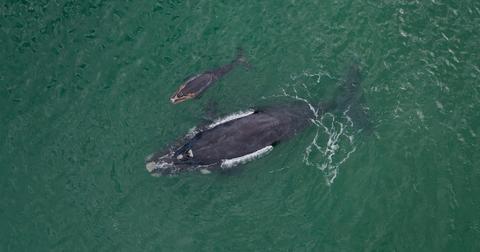 Endangered Right Whales Spotted With New Calves, Providing a Ray of Hope for the Species' Future
By Sophie Hirsh
If every single person had to agree on one singular concept, it would probably be that more baby whales is a good thing. So for a moment, step back from all this climate chaos, and enjoy the fact that right whales, a highly endangered species, are currently having a "mini baby boom," according to the BBC. The Center for Coastal Studies (CCS) spotted two mom-and-calf pairs in the Cape Cod Bay last week, as noted on the Provincetown, Mass.-based organization's website.
As the CCS further explained, the organization's right whale aerial survey team observed two pairs of mama right whales with their babies on Thursday, April 11. The group lovingly named the two mothers EgNo 4180 and EgNo 3317. Straight out of the bible!
More From Green Matters
.

Pets

The PACT Act has passed in the Senate!