Endangered Right Whales Spotted With New Calves, Providing a Ray of Hope for the Species' Future
The right whale population is limited — but luckily, it's finally growing.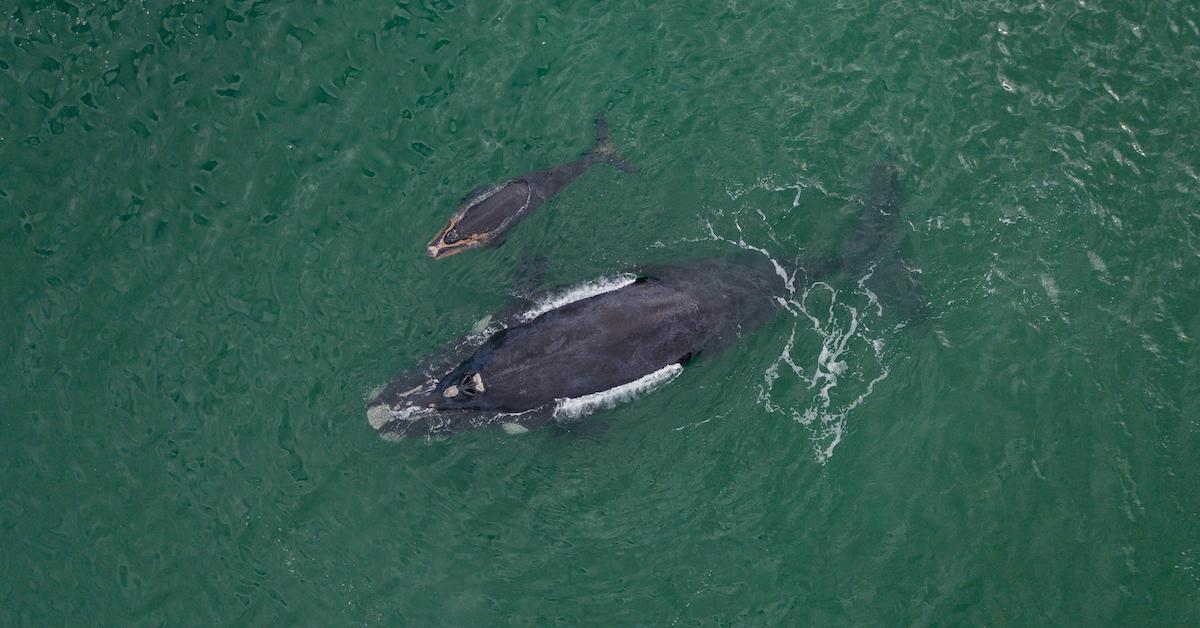 If every single person had to agree on one singular concept, it would probably be that more baby whales is a good thing. So for a moment, step back from all this climate chaos, and enjoy the fact that right whales, a highly endangered species, are currently having a "mini baby boom," according to the BBC. The Center for Coastal Studies (CCS) spotted two mom-and-calf pairs in the Cape Cod Bay last week, as noted on the Provincetown, Mass.-based organization's website.
Article continues below advertisement
As the CCS further explained, the organization's right whale aerial survey team observed two pairs of mama right whales with their babies on Thursday, April 11. The group lovingly named the two mothers EgNo 4180 and EgNo 3317. Straight out of the bible!
Previously, the team had spotted one other new right whale calf born this season.
Article continues below advertisement
The two mothers had actually been spotted before, the CCS noted. EgNo 3317 was born in late 2002, and she gave birth to another calf in 2009. EgNo 4180 was actually first observed by the CCS in 2010, and she was recently spotted in February by Florida park ranger sans calf, meaning she made quite the trip up north while pregnant. Interestingly, that's actually in her nature, as right whales migrate up to the North Atlantic U.S. every spring, and back to the southeastern U.S. for the winter, according to the National Oceanic and Atmospheric Administration Fisheries. Just call them snow bunnies!
Article continues below advertisement
In March 2018, The Scientist reported that researchers had not observed any newborn North Atlantic right whales at all that calving season, which was ending at the time. The outlet noted that an estimated 450 North Atlantic right whales were currently alive, 94 of which were females who could potentially breed more whales.
The Associated Press spoke with several experts in March 2018, who all expressed concern for the future of right whales. "It is truly alarming," said Philip Hamilton, who has studied right whales for 30 years. "Following a year of such high mortality, it's clear the population can't sustain that trajectory."
Article continues below advertisement
Barb Zoodsma, who manages the National Marine Fisheries Service's right whale recovery program in the U.S. Southeast, agreed. "It's a pivotal moment for right whales," she told the AP. "If we don't get serious and figure this out, it very well could be the beginning of the end." Not to mention, the New York Times reported last February that 17 right whales died in 2017, meaning the population was not only not increasing, but it was actually decreasing.
So based on how dire the future of the right whale population looked last calving season, the fact that three babies have already been spotted this season is a much bigger deal than it may seem. Not to mention, CCS researchers recently reported that they have observed 219 North Atlantic right whales on the Cape Cod Bay this year, which is nearly half of the total estimated population of 411 North Atlantic right whales. So even though the population is still endangered, there's hope that right whales are on the up-and-up.