Naomi Seibt: Everything You Need to Know About the "Anti-Greta" 19-Year-Old
Naomi Seibt is a 19-year-old YouTuber and anti-climate activist from Germany — here's everything you need to know about her.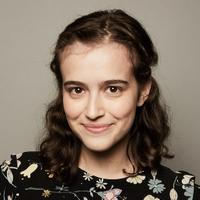 The media often draws comparisons between Greta Thunberg and other teenage climate activists from around the world — but the latest teen to be compared to Greta could certainly not be considered a climate activist. Naomi Seibt is making waves online after The Washington Post profiled her earlier this week. Naomi's claim to fame? Being a rare teenage climate skeptic.
If you want to learn more about Naomi being positioned as the "anti-Greta," read on.
Article continues below advertisement
Who Is Naomi Seibt?
Naomi Seibt is a 19-year-old YouTuber and anti-climate activist from Germany. She was recently hired as the face of a campaign by the Heartland Institute, a Chicago-based "" that influences the Trump administration, as per WaPo. She has made several public speeches detailing her core belief on the climate crisis: that it's not as bad as people like Greta Thunberg made it out to be.
Where Did Naomi Seibt Come From?
Naomi first started sharing her thoughts about the climate crisis on her YouTube channel in May 2019. Then, as told by WaPo, in November 2019, Naomi made a speech at a Munich think tank called EIKE, whose vice president is a well-known politician for Germany's far-right political party Alternative for Germany (AfD).
James Taylor — not the musician, but the director of the Heartland Institute's Arthur B. Robinson Center for Climate and Environmental Policy — caught her speech, and approached her to work with Heartland. In December, she made a speech at Heartland's forum at the UN's COP25 in Madrid. And then in January, Heartland officially hired Naomi as a face of its campaign to "question the scientific consensus that human activity is causing dangerous global warming," as per WaPo.
Article continues below advertisement
Naomi Seibt vs. Greta Thunberg
Greta Thunberg is known for mobilizing the public — especially youth — to listen to climate science and to work together to fight the climate crisis. Heartland Institute is trying to get Naomi to do the same thing for the right. (The right often receives funding and support from the fossil fuel industry, which is why right-wing politicians tend to be anti-climate science.) Heartland is trying to position Naomi as the anti-Greta so much that in December, Heartland posted a YouTube video titled "Naomi Seibt vs. Greta Thunberg: Whom Should We Trust?"
The video compared footage of Greta's passionate "how dare you?" speech given in September at the UN in New York City with footage of Naomi speaking. In the video, Naomi makes it clear that she is a climate science skeptic — but not a climate denier. In one video interview, Naomi explains that she hates the term climate denier, "especially as a German. It is so rude to refer to someone as a climate denier because obviously there is a connection to the term 'holocaust denier,' which carries a lot of weight in Germany." Yeesh.
Article continues below advertisement
It's true that Naomi is not entirely denying the climate science — she is more so saying that people reading climate science has led to too much climate consciousness and fear about the world ending, and that the future of our planet is not actually as bad as it seems. And perhaps by framing her extreme views as moderate, Heartland thinks she will be able to appeal to moderates and the right.
Article continues below advertisement
Why Is Naomi Seibt the "Anti-Greta Thunberg"?
Another phrase Naomi isn't a fan of is "anti-Greta" — even though that's exactly how Heartland is framing her.
"The reason I don't like the term anti-Greta is that it suggests I myself am an indoctrinated puppet, I guess, for the other side," she said, according to WaPo. "That sounds kind of mean, actually ... I don't want to shame her in any way."
Article continues below advertisement
Even though Naomi says she doesn't want to shame Greta, her comment implies that she thinks Greta is an "indoctrinated puppet." There's a bit of irony there, considering Naomi is the one working for a think tank, and Greta is a free agent.
Not to mention, Naomi posted a YouTube video called "Anti-Greta or Pro Human?" just last week; she also often uses phrases that Greta has used — she made a YouTube video called "How Dare You?" as a nod to Greta's speech, and another called "I Want You to Think" as a play on Greta's quote "I want you to panic."
Article continues below advertisement
Naomi Seibt and the Heartland Institute
WaPo spoke with Graham Brookie, director of the Atlantic Council's Digital Forensic Research Lab, to learn more about the tactics behind the Heartland campaign that Naomi is working for. Brookie told the news outlet that the campaign is not "outright disinformation" but that it "does bear resemblance to a model we use called the 4d's — dismiss the message, distort the facts, distract the audience, and express dismay at the whole thing."
Article continues below advertisement
Naomi Seibt's YouTube Channel
Naomi hit 50,000 YouTube subscribers this week, after nine months of posting videos. Her videos, some of which are in German, include titles such as "Climate Change – just hot air?" and "#FierceWithoutFeminism." In a few recent videos, she redirects viewers to the Heartland Institute's YouTube channel, where she says she will soon be producing content. Also coming up for Naomi is a speech at CPAC, the U.S.'s annual conservative political convention.