Meatless Mondays Expands to All 1,800 New York City Public Schools
Mayor Bill de Blasio announced that all New York City public schools will all observe Meatless Mondays starting this fall.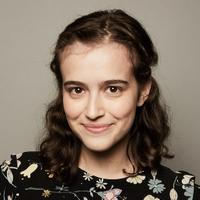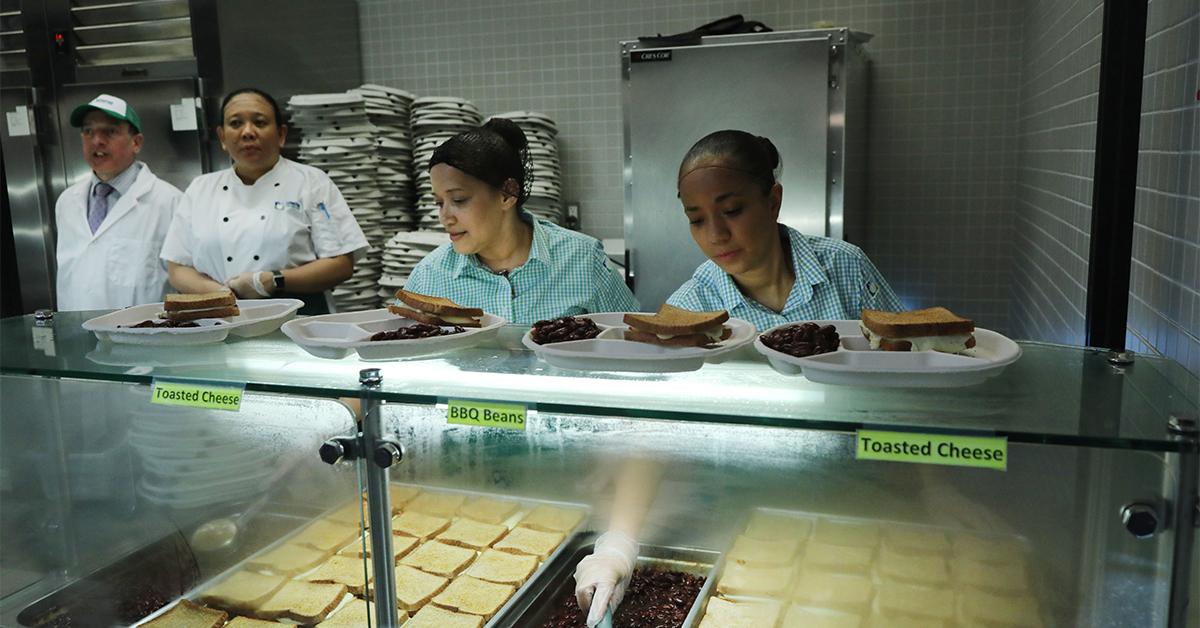 Mondays just got a little greener in New York City. As NYC lawmakers announced on Monday, beginning in the 2019-2020 school year, every NYC public school will participate in Meatless Mondays. Basically, school cafeterias across all five boroughs will only offer vegetarian options for breakfast and lunch on the first day of the week. Meatless Mondays will encourage healthier meal options, reduce greenhouse gas emissions, and hurt less animals. You don't even need a New York City public school education to see how that's a win-win-win.
Article continues below advertisement
On Monday, March 11, a group of local leaders, including Mayor Bill de Blasio, gathered for a press conference at P.S. 130 in Brooklyn to announce the news. Meatless Mondays first launched as a pilot program in the spring of 2018, at 15 public schools in Brooklyn. The program has expanded over the past year and a half, and meat-free breakfasts and lunches have become the norm at many other city schools. But now, forgoing meat on Mondays will become compulsory at all of NYC's 1,800 public schools, which serve more than 1.1 million students — and at no additional cost.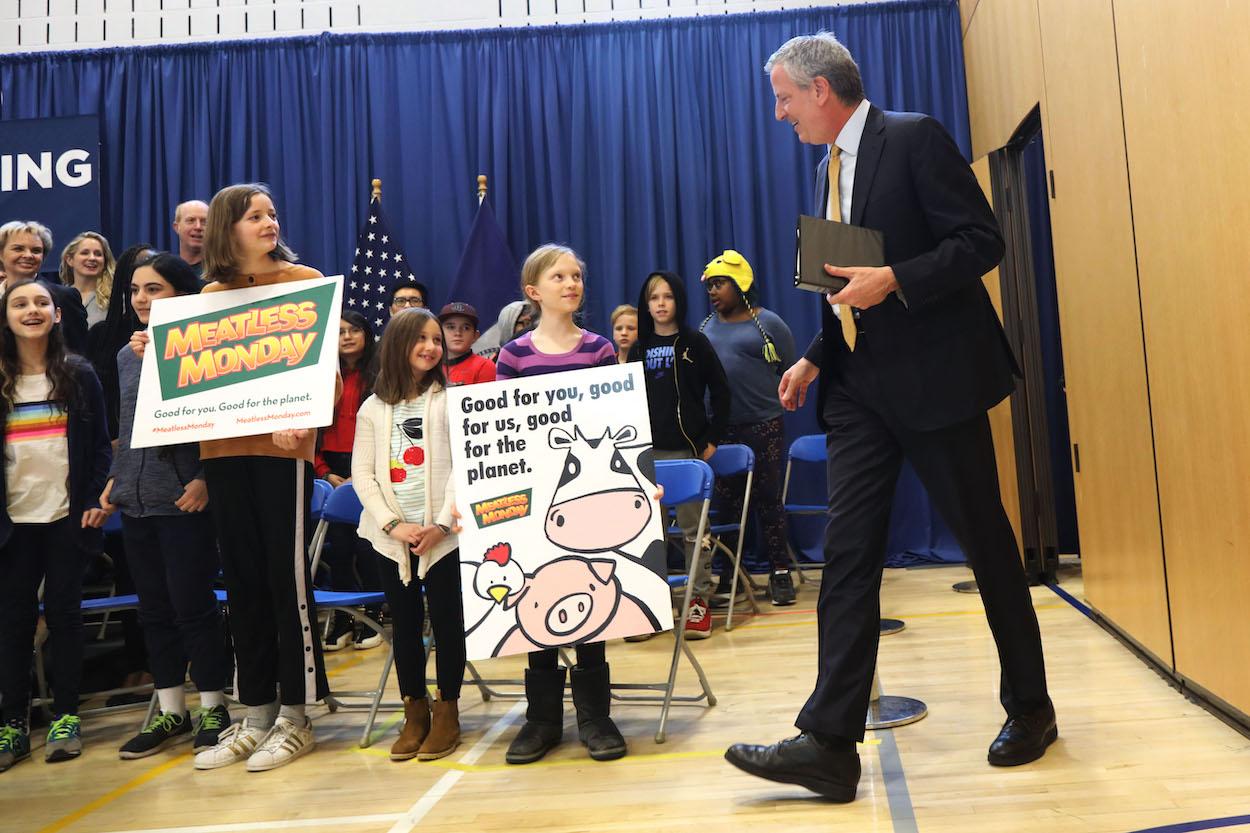 Article continues below advertisement
Mayor Bill de Blasio spoke at the press conference Monday morning to share the news — and he also joined students for a vegetarian lunch in the P.S. 130 cafeteria. "Cutting back on meat a little will improve New Yorkers' health and reduce greenhouse gas emissions," de Blasio said in a statement sent to Green Matters. "We're expanding Meatless Mondays to all public schools to keep our lunch and planet green for generations to come."
At the press conference, Mayor de Blasio, whose children are both vegetarians, further discussed why it's important to reduce meat consumption and focus on healthy whole foods. "This is not all new. Because for generations, American parents have told their children to eat their vegetables," he told the crowd with a laugh. "It's not a new idea. And too often, kids thought vegetables weren't cool ... but now, you have young people who want to eat their vegetables, who want to eat fruit." He also said that Meatless Mondays "is another contribution to addressing global warming, to striking more of a balance in our whole society."
Article continues below advertisement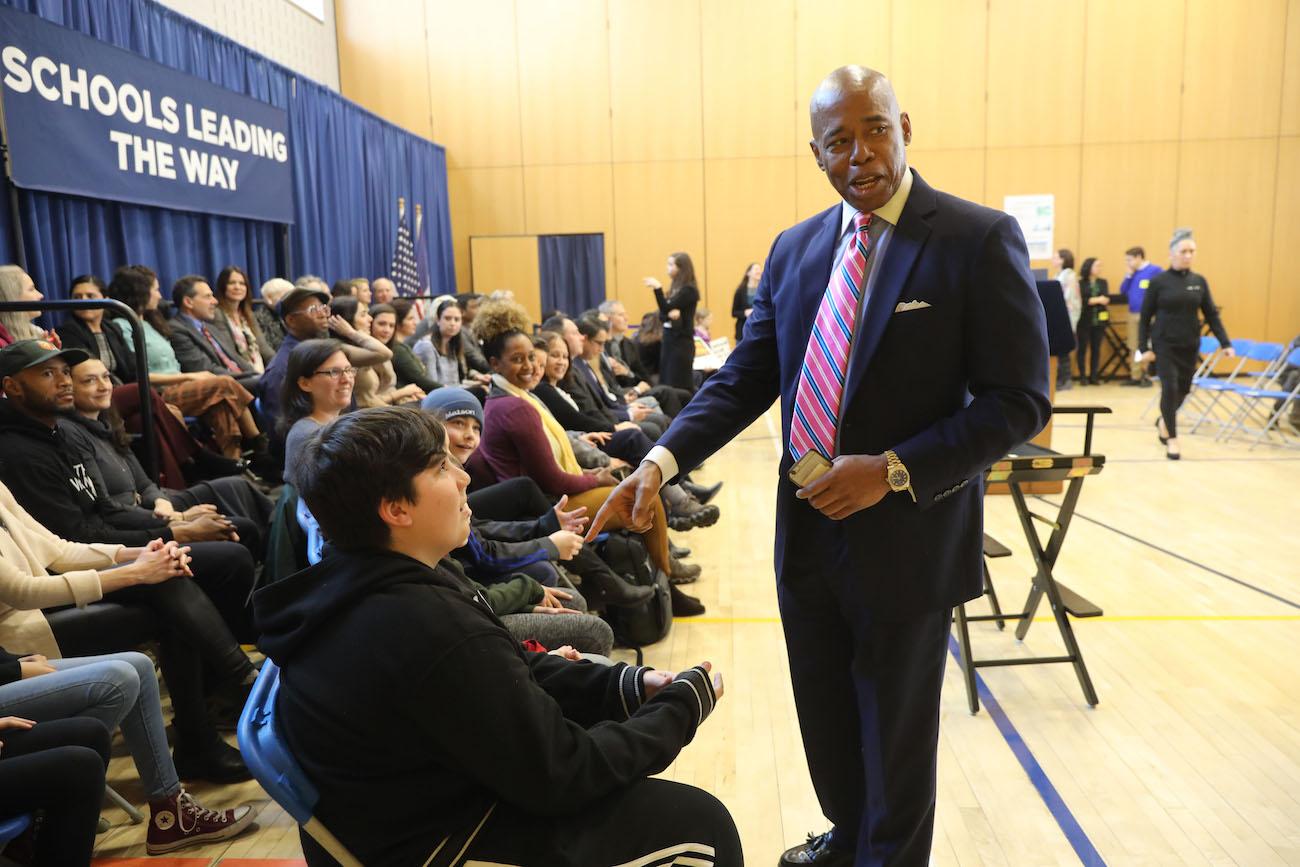 Brooklyn Borough President Eric Adams, who follows a vegan diet himself, has been at the forefront of Meatless Mondays since its inception. "In less than 18 months, we can announce that Meatless Mondays has spread to more than one million children at every school across the city, putting us on the path to make our kids, communities, and planet healthier," Adams said in a statement. "I am grateful to Mayor de Blasio and Chancellor Carranza, as well as our incredible parent and student advocates who have made this a reality. I could not be more energized by our progress and more ready to take on the work ahead."
Article continues below advertisement
Meatless Mondays is technically an extension of the Free School Lunch for All program, which provides free breakfast and lunch at public schools across the city, as per a press release sent to Green Matters. To make sure Meatless Mondays goes as smoothly as Free School Lunch for All, which first launched in 2017, the Department of Education's Office of Food and Nutrition Services will collect feedback from students throughout the rest of the school year to inform the menu for the fall.
Article continues below advertisement
Meatless Mondays is not the only initiative that the Department of Education has established to make school cafeterias more sustainable. According to the press release, 761 NYC public schools currently participate in the city's Organic Collection program, meaning they send food scraps and other biodegradable waste to be composted, instead of to the landfill; 108 of those schools are actually Zero Waste Schools, which all have a goal of making sure all compostable and recyclable waste is properly composted or recycled. At the start of this school year, the Department of Education also teamed up with S'well to give every NYC public high school student a reusable water bottle, in an effort to encourage kids to curb their dependence on single-use plastic water bottles.
It will be exciting to see how NYC students respond to Meatless Mondays once the new school year begins. Who knows, perhaps students will start asking cafeterias to serve more and more vegetarian options throughout the rest of the week.