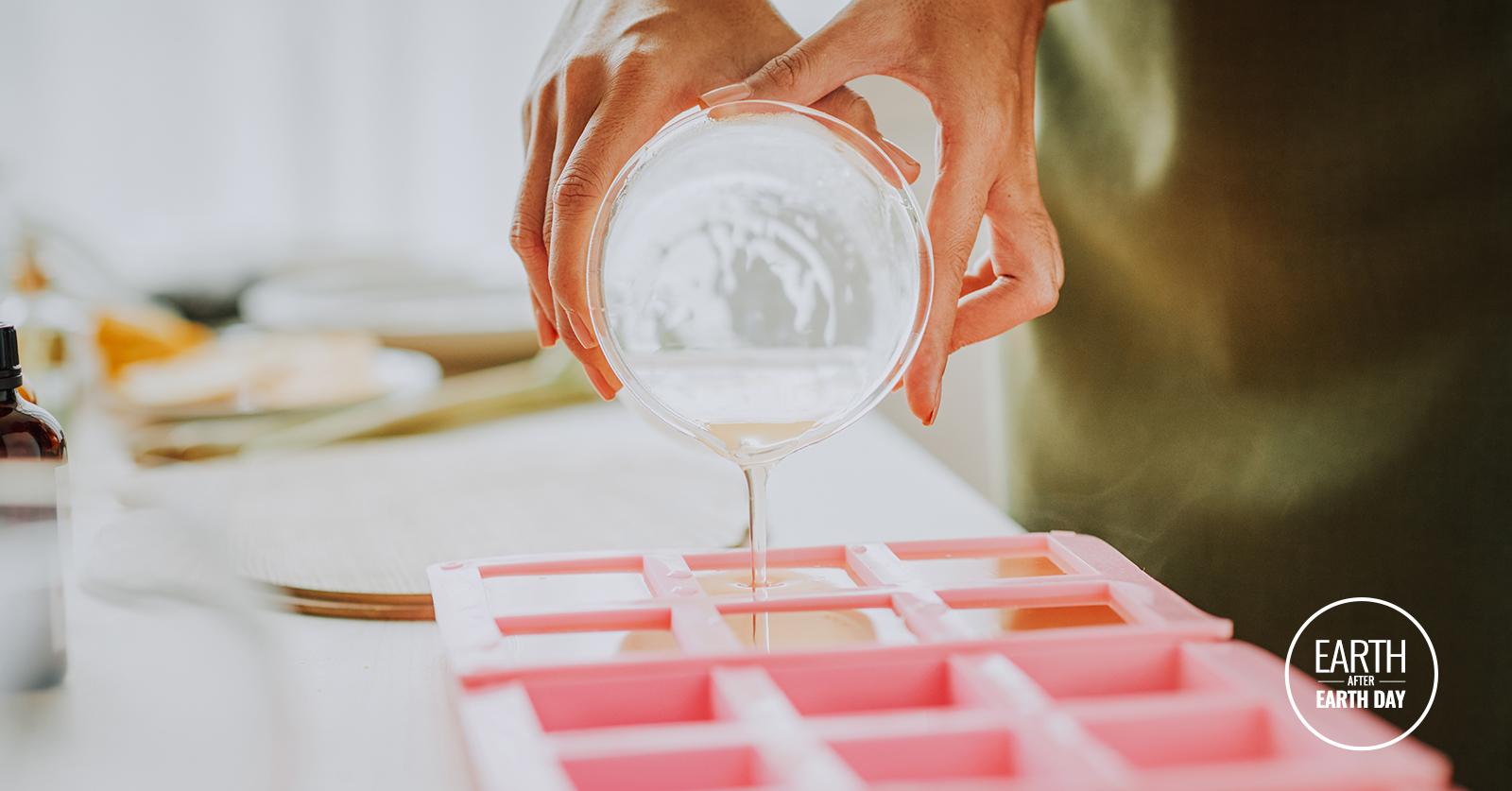 How to Make Your Own Zero-Waste, Non-Toxic Bar Soap
Learn how you can make your own bar soap!
Soap is kind of scary. At least, traditional soap. First of all, soap that comes in a plastic container (with a plastic pump) is not sustainable. Often, that plastic ends up in landfills; if it is recycled, plastic can only be recycled a finite amount of times whereas more sustainable materials (like glass for instance) can be infinitely recycled.
Article continues below advertisement
But a lack of compostability and biodegradability aren't the only components of soap that have many zero wasters avoiding them in grocery stores. Many hand soaps — even if they're marketed as "organic" or "safe" or "allergen-free" — contain some nasty stuff. Things like additives, parabens, and synthetic fragrances, colors, and more. You might be wondering: And, that's a bad thing, why? Well, all that synthetic stuff is linked to some dangerous health concerns.
Why Traditional Soap Is "Toxic"
Take parabens for example. They're one of the most common ingredients in cosmetics because they prevent the growth of mold, yeast, and bacteria in products. Great, right? But parabens are also endocrine disruptors and can cause reproductive harm, according to the EWG.
Article continues below advertisement
Another common toxic beauty ingredient found in soaps is sodium lauryl sulfate (SLS) or sodium laureth sulfate (SLES). It's found in more than 90 percent of personal care and cleaning products. Why? Because it's responsible for that foaming agent that happens in soap (and many other products like body wash, cleansers, mascara, and acne treatments) when you press the pump. Foaming bubbles are great—they make it easier to wash your hands and for shampoo and conditioner to lather up; but SLS's are connected with irritation of the skin, lungs, and eyes. When it combines with other chemicals, the mixture can form nitrosamines, a known carcinogen. Aside from causing cancer, this combo can also lead to kidney and respiratory damage.
Many soaps also contain triclosan — an antimicrobial chemical that is known to disrupt the endocrine system, including thyroid and reproductive hormones. It's also a known skin irritant. Studies have shown that triclosan can make bacteria antibiotic-resistant, which poses a great risk to our future health. Triclosan is also commonly found in deodorant and toothpaste.
Article continues below advertisement
What You Need to Know About Soap Bases
Now that you've read about all the icky things hiding in antibacterial soap, you might want to take matters into your own hands (literally) and make your own at home.
Many soap recipes call for the use of a caustic agent called lye. It creates the effect of saponification once it interacts with oils, making it the soap base. While lye is a natural ingredient, it doesn't exactly qualify as "non-toxic." In high doses, lye is corrosive and can cause damage to the skin, such as irritation and burns. For this reason, the recipe below instead provides alternative soap bases.
Article continues below advertisement
There are several kinds of alternative soap bases: glycerin, shea butter, Aloe Vera, cocoa butter, and olive oil melt and pour soap base. Because these recipes exclude lye, the type of soap-making method we are using is "melt and pour."
Directions for Making Melt and Pour Hand Soap
To make your own bar soap at home, you'll need to use one of the soap bases mentioned above, as well as a Pyrex bowl (for melting the soap), silicone mold or loaf pan lined with parchment paper, and herbs or essential oils of your choice.
Measure one pound of the soap base of your choice. After chopping the block of soap base into chunks, throw it in your Pyrex bowl and microwave until melted. Add 30 drops of the essential oil of your choice and/or a half teaspoon of herbs per soap base. Mix and then pour into silicone mold or loaf pan. Let the soap cool for several hours; once it's congealed, it's ready to use!
This article was updated on July 22, 2021, to include a correction about the potential risks of parabens.