L.A. Announces a Green New Deal for the City, Including a 100 Percent Renewable Electricity Goal
Los Angeles is now the largest U.S. city to pledge 100 renewable energy, thanks to L.A.'s Green New Deal.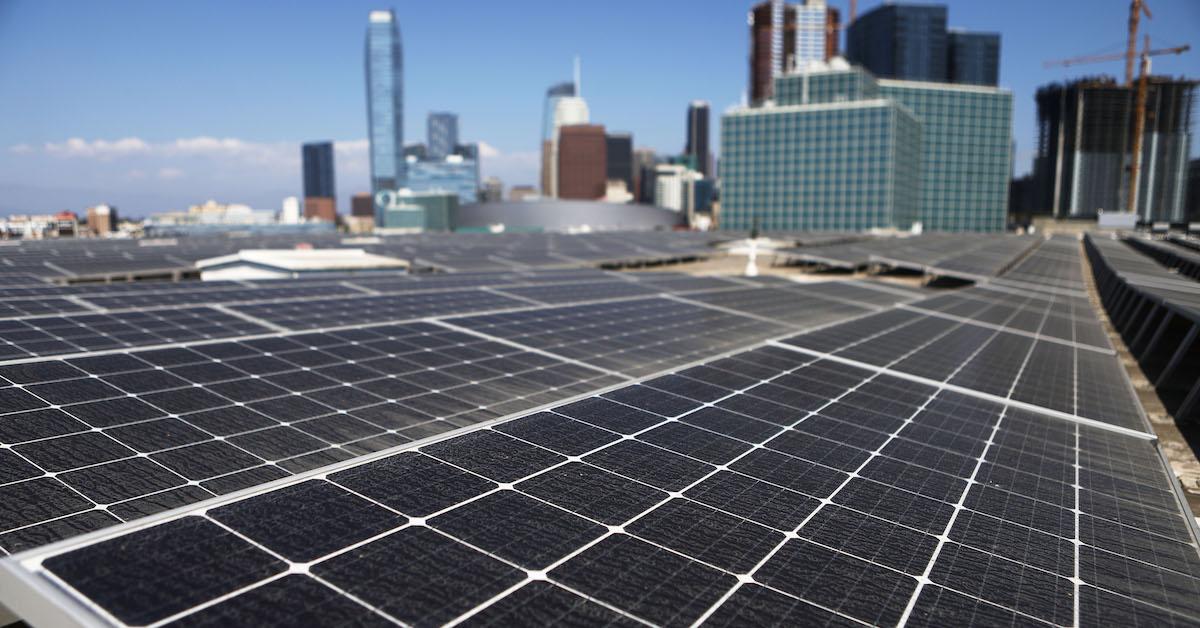 Los Angeles has instituted a variety of policies and initiatives over the past few years to help make the city greener. But on Monday, April 29, Los Angeles Mayor Eric Garcetti took things to the next level with L.A.'s Green New Deal. The deal is an extension of the "Sustainable City pLAn," which Garcetti unveiled in 2015. According to a press release the Sierra Club shared with Green Matters, L.A.'s Green New Deal is an "ambitious roadmap establishing climate goals that will guide the city's equitable environmental and economic future."
Article continues below advertisement
As part of L.A.'s Green New Deal, Garcetti is pledging to use carbon-free energy sources to power the city's electricity, buildings, and transportation by 2050. The plan makes L.A. the the biggest city in the U.S. to set a goal of achieving 100 percent renewable electricity, knocking Chicago out of the No. 1 spot, which the Midwestern city only claimed in early April.
Article continues below advertisement
Running L.A. on 100 percent renewable energy is not Garcetti's only plan for the city. The 151-page local Green New Deal lays out a slew of major goals for the city over the next few decades, each of which is broken down into smaller goals. Here are a few of the things Garcetti plans for L.A's Green New Deal to accomplish:
Electrify all L.A. buses by 2030
Create 300,000 green jobs by 2035 and 400,000 green jobs by 2050
Recycle 100 percent of waste water by 2035
Plant 90,000 trees by 2021
Make L.A. zero waste — meaning divert 100 percent of the city's waste from landfills — by 2050
Mayor Garcetti opened the lengthy document with a letter to the people of L.A. "Our generational battle against climate change is a moral imperative, an environmental emergency, and an economic opportunity. True to form, Los Angeles is rising to the occasion with a plan that will lead the world toward a low-carbon, green-energy future," he wrote.
Article continues below advertisement
"But we can't simply establish big ticket policy objectives. We need to implement them," Mayor Garcetti continued. "That's why we established the Los Angeles Climate Emergency Commission, which will draw the best ideas from neighborhoods on the front lines of climate change, harness the expertise of scientists, and recommend long-term actions to reduce rising temperatures."
Article continues below advertisement
Garcetti also explained that the city's Green New Deal is more than an "environmental vision." He wrote in his introductory letter that the deal "is designed to prioritize communities that bear the brunt of climate change first." This is elaborated on further throughout L.A.'s Green New Deal. For example, the document explains that not only will working to decrease air pollution be good for the environment, but poor air quality also presents a public health risk and cost for vulnerable and low-income communities.
L.A.'s Green New Deal certainly has some lofty goals, but hopefully the City of Angels will inspire other cities across the world to be a little more ambitious when it comes to preserving planet Earth.