Is That Vegan Teacher Alive? There Have Been Several Hoaxes About Her Death
A repeated hoax about vegan activist and social media influencer Kadie Diekmeyer, known as That Vegan Teacher, has users wondering if she's alive.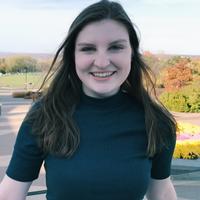 TikTok celebrity That Vegan Teacher, better known as Kadie Karen Diekmeyer, once again has to disprove rumors of her death. In April 2022, Kadie responded to bizarre rumors she had a heart attack, but now, rumors of her death have swept the internet a second time. Is That Vegan Teacher alive? Here's what you need to know.
Article continues below advertisement
Is That Vegan Teacher alive?
In total, Diekmeyer has at least four social media accounts: That Vegan Teacher on YouTube, @thatveganteachermisskadie on Instagram, @musicbythatveganteacher on TikTok, and @VeganKadieKaren on Twitter. Her original TikTok account, @its.that.vegan.teacher, appears to have been suspended and/or deleted. Instead, she uses a new account, @musicbythatveganteacher.
Article continues below advertisement
Diekmeyer first rose to internet celebrity status through her TikTok account, which included videos debunking myths about veganism, encouraging her followers to become vegans, posting videos of animal rights infringements to encourage veganism, and creating songs about veganism. Per her YouTube channel, Diekmeyer has been a vegan since 2016. Before she turned to social media full time, she was an English and ESL teacher as well as a registered nurse.
Article continues below advertisement
In the video, Diekmeyer says, "Well, I'm in my home here, and I'm in my kitchen. I've been washing the wall outside of my house because some mean people decided to throw eggs at my house."
She continues, "Well, I never got around to it before because we had to remove all the windows and because it takes a lot of time, and I didn't really know what to do."
Article continues below advertisement
Diekmeyer is alive and well based on the fact she continues to make TikTok and YouTube videos daily. However, it appears that her controversial teaching methods have angered bystanders into falsely accusing her of dying and egging her home.
Article continues below advertisement
Diekmeyer is a controversial figure on social media.
The reason Diekmeyer's original TikTok account may have disappeared can be traced back to a report by Paper Mag in 2021. According to the outlet, her initial ban from the platform was cited as violating "multiple community guidelines," but it's unclear if this is the reason her account has been banned a second time.
Article continues below advertisement
Additionally, social media users have criticized her videos, including one where she attempted to reclaim a racial slur. A Change.org petition from 2020 calling for her removal from TikTok accused Diekmeyer of, "blatantly racist, bigoted, discriminatory statements against anyone who doesn't view veganism her way and her way alone."
Recently, Diekmeyer has been using her YouTube account to accuse various other social media users of being "racist towards the animals and veganphobic toward those who try and defend them." She continues to use her social media platforms to promote veganism and confirm her good health.