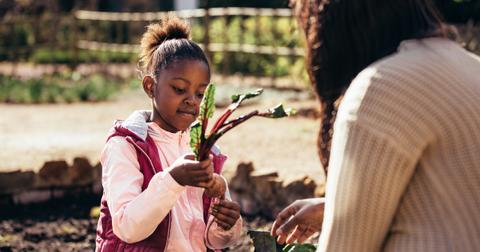 These 11 Baltimore Organizations Fighting Food Waste Just Received Grants for Their Work
By Sophie Hirsh

Updated
Reducing food waste, either in your home kitchen or as a chef, has a slew of benefits. It saves you money, forces you to get creative, reduce the amount of organics you're sending to landfills (or to the compost bin), and more. But if you're one of these 11 lucky Baltimore organizations, you'll also be getting paid to reduce food waste, thanks to a new grant organized by the City of Baltimore along with the Natural Resources Defense Council (NRDC), and funded by The Rockefeller Foundation. In a blog post on Wednesday, May 28, the NRDC announced the 11 grant recipients who are working to reduce food waste in their communities. 
Baltimore Mayor Catherine E. Pugh first announced the Baltimore Food Waste Recovery Strategy in September 2018. Now, eight months later, the NRDC has unveiled the NRDC Food Matters Funds Award Recipients, which are a combination of food markets, schools, farms, and more. 
There are $100,000 of grants in total. It's unclear if the 11 organizations are splitting the funding equally, but assuming they are, each will receive about $9,090.
It's exciting to see that so much work is being done across Baltimore to not only reduce food waste, but to get the community involved in the cause, and to support community members in need.
Read on for the 11 winners and a little about the ways they each tackle food waste, as explained by the NRDC:
Coppin State University
Coppin State University's Department of Natural Sciences works to bring awareness to the ways food waste impacts urban communities across Baltimore City. The department is constantly developing solutions for Baltimore's urban agriculture industry, and reframing the way people see issues related to sustainability, and working to get the community more involved with it all.
Countered Fresh Food Market
Countered Fresh Food Market is a "healthy corner store" that sells excess produce and other food that farmers would have otherwise thrown away, serving more than 7,000 residents in need. Countered is currently working to implement a community education program regarding food waste in West Baltimore.
Food Rescue Baltimore
Food Rescue Baltimore rescues food that distributors would have would have otherwise discarded, and hands it out in "food insecure neighborhoods" in Baltimore. The organization also provides those receiving food with education on how to prepare the ingredients they receive, as well as community education on eating healthy.
Fort Worthington Elementary and Middle School
Fort Worthington Elementary and Middle School will use the grant to launch a program that will help prevent food waste across the school. Leaders at the school plan to do this by expanding the community garden with a compost station, and providing experiential education to students ways to reduce food waste.
Institute for Local Self-Reliance
A nonprofit called the Institute for Local Self-Reliance works to support homegrown economies in a variety of ways — namely, through composting. The institute is responsible for several composting initiatives across Baltimore, including the compost cooperative at Real Food Farm and the Baltimore Compost Collective at the Filbert Street Community Garden. And speaking of the Filbert Street Community Garden...
South Baltimore Community Land Trust
The South Baltimore Community Land Trust is responsible for the Filbert Street Community Garden, which the NRDC calls "the center of Baltimore's zero-waste activity." The organization also supports the Baltimore Compost Collective, which is a youth-run growing curbside compost pickup service.
Strength to Love II Farm
The nonprofit Intersection of Change's Strength to Love II Farm is a community-based farm in Sandtown- Winchester, Baltimore that offers employment to people who are transitioning back into society after incarceration. Strength to Love II Farm aims to support those facing poverty-related issues in Baltimore, and the farm gives the food it harvests to those experiencing "food apartheid." 
As food justice activist Karen Washington explained to The Guardian, a food apartheid is a more nuanced term for "food desert." A food apartheid refers to a neighborhood that does not have access to an abundance of food, where residents might be experiencing hunger and poverty, often due to factors such as race and economics in addition to geography. 
The 6th Branch
The 6th Branch is an East Baltimore-based organization led by a group of military veterans. The group works with neighborhood leaders to turn vacant lots into green spaces for the community, among other community-oriented projects.
The Be. Organization
The Be. Organization runs a variety of education programs for children across Baltimore, many of which support self-empowerment and education for young girls. In particular, the Be. Organization's new pilot program The Food Playground will provide girls of color from grades 6 to 8 with a "comprehensive culinary focused STEM program," where they will learn about composting, farm to table cooking, zero-waste cooking, and more.
United Workers Association's Baltimore Compost Collective
The United Workers Association's Baltimore Compost Collective trains adolescents on things like food access programming and community-scale composting in Curtis Bay, Baltimore. So not only are children learning these skills, but they are also learning how to implement them across communities.
Whitelock Community Farm
Whitelock Community Farm is a former vacant lot that community members converted into an urban farm back in 2010. The farm works to promote social equity in the Reservoir Hill neighborhood of Baltimore, by providing education, access to healthy and affordable food, and promoting conversations about food access and environmental justice, and more.
These 11 grant recipients are all doing amazing things across their Baltimore communities — not only to reduce food waste, but also to support community members in need, and to educate youth on how to make things better for future generations.