This Company Is Combatting "Fast Furniture" With Expandable Bed Frames, Couches, and More (Exclusive)
Floyd is combatting "fast furniture" with its sustainable, expandable bed frames, couches, shelving systems, and more.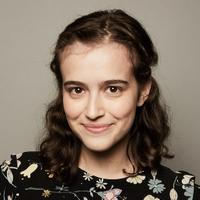 Anyone who's ever moved knows that dealing with your furniture is one of the most annoying parts of the process. Sometimes, your beloved couch is too big to fit through the door of your new place; other times, it simply doesn't make financial sense to pay thousands of dollars for a moving company to move your $200 couch from one place to another, so you simply leave it on the curb, and buy more cheap furniture once you're settled. And all of this "fast furniture" contributes to the 9.5 million tons of furniture that wind up in U.S. landfills every year.
Article continues below advertisement
Kyle Hoff, a former architect, experienced this conundrum every time he moved in his adult life. "I bought my fair share of [Ikea's] Malm beds and Lack tables that ended up on the curb when I moved," he tells Green Matters on a recent phone call. After one move in Chicago, "I just couldn't bring myself to go back to Ikea. And that was the impetus of the very first product, which became the Floyd Leg," Hoff says.
Shortly after, Hoff moved to Detroit for a job, which he quit once he met his future business partner, Alex O'Dell. In 2013, the two co-founded Floyd, a Detroit-based sustainable furniture company.
Article continues below advertisement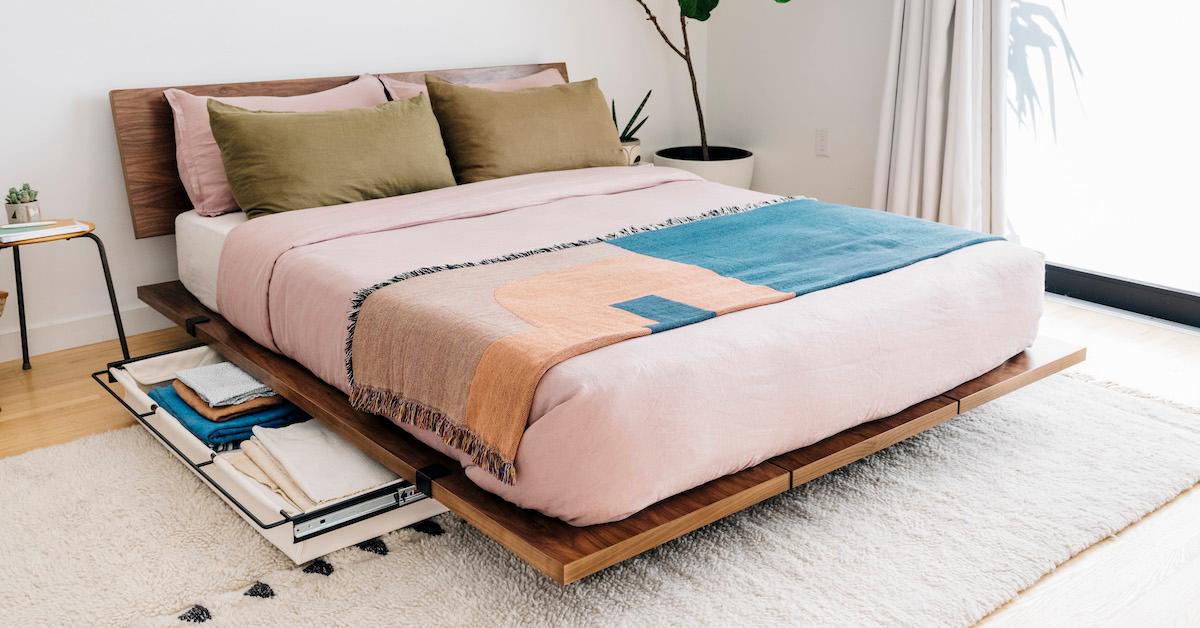 Floyd aims to combat fast furniture with durable and sustainable pieces.
At the onset, the two entrepreneurs asked themselves, "How do we make products that people keep?"
Now, eight years later, Hoff has many answers to that question. The Floyd team designs its furniture to be: eco-friendly, thanks to natural, recyclable, and durable materials; timeless in both style and color rather than trendy; expandable, so that it grows with you; and durable enough to last a lifetime, which helps reduce furniture waste.
Article continues below advertisement
"We kind of came together on the idea of the general disposability around furniture, and how we could think about it differently," Hoff says. "And ultimately, our mission ended up being to change the way people consume furniture."
Floyd's furniture grows with you.
Floyd's newest product is The Sectional, a couch that grows with you. As you move to bigger homes and find yourself with more room, you can purchase extensions to turn Floyd's two-seater couch into a massive L-shaped sectional.
"I know it's not a fully novel idea, a modular sectional sofa, but we really wanted to approach it from a place of designing it really well, thinking through how people might add on to it in the future," Hoff tells us, adding that Floyd customers had been asking for an adaptable sectional couch for years.
Article continues below advertisement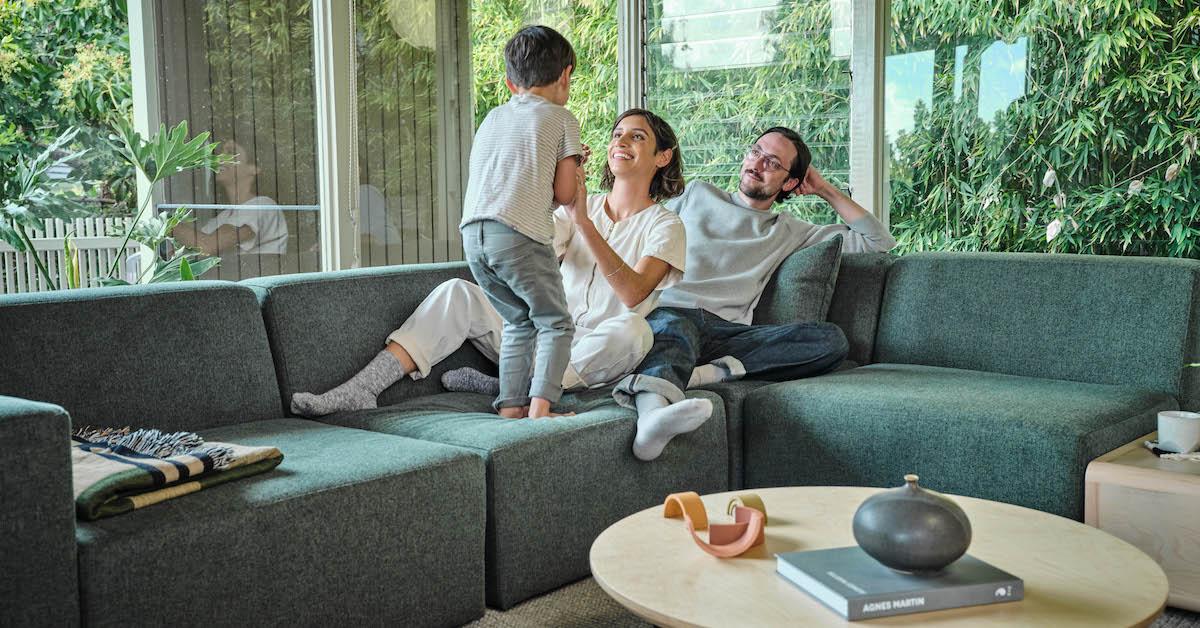 The same goes for the Bed Frame — you can buy an expansion kit to turn a Floyd twin to a queen, a queen to a king, or a king to two twins — and the Shelving System — you can buy extensions to expand your shelving units as you gain more space or money. That said, it's important to note that Floyd's furniture is not cheap. The company's smallest Shelving System (three small shelves) starts at $425, and the smallest Sectional (which seats two) starts at $1,540.
Article continues below advertisement
"It's of course more expensive than a shelving system from Ikea or Bed Bath & Beyond," Hoff says. "But I think [it's about] getting people to this place of understanding that this can be something that you literally keep a lifetime, and that it can serve different purposes in your space."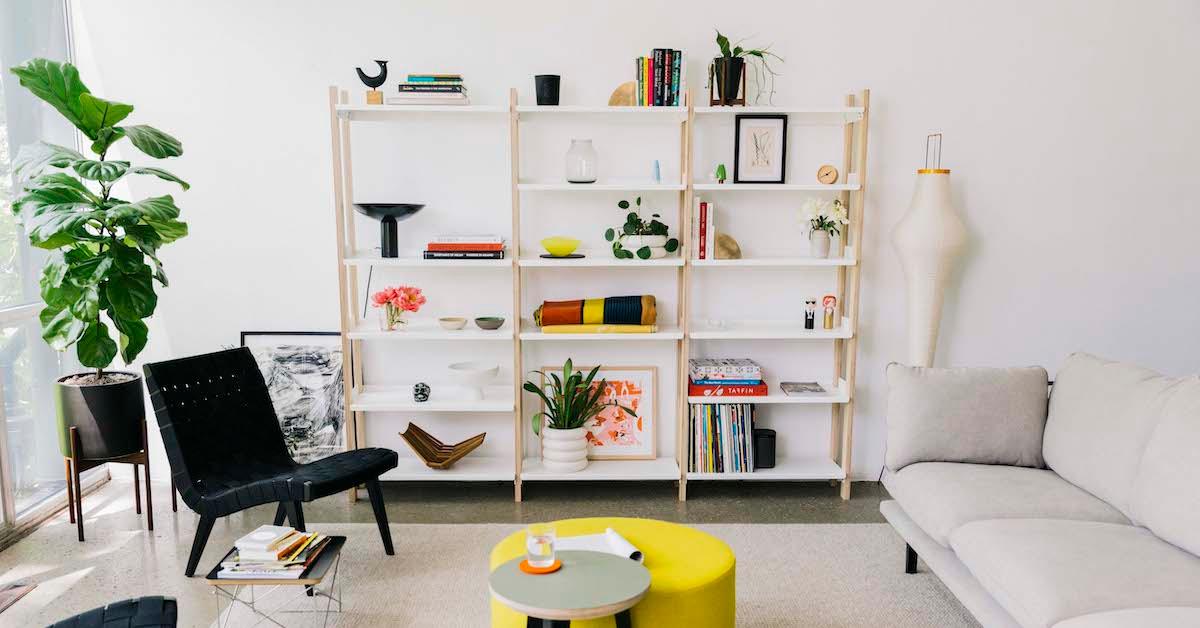 Article continues below advertisement
Where is Floyd furniture made?
Floyd designs all products in Michigan, and manufactures "most" products in the U.S. However, in the last year, the company has begun outsourcing more manufacturing to China and Mexico.
"We have strict quality standards and we strive to employ environmentally and socially responsible sourcing and manufacturing practices," according to the Floyd FAQ. "Our production takes place in factories with decades of passionate manufacturing expertise."
Hoff hopes Floyd will change the furniture industry.
"Instead of buying multiple [things] over a lifetime, how do we get people to buy one thing, and keep it for a long time? I think it's a big part of the story we want to tell," Hoff tells Green Matters. "There's plenty of opportunity to sell people furniture and be a great business around furniture without having to sell them a new bed frame every two years. And I hope furniture companies see that, and lean into creating quality things that people keep."
Article continues below advertisement
Floyd has a number of sustainability goals that the team hopes to achieve by 2025, including: having 70 percent of materials come from recycled or renewable materials; eliminating single-use plastics from the company's supply chain; and measuring greenhouse gas emissions across the supply chain so that they can be more transparent with customers, and eventually reduce those emissions.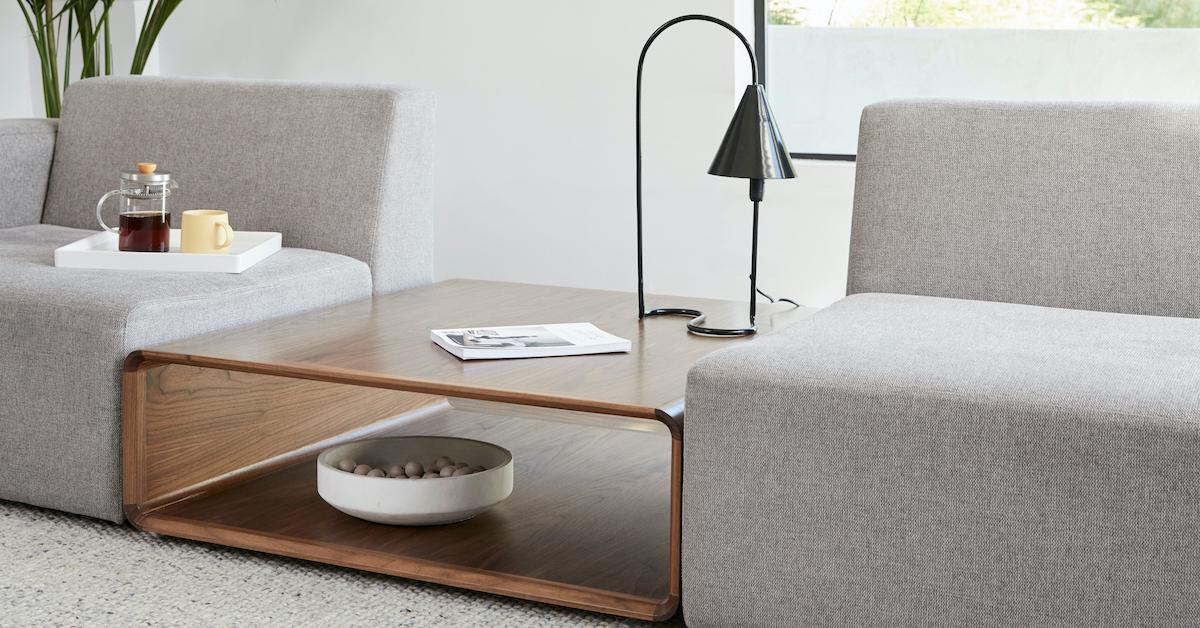 Article continues below advertisement
The company also recently launched a program called Full Cycle, which sells imperfect Floyd pieces at a discount. Hoff hopes to expand the program to include taking back used Floyd products from customers, which would bring the business closer to being fully circular, aka closed loop. Floyd also recently hired a new head of product who is focusing on sustainability at the company.
While Floyd is a for-profit company, and one that still has a long way to go in terms of actually becoming closed loop, one of Hoff's biggest hopes is that the company will inspire people to stop sending furniture to landfills. The best ways to do that are responsibly donating or selling (he recommends Craigslist and Facebook Marketplace) any furniture you've grown out of, and only buying what you need — preferably, durable, sustainable furniture that you will keep forever.
"Ultimately the best thing to do is not buy anything. But people are going to buy furniture, of course," Hoff says. "If we're going to buy something, it should be something that we keep and that lasts."