Learn About Some (of the Many) Benefits of Shopping at a Farmers Market
There are so many benefits to shopping at a farmers market — learn more.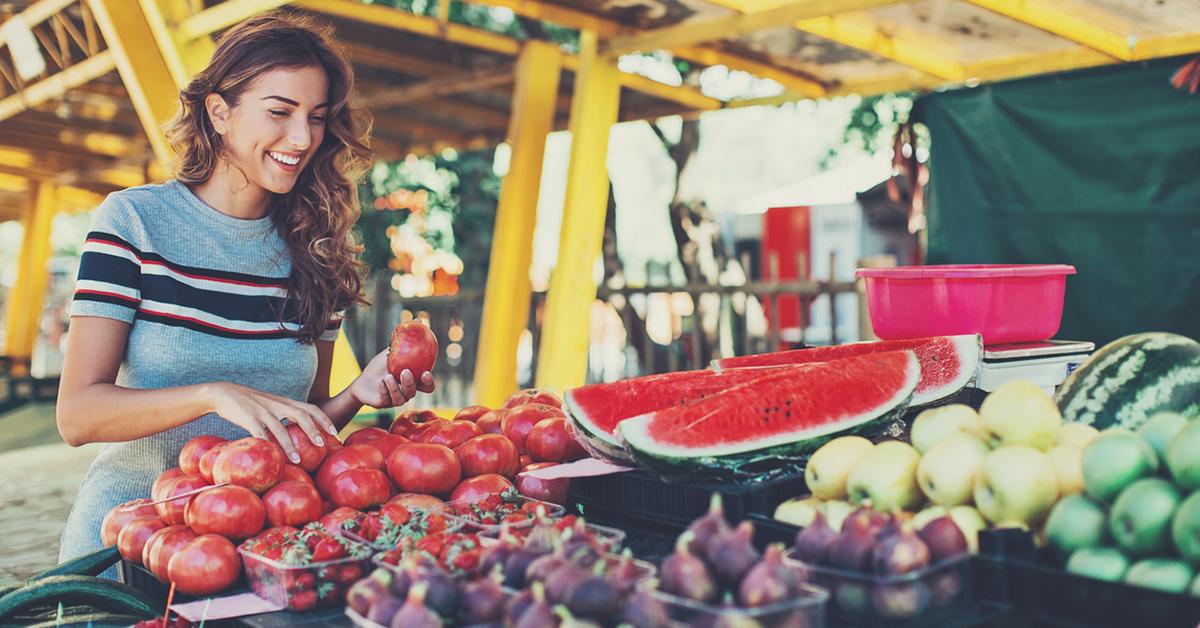 There are so many reasons to shop at your local farmers market and yet, only 12 percent of Americans do. In a 2016 study of where most Americans do their grocery shopping, farmers markets came in eighth place, with supermarkets and grocery stores (Stop n' Shop, Wegmans, Kroger, Publix, etc.) clocking in at first place, discount stores (Walmart, Target, Kmart) in second, wholesale clubs (Costco, Sam's Club) in third, and dollar stores, drugstores, Whole Foods, and Trader Joe's coming in respectively at fourth, fifth, sixth, and seventh place.
Article continues below advertisement
But the food at your local farmers market offers so many more advantages to your health, the environment, and the economy that these other big retailers simply do not.
Shopping at your local farmers market means eating seasonally and locally. It also means your dollar is supporting your local economy, rather than in the pockets of big corporations. (And, in case you're wondering, they're still open as "essential businesses" during many states' coronavirus restrictions.)
Still not sold on why buying from farmers markets is beneficial to both you, the farmers, and the environment? Keep reading to learn all the benefits of shopping at a farmers market!
Everything Is In-Season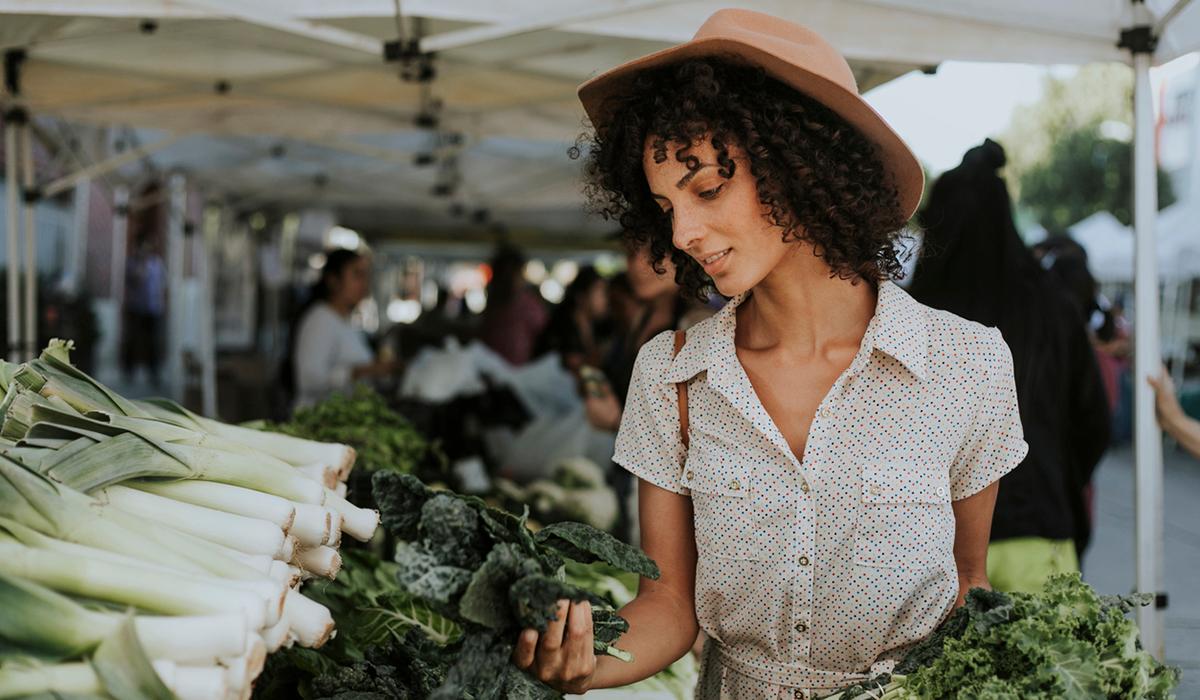 Unlike big, chain suppliers of groceries, farmers markets have to rely on what produce is currently in season. Chain stores like Whole Foods, Trader Joe's, and ShopRite can maximize their resources to acquire out-of-season produce from areas where it is in season, but that isn't sustainable. It requires more resources — water and transportation, to name a few — which result in greenhouse gas emissions and, ultimately, climate change.
Fruits and vegetables that are currently in season contain higher densities of nutrients, which means that it's actually healthier than the fruits and vegetables brought in from other areas.
Article continues below advertisement
It's Usually Less Expensive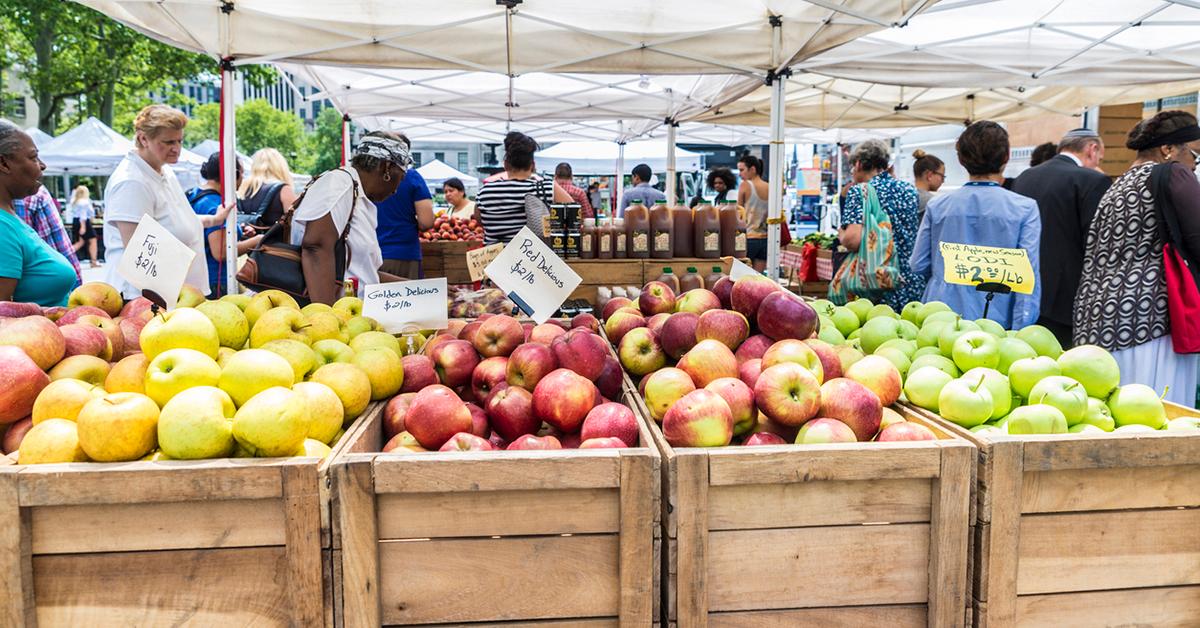 We know what you're thinking: but the farmers market is more expensive. Actually, it's not; because farmers markets rely on produce that is currently in-season, you are probably paying less for an in-season strawberry than you would for a strawberry during its off-season. Think about it: If strawberries are easily accessible because they are in season, a container could be as low as $3 or $4.
When produce is out-of-season, demand is higher and therefore grocery stores up the prices. Have you ever seen an out-of-season container of organic strawberries for $8? Not ideal.
You Get a Higher Nutritional Value
Food that is grown locally is actually higher in necessary nutrients and antioxidants. In fact, locally grown honey can even help mitigate symptoms associated with seasonal allergies. Local bees make pollen from the very flowers and trees in your area that cause seasonal allergies. By consuming honey made by local bees, you're actually outfitting your body for allergy prevention. Eating local honey can cause immunity to local allergens that have plagued you in the past.
Article continues below advertisement
Because locally grown food is produced closer to you, it spends significantly less time in transport or storage. As food is transported or stored, its nutritional value degrades over time. To ensure that your food contains its optimal levels of nutrients, it's best to eat it as soon as possible. Since locally grown food endures significantly less travel time from the farm, to the market, to the table, you can bet you're getting the highest nutritional value available to you.
It's Often More Flavorful
With higher nutritional value comes more flavor. And because local crops are picked at their peak ripeness, your food does not run the risk of being harvested prematurely, like foods that go to chain grocery stores does. Because farmers markets provide perfectly ripe options, you may notice that your food is significantly more flavorful than the store-bought stuff.
Article continues below advertisement
It's Better for the Planet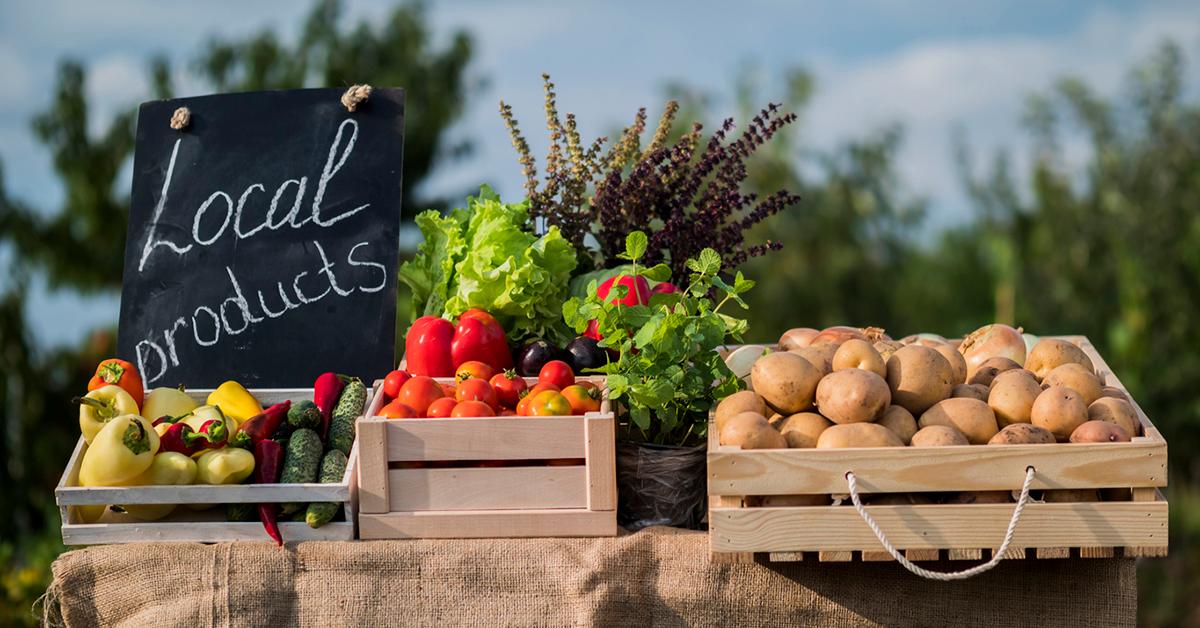 When it comes to food and crops, sustainability is all about the resources used to produce, harvest, transport, and store the food. Since farmers markets distribute locally, they use significantly less resources. This results in less greenhouse gas emissions and overall, more benefits for the environment as a whole.
Shopping Local Stimulates the Local Economy
Purchasing food locally at your nearby farmers market ensures that your money is pumping up the local economy as opposed to million-dollar corporations. When you invest your money in local businesses, such as farmers and producers, you're cutting out the middleman that grocery store chains have to also pay. When you make a purchase at a chain, percentages of the money go to a lot of different places (and people), so your dollar is less impactful within your community.
Article continues below advertisement
Alternatively, when you make a purchase at a local farmers market, the farmer pockets more of the money, therefore reinvesting that money into the local business in the community. Local businesses are also more likely to pay their employees fair wages, use sustainable practices, practice social justice, and care more about people and peoples' well-being than their bottom line.
Shopping Preserves Farmland
Purchasing from your local farmers market helps out farmers just beginning, who need to start small, as it provides a low-barrier entry point for farmers. This is crucial because, according to the Farmers Market Coalition, small-scale farmers are more likely to implement sustainable practices that preserve farmland, rather than the farmland owned by big-time corporations.
Article continues below advertisement
Farmers Markets Promote Access to Healthier Habits
Chances are, not many of the employees at a big-chain grocery store are giving you nutrition or cooking advice — but when you shop at farmers markets, it's usually just the opposite. Farmers Market Coalition reports four out of five farmers tend to talk about farming practices with their market consumers and three in five discuss nutrition and how to prepare the food they are selling.
They Promote Sense of Community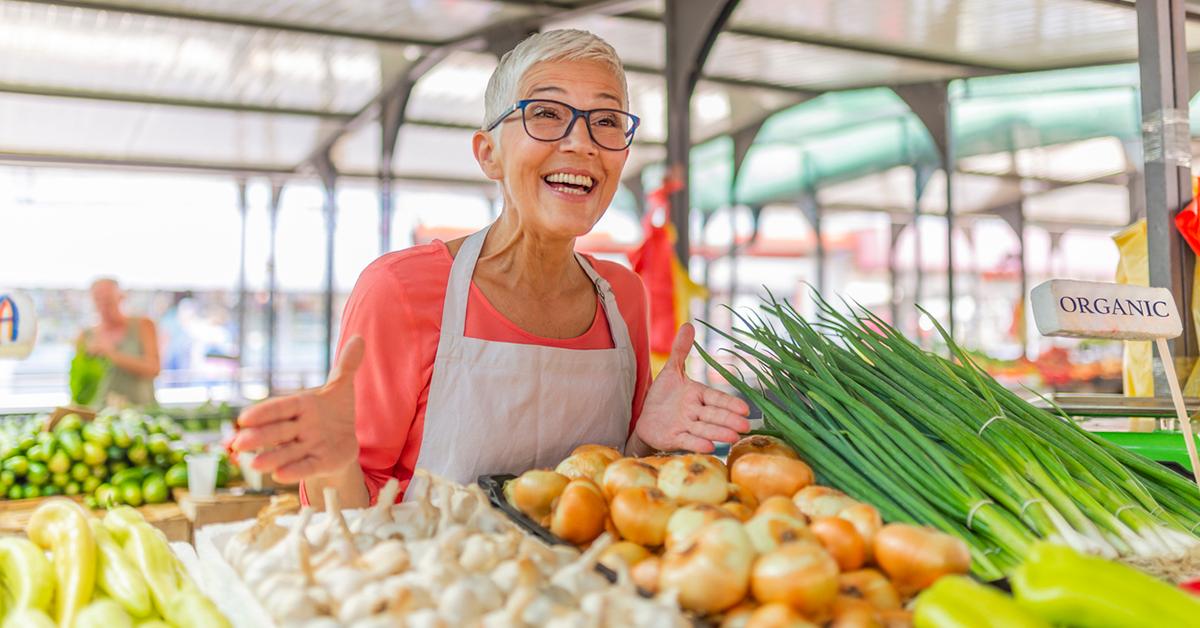 When you keep things local, it enhances the feeling of creating a tight-knit community. According to the Farmers Market Coalition, a study done at Los Angeles farmers markets found that 75 percent of farmers market shoppers come to "do more than just shop."
Other reasons could be to meet up with friends, increase social interaction, and to educate themselves on local, sustainable farming practices. Additionally, 55 percent of shoppers said the market "increased their connection to the community," and 99 percent said the market "improves the health of the community."