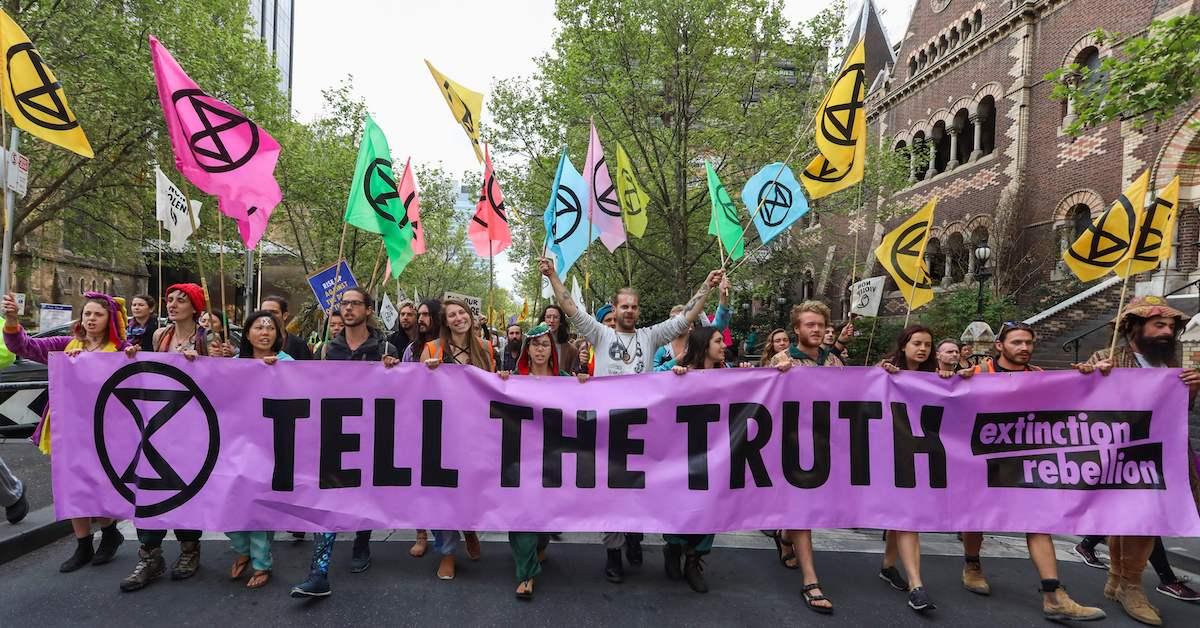 What Is Extinction Rebellion? The Climate Group's Protests Are Shaking the Planet
When it comes to fighting the climate crisis, there's no more time to waste. There are many environmental groups working to create awareness, lower emissions, and challenge major polluters all over the world — and one of the biggest is Extinction Rebellion.
Extinction Rebellion is known for staging eye-catching, creative peaceful protests, all working towards the ultimate goal of fighting the climate crisis and protecting the Earth for future generations. If you've been wondering about the group, read on to learn about Extinction Rebellion's origins, demands, protests, and how to get involved.
Article continues below advertisement
What Is Extinction Rebellion?
Extinction Rebellion, abbreviated as XR, is an international climate movement that uses non-violent civil disobedience with a goal of stopping mass extinction, preventing social collapse, and protecting the planet. The group is best known for its attention-grabbing protests and demonstrations in major cities all over the world.
Extinction Rebellion was first founded in May 2018, and it was officially launched in October 2018 by Roger Hallam, Gail Bradbrook, Simon Bramwell, and other activists who originally worked with the organization Rising Up!, which has since completely transitioned its efforts to becoming Extinction Rebellion.
What Are Extinction Rebellion's Demands?
XR's website details its three central demands of the various governments around the world: to get the government to tell the truth by declaring a climate and ecological emergency; to get the government to act now by stopping loss of wildlife and getting global greenhouse gas emissions down to net zero by 2025; and to influence the government to go beyond politics and let a Citizens' Assembly guide them towards climate and ecological justice.
Article continues below advertisement
Extinction Rebellion Protests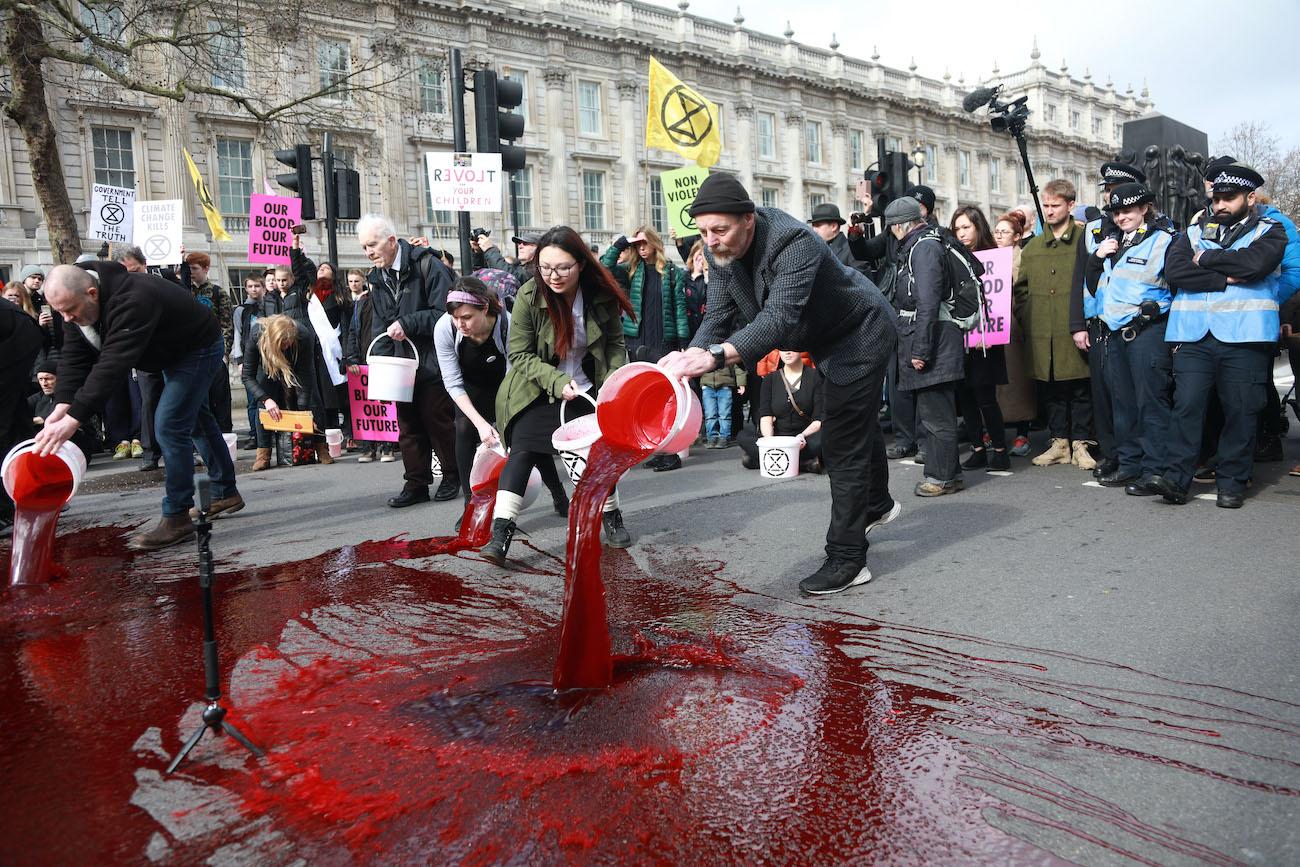 Extinction Rebellion often makes headlines for staging theatrical, striking protests.
For example, in March 2019, a group of about 400 activists poured endless buckets of fake blood all over London's Downing Street, where the Prime Minister lives and works. As reported by The Independent, the blood represented a sea of blood made from "the blood of our children," signifying what the future may hold if we do not take the climate crisis seriously. At the protest, children spoke about their fears for the future in the age of the climate crisis.
Article continues below advertisement
Extinction Rebellion Protests in New York City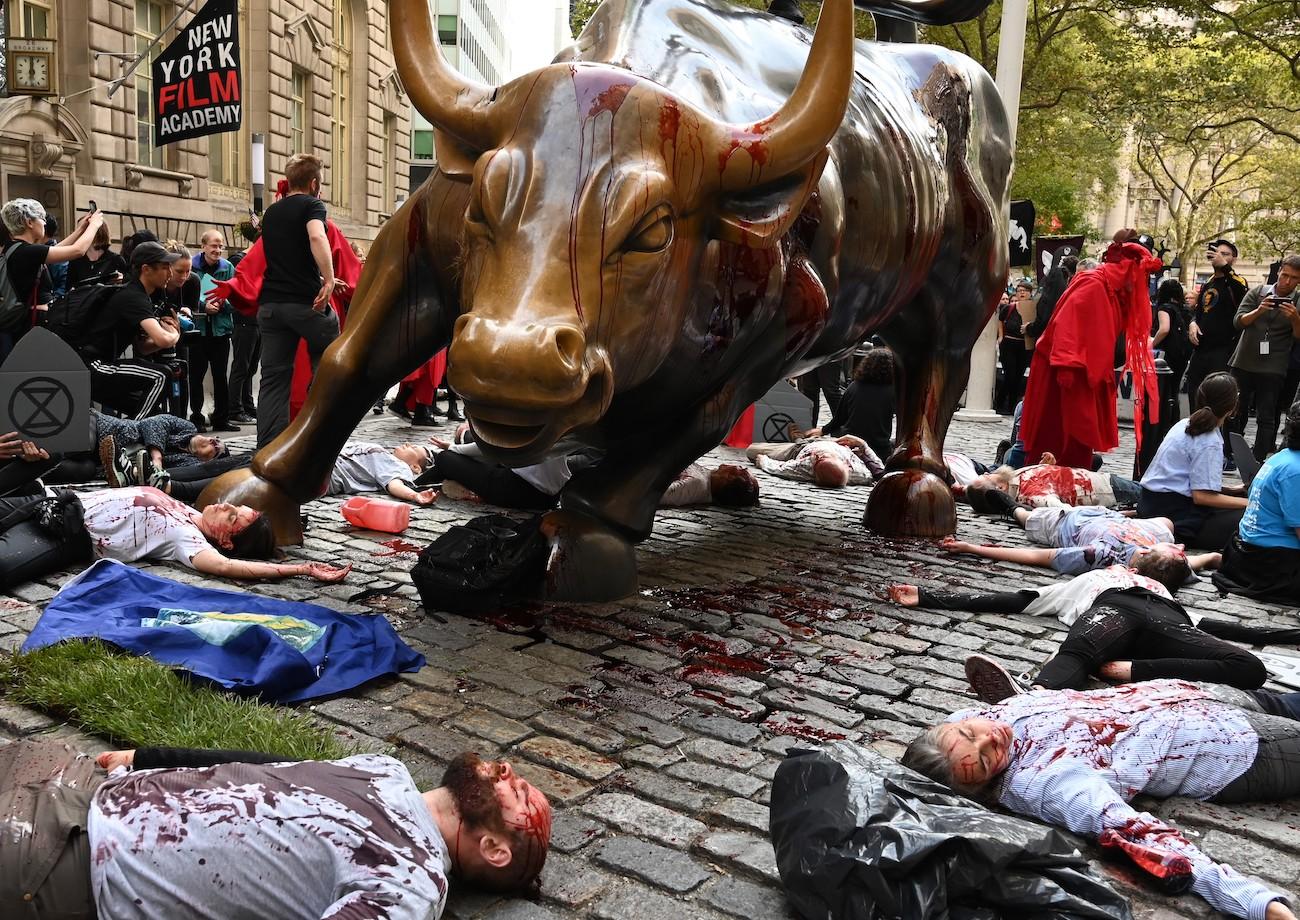 The New York City chapter of Extinction Rebellion is also familiar with fake blood — in October, protestors played dead on Wall Street, covering their bodies with red liquid. Activists laid on the ground near the Charging Bull near the New York Stock Exchange, holding tombstones listing climate crisis-related causes of death, such as "drowned in attic" and "couldn't outrun wildfire," as reported by The New York Times.
Article continues below advertisement
Extinction Rebellion Cambridge Protests
Another notable XR protest is actually happening right now — and it's been going on for more than a week. Since Feb. 16, members of Extinction Rebellion Cambridge have been camped out on Trumpington Road as part of a mass demonstration, as reported by Cambridgeshire Live. Throughout the week, the group has staged various protests, a few of which have resulted in members getting arrested.
For example, on Friday, Feb. 21, the Extinction Rebellion Cambridge activists blockaded a Shell gas station on the nearby Newnham Road. Four of the protestors were charged with breaking the law during the protest, as per the BBC.
Article continues below advertisement
And on Monday, Feb. 17, a group of activists dug up a lawn at Trinity College at the University of Cambridge, for which six of the protestors were charged with criminal damage. As Extinction Rebellion Cambridge tweeted, the group did this "to highlight the college's collusion in the destruction of nature" and to send a message that "Trinity College can't claim to care while profiting from destruction." (Trinity College, like many other colleges and universities, has investments in the fossil fuels industry. Students at many schools have launched campaigns demanding the institutions divest from fossil fuels.)
This particular protest gained a quite a lot of criticism online, with some arguing that vandalizing a green space is not an effective way of protecting the Earth. However, those who are familiar with Cambridge's "unethical' investments were not as offended by the destruction.
Article continues below advertisement
How to Find Extinction Rebellion Protests
If you would like to support Extinction Rebellion or protest with the group, you'll be happy to know there are many ways to get involved. On the "join us" page of XR U.K.'s website, the group suggests getting started by watching the "Heading for Extinction" talk by XR co-founder Gail Bradbrook on YouTube and then learning about XR by reading the rebel starter pack and the rebel agreement.
There are 779 branches of XR across 56 countries. To get involved, check out the global XR's website to find your local branch. Each branch has a Facebook page, which you can follow for updates on events, protests, and meetings in your area.
Article continues below advertisement
What Is the Extinction Rebellion Flag?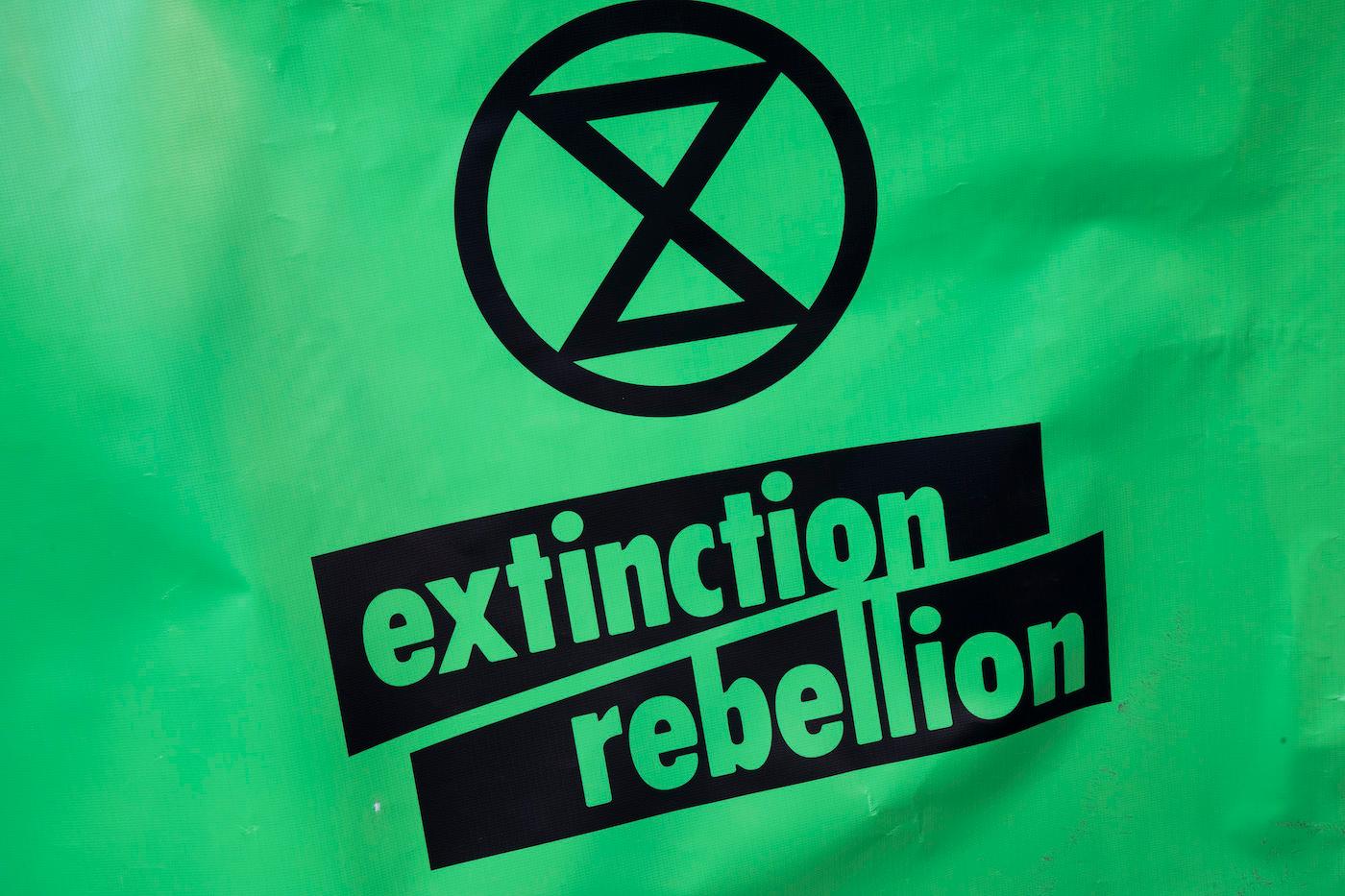 Extinction Rebellion is often represented by an image of an hourglass surrounded by a circle. The logo, known as the extinction symbol, was designed in 2011 by street artist ESP. The artist allows for the free use of the extinction symbol by any individuals, at protests, etc, but it is not to be used for commercial or fundraising purposes. You can learn more about the symbol on its website.