Elephant and Rhino Populations Skyrocket in Tanzania Thanks to Anti-Poaching Task Force
Tanzania's elephant and rhino populations were dwindling due to poaching, but over the past few years, the species have made miraculous recoveries.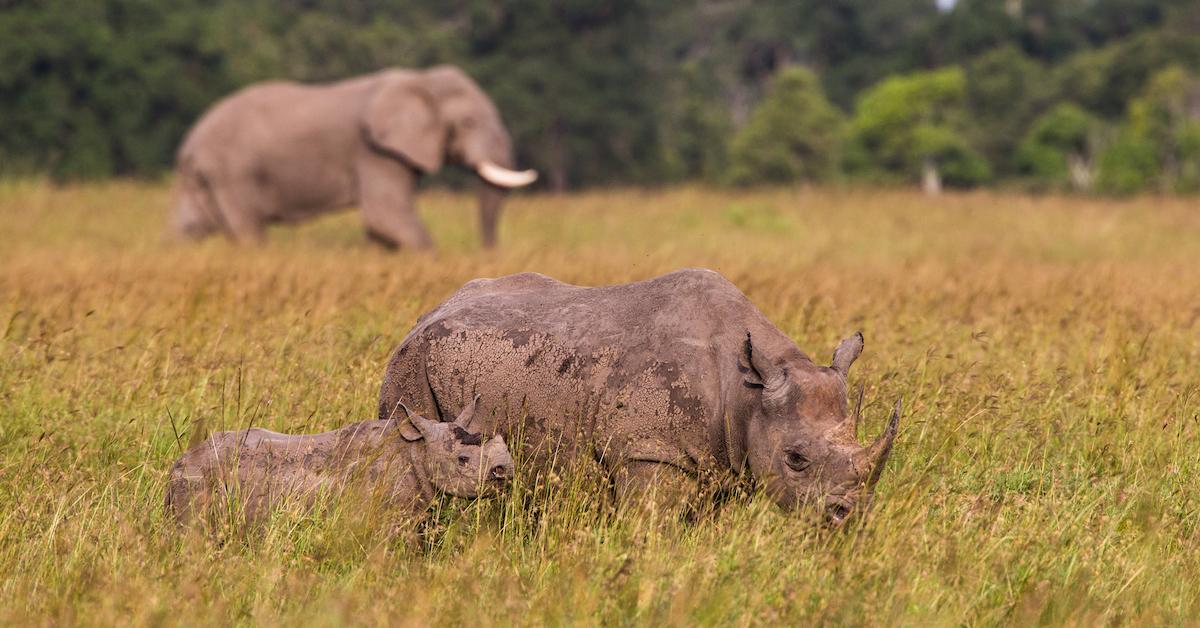 Elephants and rhinos are globally classified as vulnerable and endangered, respectfully — but in Tanzania, both animals' populations are finally significantly rising. According to the Tanzanian government, elephants have increased in population since 2014 from 43,330 to more than 60,000, and rhinos have increased since 2015 from just 15 to 167.
Article continues below advertisement
"As a result of the work of a special task force launched in 2016 to fight wildlife poaching, elephant populations have increased from 43,330 in 2014 to over 60,000 presently," reads a statement from the country's government, according to Sky News. As the outlet added, the 2015 census showed that Tanzania's elephant population was at 110,000 in 2009, meaning it decreased by more than half between 2009 and 2014, primarily due to wildlife poaching.
As for rhinos, the office of Tanzanian president John Magufuli claims that the rhino population was only 15 in 2015; however, according to The Independent, the Convention on International Trade in Endangered Species documented rhinos to have a population of 133 at the time. Either way, Tanzania's rhino population is increasing slowly but steadily, as it's believed to be at 167 at the moment.
Article continues below advertisement
So, what has accounted for this incredible rise in rhinos and elephants in Tanzania? As the government statement suggests, Tanzania formed a task force in 2016 to combat wildlife poaching, which is the illegal killing of wild animals. People typically poach elephants for their ivory tusks (which are used for jewelry and decor), and rhinos for their horns (which are used for Chinese medicine and as a status symbol, as per Save the Rhino). Sometimes, poachers also use elephants' bodies for meat; additionally, tourists sometimes go trophy hunting, which is when hunters cut off and display an animal's head on their wall.
Article continues below advertisement
According to Al Jazeera, organized poaching networks in Tanzania brought elephant and rhino poaching to an industrial scale over the past few decades, which is why the government had to double down on regulating the already illegal practice. One way the government did so was by arresting people heavily involved in the trade.
For example, earlier this year, the Tanzanian government gave a 15-year jail sentence to the infamous Chinese ivory trafficker known as the "Ivory Queen," NPR reported. The Ivory Queen was a "key link" between poachers in East African countries (including Tanzania) and ivory purchasers in China for more than 10 years; and between 2000 and 2004 alone, she helped smuggle more than 800 pieces of ivory between the two continents, NPR added.
Article continues below advertisement
Even though the news of elephant and rhino populations rising seems exciting, Mark Jones, leader of the international wildlife foundation the Born Free Foundation, believes there is still much work to be done to protect elephants and rhinos in Tanzania.
Article continues below advertisement
"This sounds like very good news but we should view these figures with caution until there's independent verification – there's no way that has occurred through breeding and protection alone," Jones told The Independent. "[Rhinos] mature late, have long gestation periods and don't produce many young. Both species take a long time biologically to reproduce. Elephants are intelligent — they move across national borders to where they are safer, so if there's been a clampdown on poaching in Tanzania, it may be that some have moved in."
Hopefully elephant and rhino populations in Tanzania will continue to rise — and hopefully the Tanzanian government and conservation groups will soon have more data on how to continue preserving these majestic creatures.