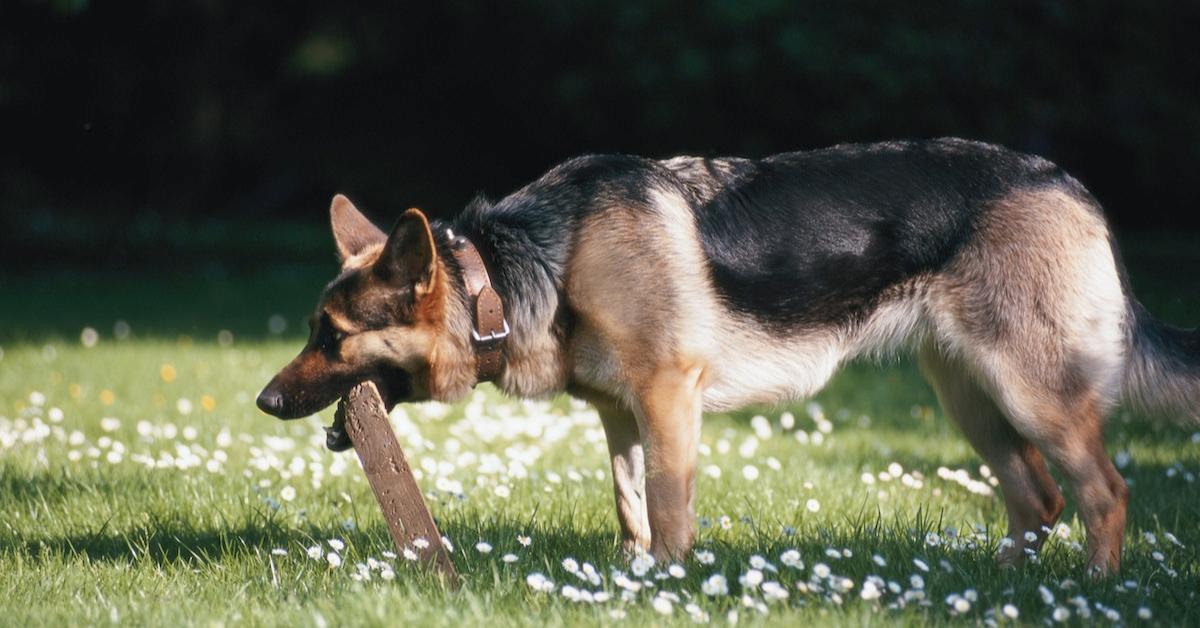 Is Your Dog an Aggressive Chewer? These Toys Should Keep Them Occupied
Dogs do a lot with their teeth — in addition to using them to eat, they use them as a form of self defense, and most commonly, to chew. In addition to chewing for teething purposes, dogs chew to relieve boredom and to calm their anxieties.
But some dogs are more aggressive chewers than others — that's why we've compiled a list of dog toys for aggressive chewers, if soft toys just aren't cutting it.
Article continues below advertisement
Gnawly Dog Chew Toys
Gnawly Dog Chew Toys come in many different shapes, sizes, and textures, so your dog isn't likely to get bored. They're made from all-natural rubber and they're flavor-infused, to get your dog more excited to chew their toys, rather than your stuff. Fit for outdoor and indoor play, they're super rugged and are bound to survive even the roughest of dogs.
Benebone
The Benebone is a U.S.-made chew toy that is highly durable and it comes in different flavors like peanut butter and bacon, to make it extra enticing for your pup. My pup has had hers for over a year, and although it looks well-loved, it hasn't broken down too much. They're also pretty affordable — for less than $20, it's a solid investment that will keep your fur baby occupied for hours on end.
Article continues below advertisement
Kong
Any Kong toy is guaranteed to occupy your chew-loving pup, while giving them endless amounts of mental stimulation. Although it may not seem like your dog is necessarily an intellect, mental stimulation helps them avoid premature aging, and decreases any aggressive behavior. And whether you get a large Kong toy, which can hold treats, or a smaller one that you can fill with peanut butter, they're built for your pup to chew, lick, hit, and toss around as hard as they possibly can.
Article continues below advertisement
Nylabone
The Nylabone is a super popular toy for dogs — it's made in the U.S. and recommended by veterinarians, to keep your pups mentally stimulated, occupied, and to keep their teeth clean. There are so many different shapes and sizes of Nylabones, but my pup loves the beef jerky flavor one pictured above... it's definitely gotten her through some serious spells of boredom.
Article continues below advertisement
Vanfine Squeaky Toys
Vanfine Squeaky Toys make it so your pup, who's been banned from playing with soft toys, can get in on the fun with something that squeaks. In the video above, a longtime pet parent reviews the toy, claiming it's lasted his destructive pup several months. It's definitely worth considering, if your fur baby has an affinity for things that squeak.
Article continues below advertisement
Pet Qwerks' Bark Bone
Pet Qwerks' Bark Bone is made from highly durable nylon, as well as other non-toxic and non-allergenic materials. It's infused with peanut butter flavoring, helping control plaque and tartar, and it's made in the U.S.
Article continues below advertisement
Eco Kind Yak Cheese
Eco Kind Yak Cheese is actually edible, so if you're really looking to keep your pup occupied, this is a treat that will take them a while to get through.
Just make sure to supervise your dog when the bone starts to get small, as it can be a choking hazard. We recommend microwaving it at the end to make a "puff" treat for your pup!
Article continues below advertisement
Nerf Dog
Even though you might remember the brand Nerf from those little toy guns that shoot foam bullets, Nerf shockingly has incredibly sturdy dog toys. From light up balls, to tug toys, the brand seriously has it all — and everything is incredibly durable, even for the toughest of chewers.
Article continues below advertisement
Marrow Bones
Many bones that you see at the pet supplies store aren't actually safe for aggressive chewers — antlers, femur bones, and hooves are prone to splintering, which can injure your pup or potentially cause them to choke. But marrow bones are incredibly durable, so you won't have to worry about that.
Article continues below advertisement
Chuck It! Balls
If your dog is an avid fetch player and an aggressive chewer, you'll be going through a ton of tennis balls. That's why a sturdy ball like a Chuck It! is a particularly economic option. They'll last a long time, and you won't have to worry about them chewing them up into little pieces.