Tips For Building a DIY Outdoor Fireplace, Safely and Efficiently
It can be relatively easy and inexpensive to build your own DIY outdoor fireplace, as long as you adhere to these simple tips and instructions.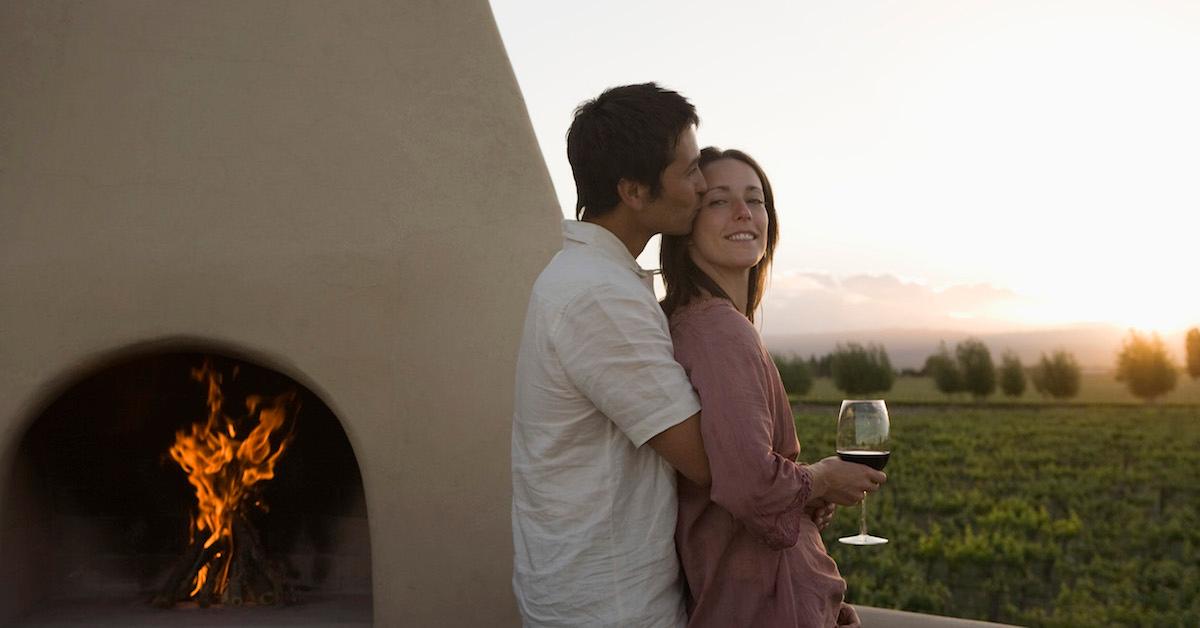 Sitting around the fire, roasting marshmallows, and enjoying the seasonable weather can be a great way to enjoy any summer night. And luckily you can DIY an outdoor fireplace cheaply and easily — just make sure to follow these tips and instructions.
Article continues below advertisement
1. Determine the location, size, and capacity.
Building an outdoor fireplace should always begin with a vision for its eventual placement. Will this fireplace be a focal point in your yard? Will it seat four people, eight people, or more? Will it be the place where you and your guests or family congregate? These are all questions you should ask yourself before getting started.
Article continues below advertisement
2. Find a safe location.
Safety is paramount when it comes lighting a controlled fire. You'll always want to situate the pit or fireplace as far away from the home and flammable backyard trees, plants, or outbuildings as possible. According to HGTV, once you determine a safe and spacious location, decide how big it will be.
3. Sketch and measure your design, or consider using a kit.
Next, sketch out your design. The internet is full of creative designs that range from simple and utilitarian to ridiculously ornate or complex. You'll want to take measurements of the space to determine the width, length, depth, and height of the eventual fireplace and keep track of them with your sketch.
Article continues below advertisement
Kits also exist — Romanstone Hardscapes' should give you a good idea of the work that's entailed in the process. Kits have attached instructions, so take some time to look through them before you start. They will also likely contain an accounting of all necessary materials and tools, to help you make sure you have those from the beginning.
Article continues below advertisement
4. Determine your brick type.
Keep track of your measurements, to guide you through the hardware store, so you can determine the most efficient building materials. Some bricks and stones are better able to hold up better under prolonged heat than others, so choosing the wrong stones could result in an unsecured fireplace that is liable to collapse given enough use.
Different bricks and stacked stones will create different looks, as well, so your initial design might change as you uncover which you like best. HGTV recommends using kiln-fire brick because it can withstand temperatures of 1800 degrees Fahrenheit without cracking, but feel free to investigate other types at the hardware store.
Article continues below advertisement
7. Collect your tools and materials.
Types of materials usually included in kits are similar to what you would look for if you're designing your own fireplace. They include: lintels, fire brick, angle iron, capstone, trim stones, adhesive, and cut pieces of stone. Basic tools will usually include a hammer, dead-blow hammer, caulk gun, 4-foot level, two ladders, usually 6 feet high, safety goggles, and a cleaning brush for dust.
Article continues below advertisement
8. Create your foundation, and start building!
You'll want to make sure the foundation is level from the start. If the ground beneath it isn't level, it won't be level, which can throw off the project entirely. You should regularly use a level throughout the building process to ensure everything is straight, regardless if you're using a kit or adhering to a specific design.
How much does it cost to build a fireplace?
Even if you're doing the work yourself, large DIY outdoor fireplaces aren't cheap. According to Arte Verde, the average cost to build an outdoor fireplace is somewhere between $1,500 to $20,000, though most will run you closer to $3,000. Unfinished contractor models and pre-made kits are also available — those range between $1,500 to $9,000, which means they might be the better option if you're having trouble doing it from scratch.