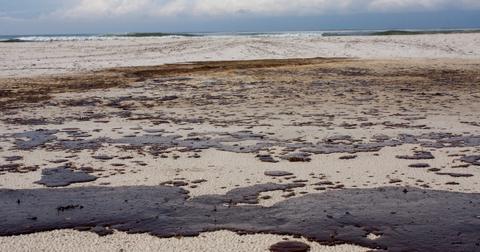 17 Dead Dolphins Wash Up in Wake of Mauritius Oil Spill
By Sophie Hirsh

Aug. 26 2020, Published 4:02 p.m. ET
Earlier this month, a Japanese cargo ship spilled more than 1,000 tons of oil into the Indian Ocean, just along the coast of the tropical island nation Mauritius. The oil spill has absolutely devastated Mauritius, and the country had to declare a state of emergency. And now, dead dolphins are washing up in the wake of the Mauritius oil spill.
Article continues below advertisement
The Mauritius oil spill is killing dolphins and porpoises.
Government officials confirmed that at least 17 dead dolphins were found washed up on Mauritius' beaches on Wednesday, Aug. 26, as reported by Forbes. However, the actual number of dolphins and marine animals to wash up due to the oil spill is likely much higher than that — as Forbes added, the dolphin death toll continued rising throughout the day. And as Mauritian news outlet Lexpress reported (as translated from French), at least 18 dolphin and porpoise corpses were found stranded on the island Wednesday morning.
Article continues below advertisement
At least 17 dead dolphins washed up in Mauritius — over a month after a ship leaked 1,000 tons of oil in the area.

"We have never seen deaths of these very intelligent marine mammals like this," an official reported.

The carcasses will be autopsied to determine cause of death. pic.twitter.com/SfXmW7KfSB

— AJ+ (@ajplus) August 26, 2020
However, Jasvin Sok Appadu from Mauritius' fisheries ministry told Reuters that the dead dolphins "had several wounds and blood around their jaws, no trace of oil however."
According to Lexpress, the Mauritius Oceanographic Institute is performing necropsies on the marine animals, so hopefully the cause of death will be made clear soon.
Article continues below advertisement
These dolphins and porpoises are not the only casualties of the Mauritius oil spill. According to the BBC, many fish, crabs, turtles, and other small marine animals have already been found dead since the boat crashed and began spilling oil in early August. Additionally, during relief efforts earlier this month, many volunteers rescued baby tortoises and other wildlife from the nearby islet Ile aux Aigrettes, and brought them to mainland Mauritius, CBS News reported.
Mauritius is in a state of emergency following the oil spill.
In case this is the first time you're hearing about the recent oil spill in Mauritius, here's some background.
Article continues below advertisement
On July 25, the Japanese cargo ship MV Wakashio, which contained several thousand tons of oil, collided with a coral reef. On Aug. 6, the boat began leaking, and over the next few days, more than 1,000 tons of oil spilled into the Indian ocean, as the BBC reported at the time. On Friday, Aug. 7, Mauritius Prime Minister Pravind Jugnauth declared a state of emergency, and put out a call to other nations for help.
Thousands of Mauritians volunteered to help clean up the spill, sopping up oil with empty barrels and fabric sacks; the boat's crew also did their best to stop the oil from leaking out of the boat, but it was made difficult by strong waves and wind, as per the AP.
After the stranded boat split in two, the National Crisis Committee purposely sank one half of it, as options to remove the boat from the ocean ran out.
How to help Mauritius after the oil spill.
There is still so much work to be done to save Mauritius' shorelines from the devastating effects of this oil spill. If you'd like to help with local relief efforts, you can donate to this fundraiser via CrowdFund.