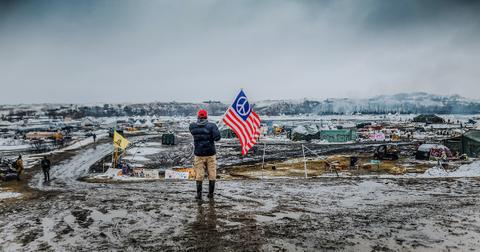 Dakota Access Pipeline Is Closing Down, Atlantic Coast Pipeline Project Canceled
By Sophie Hirsh

Jul. 6 2020, Published 12:30 p.m. ET
Two major U.S. fossil fuel pipelines are taking a bow this week. After three years of transporting oil through sacred Indigenous lands, the Dakota Access Pipeline is being shut down indefinitely, pending an environmental review. And after nearly six years of opposition from environmental groups, two major energy companies just canceled construction of the Atlantic Coast Pipeline, which would have transported fracked natural gas under the Appalachian Trail.
Article continues below advertisement
On Monday, July 6, Federal Judge James Boasberg ordered Dakota Access Pipeline operators to empty out and shut the pipeline down by Aug. 5, as reported by The Hill. While it's shut down, the U.S. Army Corps of Engineers, the group responsible for evaluating and permitting water crossings, will work on an environmental impact statement regarding the pipeline crossing the Missouri river. Afterwards, the fate of the Dakota Access Pipeline will be up in the air — but hopefully, a judge will rule to permanently shut it down.
The Dakota Access Pipeline closing down is a huge victory — but it's not necessarily permanent.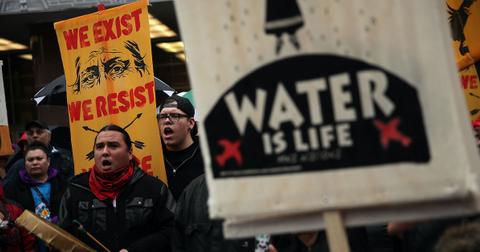 Article continues below advertisement
"This pipeline was a terrible idea when the Trump administration allowed it to be constructed, and amid crashing oil demand it makes less sense than ever to put critical water resources at risk for the sake of oil no one needs," Collentine continued. "It's time for Energy Transfer to abandon its ill-fated expansion plans and shut down Dakota Access for good."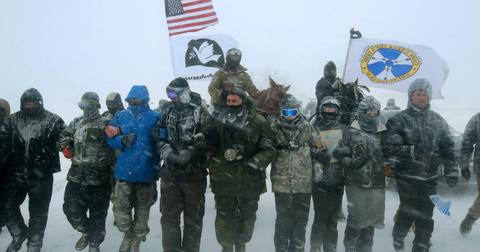 Article continues below advertisement
The Dakota Access Pipeline has been a subject of immense controversy since it was announced in June 2014, and even more since it began transporting oil (a whopping 570,000 barrels per day) in June 2017, thanks to an order Trump signed his first week in office as president. Protests by Indigenous tribes and allies have made national headlines over the past few years, and their movement became known as #NoDAPL. 
The pipeline runs through the Standing Rock Sioux Tribe Reservation and other Indigenous sites across Illinois, Iowa, North Dakota, South Dakota, the Missouri River, and the Mississippi River. In addition to threatening sacred Native American lands, the Dakota Access Pipeline also threatens the safety of local drinking water.
Article continues below advertisement
The Atlantic Coast Pipeline project is being completely shut down.
BREAKING: The Atlantic Coast Pipeline has been cancelled!

This fossil fuel pipeline would have generated 67 million tons of climate pollution each year and disproportionately harmed Native communities — on top of destroying wildlife.#NoACPhttps://t.co/gho7vyStb0

— Friends of the Earth (@foe_us) July 5, 2020
And on Sunday, July 5, Dominion Energy and Duke Energy announced the cancelation of the Atlantic Coast Pipeline, citing "ongoing delays and increasing cost uncertainty which threaten the economic viability of the project." Dominion Energy and Duke Energy had already invested billions of dollars and nearly six years of work into the natural gas pipeline, which would have run through North Carolina, VIrginia, and West Virginia.
Duke Energy also attributed the cancelation to delays as a result of "a series of legal challenges" — likely referring to the lawsuits lodged by environmentalists. The Southern Environmental Law Center had filed a lawsuit protesting the project on behalf of a slew of environmental advocacy groups, including the Sierra Club, Appalachian Voices, and Chesapeake Climate Action Network. 
Article continues below advertisement
The lawsuit was shut down in mid-June, when the U.S. Supreme Court voted 7-2 in favor of the federal government gaining the authority to allow the two companies to build the Atlantic Coast Pipeline, as Reuters reported. But despite that victory — and despite having the support of the Trump administration — Dominion Energy and Duke Energy are still canceling the project.
This week in oil 🛢:
-Atlantic Coast Pipeline cancelled
-Dakota Access Pipeline ordered to be drained
-It's only Monday
-Activism works

— Brian Kahn (@blkahn) July 6, 2020
Article continues below advertisement
"The Atlantic Coast Pipeline was a travesty," Jared Margolis, senior attorney at the Center for Biological Diversity, said in a statement sent to Green Matters on Monday, July 6. "It didn't comply with bedrock environmental laws that protect us and imperiled species, and should never have been proposed. This victory shows we can move beyond these dirty projects that pose catastrophic risk to our waterways, people and wildlife."