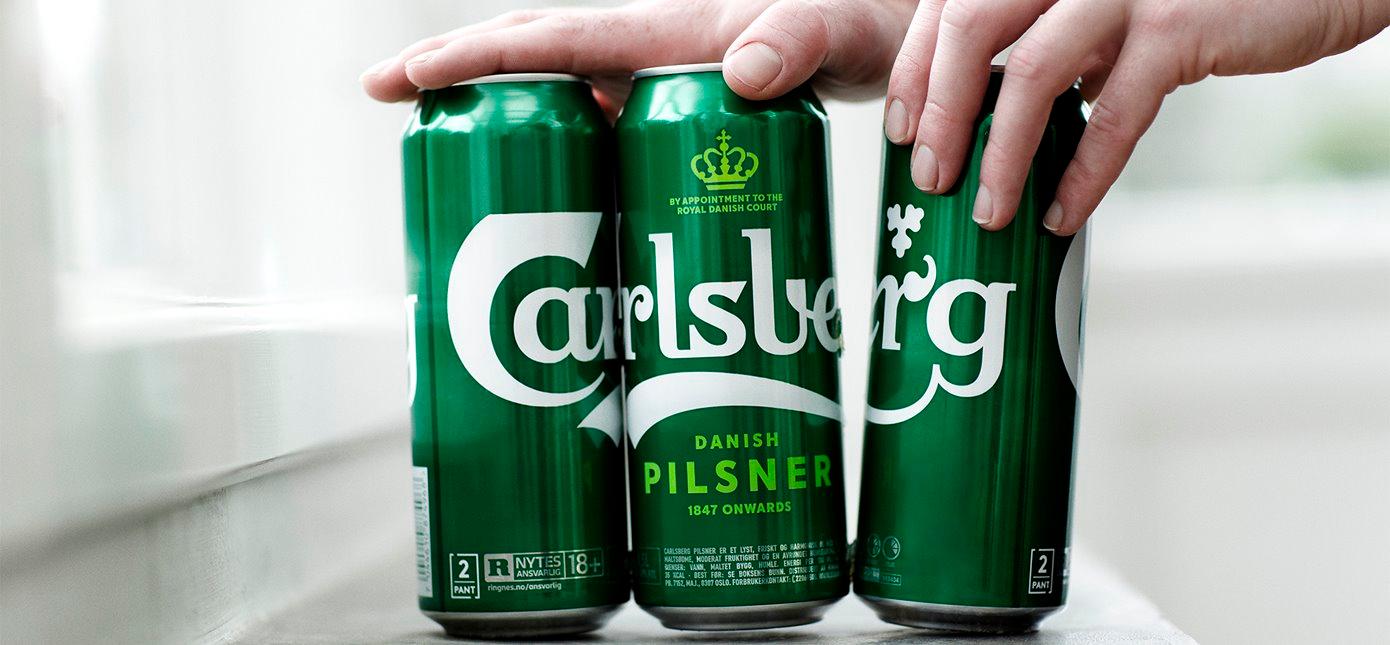 Carlsberg's Beer "Snap Packs" Use 76 Percent Less Plastic Than Six Pack Rings
Carlsberg is replacing plastic six pack rings with an alternative that uses 76 percent less plastic.
Long before there were viral videos of turtles with plastic straws stuck in their nostrils, there were videos of ducks with plastic six pack rings around their necks. However, like straws, the taboo stretchy plastic device is still the norm for six packs of beer — but one beer company is trying to change that. Recently, the Danish beer company Carlsberg transitioned away from plastic rings and to a new innovation, which the brand calls "Snap Packs."
Article continues below advertisement
In the fall of 2018, the brewery announced that it will start sticking beer cans together with glue (more specifically, "innovative glue technology") instead of using six-pack rings. To make carrying the packs easier, a soft plastic handle is attached to the outer side of the two middle cans. According to The Telegraph, Carlsberg is the first company to use this method of adhesives. On its website, Carlsberg assures customers that the glue is strong enough to keep the cans stuck together during travel, but that a simple twist of the cans will snap them apart. "To get a good snap, [you] split the cans in two rows of three, and then roll off one can from the others, or simply snap it off, quickly," Håkon Langen, Carlsberg Group's packaging innovation director, told Fast Company.
Article continues below advertisement
By the time Carlsberg converts all of its four packs, six packs, and eight packs of beer to the Snap Packs, Carlsberg estimates it will save 1,200 tons of plastic annually. The brewery also estimates that 76 percent less plastic will be used in its beer packaging. As per Carlsberg's website, its team has been working on the Snap Packs for three years, and they developed the packaging along with beverage packaging innovation company NMP Systems. "We have no problem sharing the innovation with others, and one day it will be available to everyone, but for now I think [NMP Systems] are busy producing for Carlsberg," Langen told Fast Company. On NMP Systems' website, the Snap Packs are listed under the name Nature MultiPack.
To learn more about the new innovation, Green Matters spoke with Myriam Shingleton, Carlsberg's VP of Group Development. As Singleton explains, NMP Systems does own the technology behind Snap Packs — meaning you could see the minimalist packaging on other brands' canned drinks in the future. "They now own the technology and tested many different glue variants to find the exact right composition and balance between strong enough and easy to handle," she tells Green Matters in an email.
Article continues below advertisement
For the zero-waste beer-drinkers out there, the handle has to go in the trash, but you can leave the glue dots attached to the cans. "The small Snap Pack glue dots are the size of a small chewing gum and should be either left on the cans, like the tab on the can, or disposed in waste bins," Shingleton tells Green Matters. "It's not different from any other glues and will not dissolve as the molecules in the glue are kept together."
"It took three years and we consider it a journey," Shingleton continues. "Given that we are radically reducing plastic and using recycled content in wrapping where plastic is still needed, we believe we have taken a huge step in a more environmental-friendly direction. As I said, for us, it's a journey, and we will keep improving the technology with our partners. It's important to remember that this is the first version of the technology." Perhaps the next iteration of the Snap Packs will use even less plastic.
Article continues below advertisement
"We always strive to improve and today's launch clearly shows our ambition to follow in our founder's footsteps towards a better tomorrow," said Cees 't Hart, Carlsberg Group's CEO, in a statement on the website. "Carlsberg's Snap Pack will significantly reduce the amount of plastic waste, and we look forward to giving our consumers better beer experiences with less environmental impact."
Article continues below advertisement
While the Snap Pack has not rolled out on every Carlsberg beer can pack yet, it is still making waves. For example, in November 2018, Carlsberg Group was awarded the Best Sustainability Initiative award for the Snap Packs at the World Beverage Innovation Awards, as per FoodBev Media.
Carlsberg has several other sustainability goals detailed on its website, including: zero carbon emissions at breweries by 2030, 100 percent electricity from renewable sources at breweries by 2022; 50 percent reduction in carbon emissions at breweries by 2022, and 50 percent less water usage at breweries by 2030. Besides reducing plastic packaging in six packs, in 2017, Carlsberg announced that its Falkenberg facility had become carbon-neutral.
Article continues below advertisement
Before the Snap Packs, most of Carlsberg's sustainability initiatives were things surrounding the production process, Shingleton explains. "With Snap Pack, we also wanted to bring our sustainability efforts closer to the consumers," Shingleton tells Green Matters. "They wanted to offer our consumers a new and more sustainable experience when enjoying a Carlsberg beer by using new, innovative packaging, minimizing the environmental impact of the Carlsberg beers."
It will be interesting to see which other beverage brands follow in Carlsberg's footsteps and start using Nature MultiPacks on their cans — or even better, come up with a completely plastic-free option.