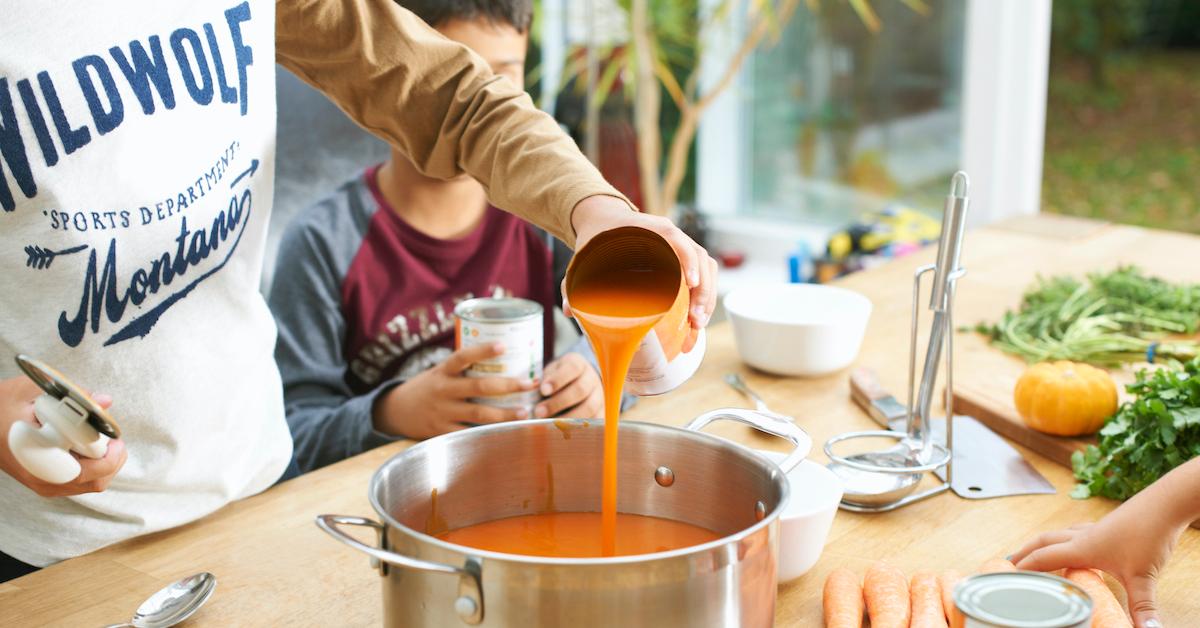 Stock Up On All of Our Favorite Canned Vegan Soups
Whether you feel like spending a lazy night in, or if you're seeking out a quick lunch, these vegan canned soups will keep you satiated all winter.
There's no denying that soup season is easily one of the single greatest culinary seasons of the year, and although whipping a batch of homemade soup is simple and quite honestly game-changing, sometimes there's nothing better than heating up a canned soup for a low-effort (yet beyond delicious) cold weather meal. And, at this stage of the game, there are so many solid vegan varieties that you'll never have to buy the same one twice.
Article continues below advertisement
That being said, we've compiled a comprehensive list of our favorite vegan canned soups, which are bound to keep you satiated all winter long, with no effort required.
Gardein's Plant-Based Saus'ge Gumbo
Plant-based frozen meal giant, Gardein, now offers a variety of pre-made canned soups, from Chick'n & Rice, to Chick'n Noodl', to Minestrone, to Be'f & Vegetable. The most highly-rated variety, according to the brand's website, is Saus'ge Gumbo, which is made with hearty plant-based saus'ge, rice, and vegetables, for an extra fulfilling meal. You can find Gardein's soups from any grocery retailer that sells Gardein products.
Article continues below advertisement
Amy's French Country Vegetable
Amy's offers a wide variety of tasty vegan soups — some with meat alternatives, and others totally vegetable-based — but regardless of your preferences, we're a huge fan of the French Country Vegetable. It's low-sodium and packed with so many vegetables, even non-vegans will be impressed. The best part? You can easily find Amy's at most grocery retailers nationwide.
Article continues below advertisement
Campbell's Hearty Lentil with Vegetables
We know what you're thinking — "isn't Campbell's famous for their Chicken Noodle soup?" Although the canned food company is, in fact, known for their meat-laden creations, the brand's Well, Yes! line is notoriously healthier, and it features a number of vegan soups, including the above, which is Hearty Lentil With Vegetables. Campbell's Well, Yes! soups are available at most grocery retailers, Target, CVS, and Walmart.
Article continues below advertisement
Trader Joe's Butternut Squash Soup
OK, OK, you caught us — Trader Joe's soups are packaged in cardboard cartons as opposed to cans, but we love them nonetheless. Although Trader Joe's offers a number of delicious store-brand soups that are plant-based, our No. 1 favorite is the Butternut Squash Soup. A little soy milk is what makes it extra creamy, in case you were suspicious regarding how it's so dang rich.
Article continues below advertisement
Whole Foods 365 Tomato Basil Soup
We're incredibly partial to the entirety of Whole Foods' 365 brand in general, but its line of soups are especially remarkable (at least the plant-based ones are!). Whole Foods' Tomato Basil soup is comprised of all-organic ingredients, and it makes for a beyond nostalgic meal. Just fry up a grilled cheese with some good old-fashioned Violife on the side, and you'll feel just like a kid again.
Article continues below advertisement
Edward & Sons Trading Co.'s Miso Soup
Edward and Son's is famous for its miso soup, and its traditional pack with tofu definitely doesn't disappoint. It's plant-based and gluten-free, and makes for a solid accompaniment to cucumber rolls, or on its own.
Article continues below advertisement
Nissin's Top Ramen Chili
Nissin's Top Ramen is yet another brand that occasionally shies away from non-vegan food every once in a while to make some pretty delicious plant-based creations. The brand's Chili flavor is entirely vegan, and you can customize it with tofu or cooked veggies to make it extra hearty. Just add water, and you'll feel like you're in college again.
Article continues below advertisement
Upton's Naturals' Chick & Noodle Soup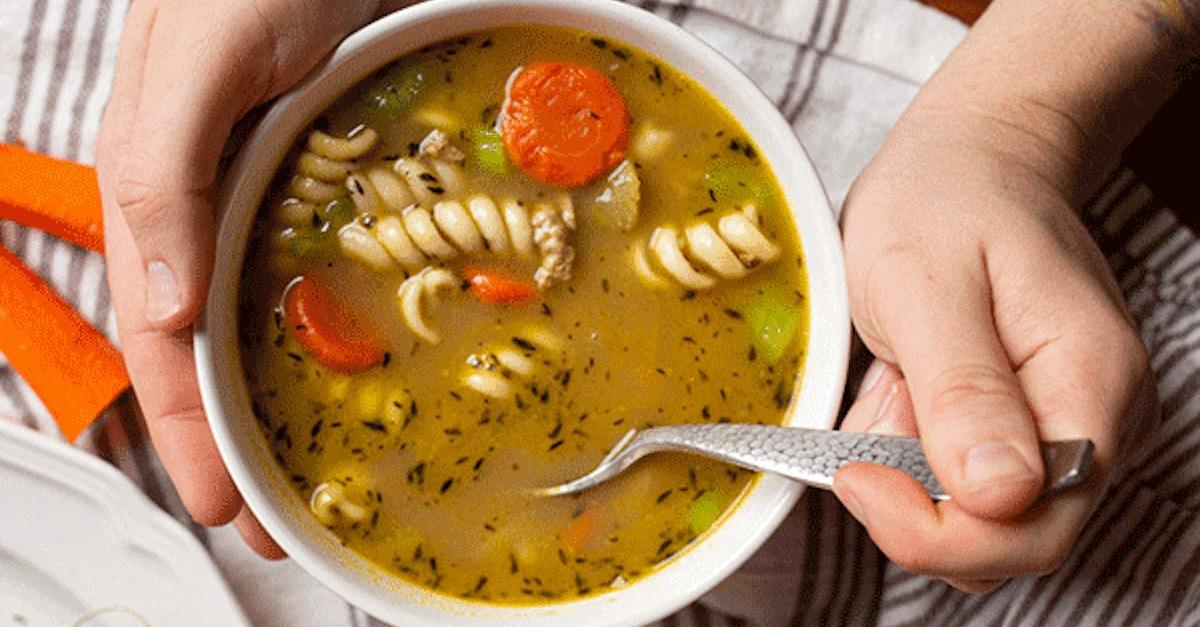 Upton's Naturals' Chick & Noodle Soup blends those delectable wintry flavors — like rosemary and thyme — with hearty carrots, celery, onion, Chick Seitan, and noodles. Each serving packs in 10 grams of protein, it's 100 percent vegan, and made with no added preservatives. You can find it on grocery store shelves at at Whole Foods Market and at select markets, and on Amazon as well as Vegan Essentials.
Article continues below advertisement
Sometimes, a low-effort meal is all you need, and these are some seriously drool-worthy (and easy!) meals, in the name of soup season.