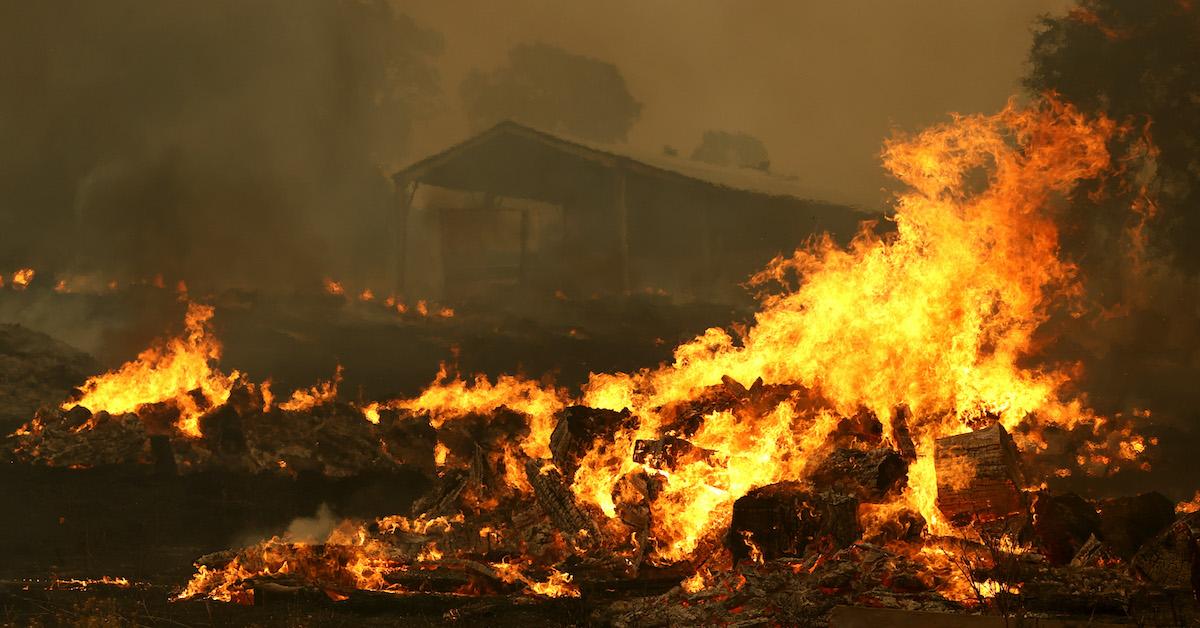 How Climate Change Is Fueling the California Wildfires + How to Help
By Sophie Hirsh

Aug. 25 2020, Published 12:46 p.m. ET
Nearly two years after the devastating Camp and Woolsey fires, and nearly one year after the destructive Kincade Fire, California is the victim of terrible wildfires once again. The 2020 fires have already burned more than 1.5 million acres of land statewide, they've displaced hundreds of thousands of people from their homes, and they've set records for their size — and they're not over yet.
Wondering what caused the California fires, what damage they've done so far, how the climate crisis plays into all this, and how you can help the victims of the California wildfires? Keep reading.
Article continues below advertisement
The 2020 California wildfires have burned endless land and affected numerous people.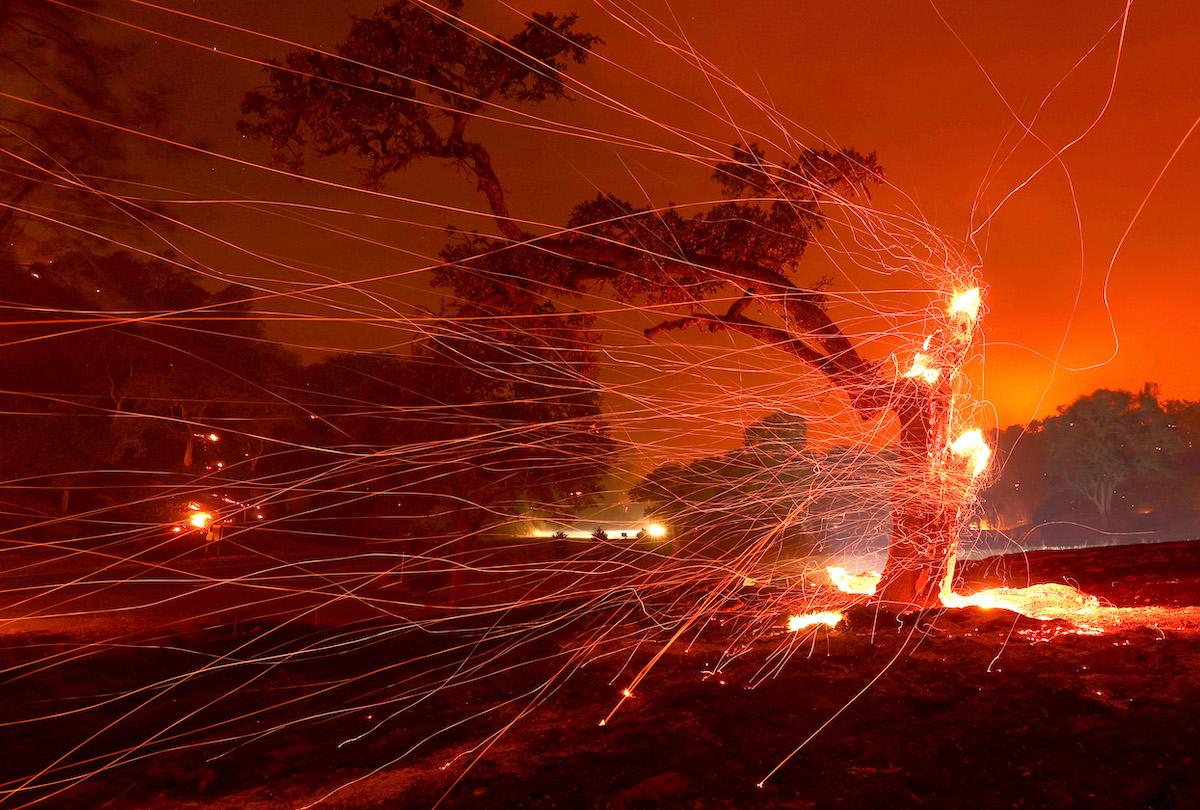 As of Aug. 24, there have been 7,012 fire incidents in California in the year 2020. The fires have burned an estimated 1,514,687 acres of land, damaged 1,779 structures, and caused 7 human deaths, according to the California Department of Forestry and Fire Protection (Cal Fire).
While the very first fire of the calendar year was the Bear Fire, which broke out on Feb. 12, one of the first fires of this recent boom occurred on Aug. 12, when the Lake Fire broke out in the Los Angeles area. As of Aug. 24, the Lake Fire has been active for 12 days, and is 65 percent contained.
The SCU and LNU Lightning Complex Fires are some of the largest fires in California's history.
As reported by the Los Angeles Times, the SCU Lightning Complex fire (representing Cal Fire's Santa Clara Unit) is the second-largest fire in California's history. As of Aug. 24, it has burned more than 363,772 acres, as per Cal Fire. The SCU Lightning Complex fire began when the state was experiencing a deadly heat wave, and lightning strikes lit up the sky in northern California. These factors combined contributed to 20 separate fires breaking out. The 20 fires then merged into three larger ones, destroying grass, ranches, and other land in their wake.
The LNU Lightning Complex fire (representing Cal Fire's Sonoma-Lake-Napa Unit) has burned more than 352,913 acres of land as of Aug. 24, according to Cal Fire. That makes it California's third-largest fire to date, the LA Times added.
Article continues below advertisement
California's Apple Fire is mostly contained.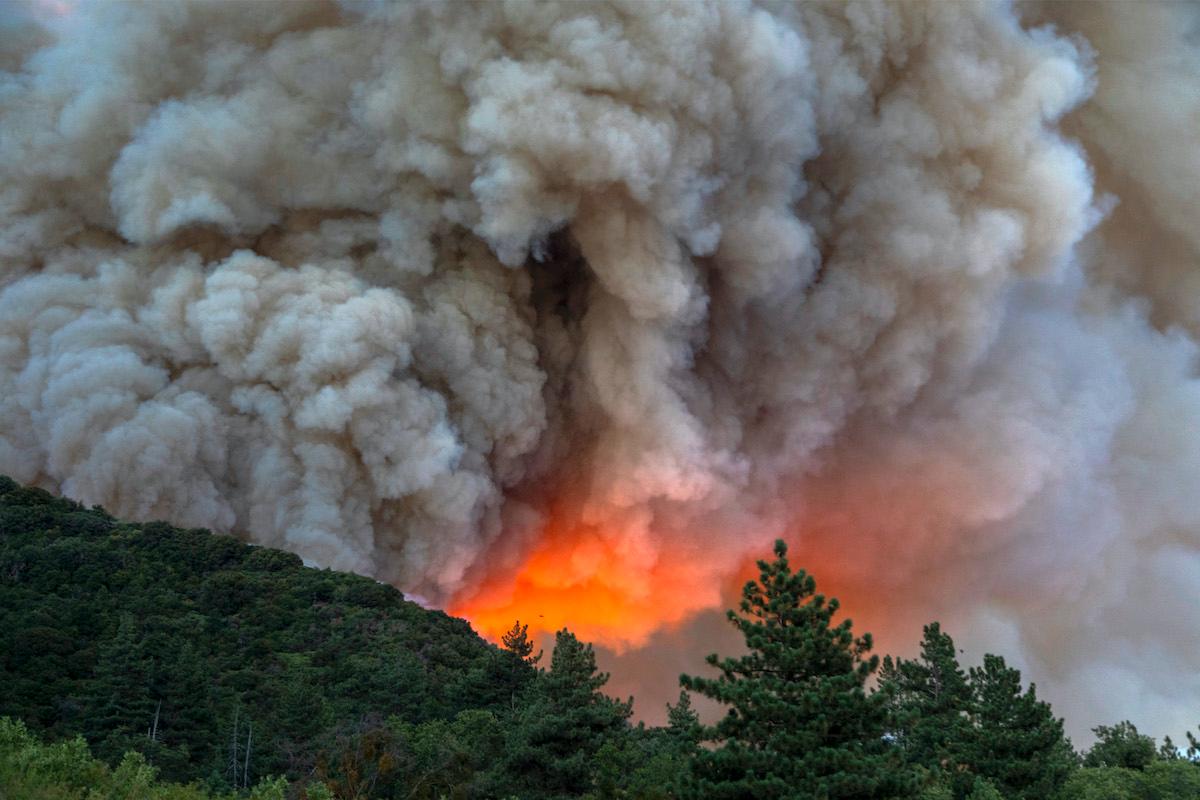 The Apple Fire first broke out in Riverside County on July 31, and since then, it has burned 33,424 acres of land across the Golden State. The Apple Fire was so bad that California ordered thousands of people living in the Apple Fire's trajectory to evacuate their homes in early August, for fear that they would be impacted by the blaze.
Fortunately, as of Aug. 24, the Apple Fire is 95 percent contained, according to Cal Fire.
What caused the California wildfires?
According to Cal Fire, the cause of the different fires vary. Some are still under investigation. However, there are a few factors that have caused some of the fires and allowed some to continue to burn. As explained by the San Francisco Chronicle, most California wildfires are caused by humans, though accidentally. For example, discarded cigarettes, fireworks being set off, and improperly-maintained gas and electric machinery have all caused wildfires in the past few years, according to Popular Mechanics.
Article continues below advertisement
Are the California wildfires a result of climate change?
Hundreds of blazes sparked by thousands of lightning strikes are raging across California. This all comes as the state is confronting a record-breaking heat wave.

"If you are in denial about climate change," Gov. Gavin Newsom said, "come to California." https://t.co/0k1AHOILPm

— NPR (@NPR) August 22, 2020
Another major cause of these fires is the climate crisis overall. With greenhouse gases in the air constantly causing the planet's temperature to rise, less rain, more droughts, melting snowpack, and reduced moisture in the air leading to dry air, California is basically a "tinderbox," as explained by Scientific American. Essentially, California is a perfect environment for fires to thrive, especially now, as the side effects of the climate crisis continue to mount.
Article continues below advertisement
How are firefighters fighting the California fires?
Here's how to help the California wildfire relief efforts.
As rounded up by The Californian and Mercury News, a few places in need of donations include, California Fire Foundation's Supplying Aid to Victims of Emergency (SAVE) program, the California Wildfires Recovery Fund, the Latino Community Foundation NorCal Wildfire Relief Fund, Tony LaRussa's Animal Rescue Foundation, the Woodside Community Foundation Disaster Relief Fund, and DirectRelief.
If you live locally and are able to volunteer in-person, the American Red Cross is in serious need of volunteers to help out at their shelters, as well as health professionals to help victims, a representative for the organization told The Californian.