Jeff Bezos' Earth Fund Grants $791 Million to 16 Climate Groups — See the Recipients
Jeff Bezos is donating $791 million from his Earth Fund to 16 climate organizations.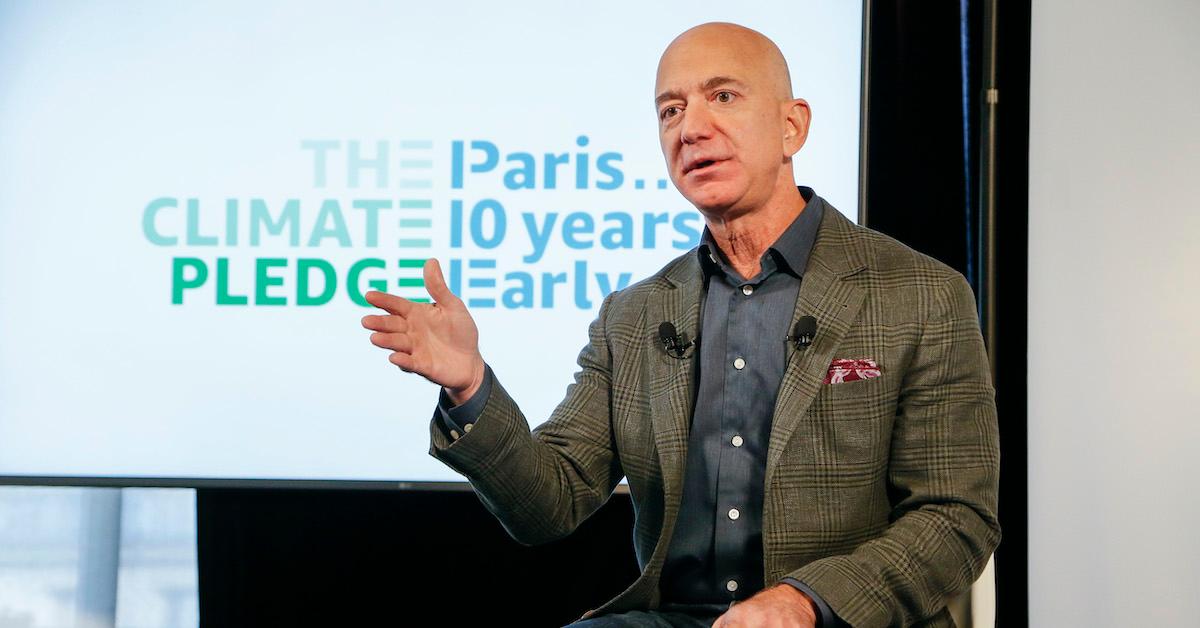 Article continues below advertisement
The Bezos Earth Fund just revealed its first 16 grants.
In February 2020, Bezos unveiled the Bezos Earth Fund. As part of the fund, Bezos announced that he would be donating $10 billion to various organizations, activists, and scientists fighting the climate crisis, and promised that he would begin issuing grants "this summer." In case the coronavirus pandemic has skewed your sense of time, summer ended two months ago. It would appear that Amazon's delivery guarantees are much more reliable than the Bezos Earth Fund's.
"I've spent the past several months learning from a group of incredibly smart people who've made it their life's work to fight climate change and its impact on communities around the world," Bezos wrote in an Instagram post. "I'm inspired by what they're doing, and excited to help them scale. Today, I'm pleased to announce the first Bezos Earth Fund recipients—16 organizations working on innovative, ambitious, and needle-moving solutions."
Article continues below advertisement
Bezos added that this $791 million is "just the beginning" of his $10 billion Earth Fund. "We can all protect Earth's future by taking bold action now," he wrote.
Jeff Bezos is awarding $791 million to 16 climate groups.
According to CNBC, these are the 16 organizations receiving a chunk of the Bezos Earth Fund's grant money, alongside how much they'll each be getting:
The Climate and Clean Energy Equity Fund, $43 million grant
ClimateWorks Foundation, $50 million grant
Dream Corps Green For All, $10 million grant
Eden Reforestation Projects, $5 million grant
Energy Foundation, $30 million grant
Environmental Defense Fund, $100 million grant
The Hive Fund for Climate and Gender Justice, $43 million grant
Natural Resources Defense Council, $100 million grant
The Nature Conservancy, $100 million grant
NDN Collective, $12 million grant
Rocky Mountain Institute, $10 million grant
Salk Institute for Biological Studies, $30 million grant
The Solutions Project, $43 million grant
Union of Concerned Scientists, $15 million grant
World Resources Institute, $100 million grant
World Wildlife Fund, $100 million grant
Article continues below advertisement
Many of the recipients shared what they will be doing with their new funds.
For example, the Environmental Defense Fund (EDF) said it will use its $100 million grant to fund the completion and launch of MethaneSAT, a satellite that locate and measure sources of methane pollution; it will also be used to develop the understanding of carbon credits, capture, storage, and removal.
Article continues below advertisement
The Earth Fund is giving the Union of Concerned Scientists a $15 million grant, distributed over two years. The UCS will use the money to fight for upgrades to the U.S. electrical grid, to help move away from fossil fuels and toward wind, solar, and energy storage; the organization will also use the funds to ramp up the "electrification" of commercial trucking.
Article continues below advertisement
These grants are the least Jeff Bezos could do.
Amazon packages may seem innocent, but the massive corporation is responsible for far more pollution than you might think: Amazon said it produced 44.4 million metric tons of carbon dioxide in the year 2018 alone. To put that into perspective, that number is comparable to the overall pollution rates of some entire small countries, according to the Associated Press.
Considering Amazon's carbon emissions and Bezos' unfathomable wealth ($10 billion is less than 9 percent of Bezos' entire net worth), it's about time that Bezos put his money where his environmental destruction is — and for the sake of humanity, hopefully he will distribute the rest of that $10 billion before it's too late.