These Are Our Picks for the the Best Metal Straws
You already know you should be using a metal straw, but which ones should you get? See the best ones!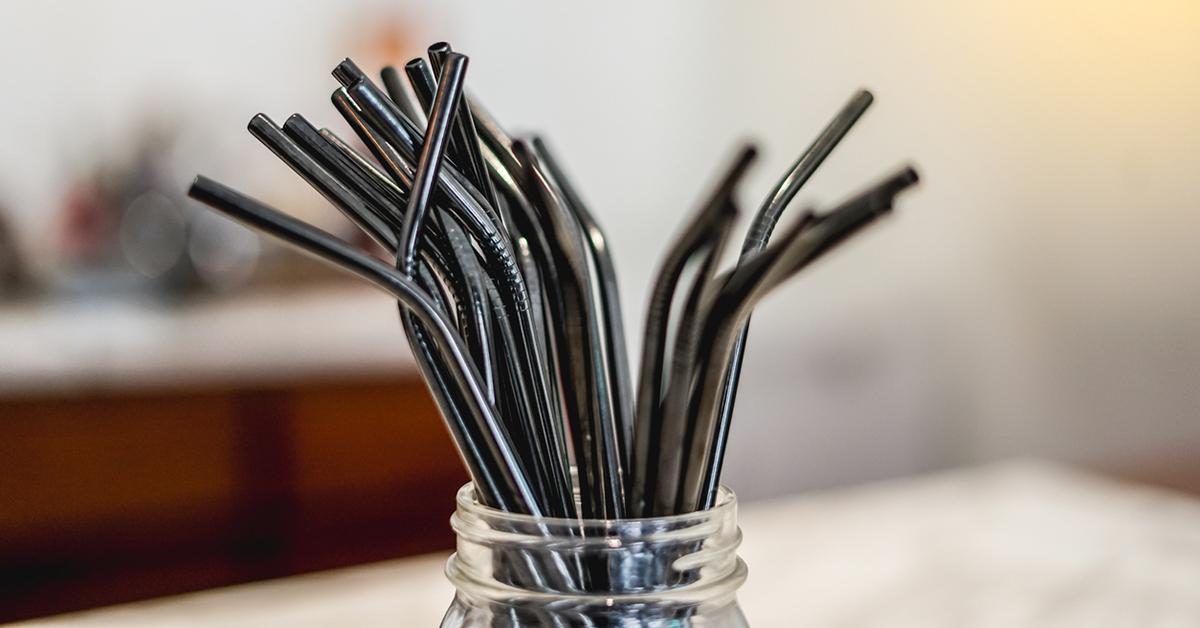 Plastic pollution is a big problem internationally and unless you were hiding under a piece of plastic all year, you may be privy to how much the public perception of straws has changed recently. Looking back, it feels like 2019 was the year of the anti-single-use straw, as many companies, brands, and even cities made moves to ban single-use plastic straws in favor of either reusable or biodegradable and compostable alternatives.
Article continues below advertisement
Straws make up around 4 percent of the plastic pollution worldwide but have garnered so much attention this past year because of a social awareness campaign advocating for wildlife. "Save a turtle, skip a straw" became a massive motto and reusable, sustainable straws started popping up all over social media.
If you're no stranger to the #EcoWarrior life, then you know reusable alternatives to single-use plastic straws include reusable plastic straws, silicone straws, glass straws, and, of course, metal straws. Other alternatives include paper straws, which are single-use, but also biodegradable and compostable. If you're looking for the best metal straw, go no further!
Keep reading to find out what's the best metal straw, if metal straws are non-toxic, and more!
Article continues below advertisement
What Are the Best Metal Straws?
Are you wondering what the best metal straw is? Ideally, the best metal straw would be long (so it can fit in those to-go Starbucks cups), made for travel, made from non-toxic material, and would also come with a cleaning brush.
This eight-pack from Toodour features four straight 10.5-inch straws and four curved 9.9-inch straws, as well as a cleaning brush to reach those tough-to-clean areas. With a five-star rating on Amazon, these stainless-steel straws are some of the best you can get.
Of course, if you don't want to go by ratings, then there's YIHONG's eight-pack of stainless steel straws — Amazon's No. 1 bestseller in metal straws. These straws are BPA-free, dishwasher-safe, and are compatible with some of the most popular reusable cup brands like YETI, Klean Kanteen, Tervis, Ozark, and more.
Stainless steel drinking straws from ALINK are extra wide, making them great for smoothies, drinks with boba, and milkshakes. Each metal straw is 12 mm x 9 and a set of four comes with, of course, a cleaning brush. You can buy a four-pack in silver, gold, rose gold, black, and even rainbow.
Article continues below advertisement
What's the Best Collapsible Metal Straw?
While metal straws are definitely the more sustainable and reusable option in comparison to single-use plastic straws, they are not always the most convenient option. Cue collapsible straws.
Collapsible straws are still made of sustainable, non-toxic stainless steel, but they also fold down into a smaller version of itself, making it more convenient while you're on-the-go. Wavy Pavement makes a stainless-steel collapsible straw with two silicone tips on each end and several length options. The Wavy Pavement straw is adjustable fitting a 30-oz, 20-oz, and 10-oz cup easily.
The Wavy Pavement kit also comes with a keyring, durable case, and carabiner for convenient hanging off your keys or backpack, and a cleaning brush. (Not to mention, the cleaning brush itself is also collapsible, too!) Rated 4 ½ stars on Amazon, the Wavy Pavement collapsible metal straw is FDA-approved and guaranteed to not leak air while you drink.
Article continues below advertisement
What's the Best Stainless-Steel Straw Water Bottle?
There are a lot of good reusable water bottles and tumblers out there, but not a lot of them come with a stainless-steel straw. In most cases, you have to buy the straws and cup (or water bottle) separately.
However, there is Klean Kanteen, which makes a 16-oz Insulated Tumbler that comes with a stainless-steel reusable straw and a silicone Straw Lid. The Straw Lid is splash-resistant, totally BPA-free, and overall, a good sustainable alternative to other straws and water bottles.
Are Metal Straws Safe?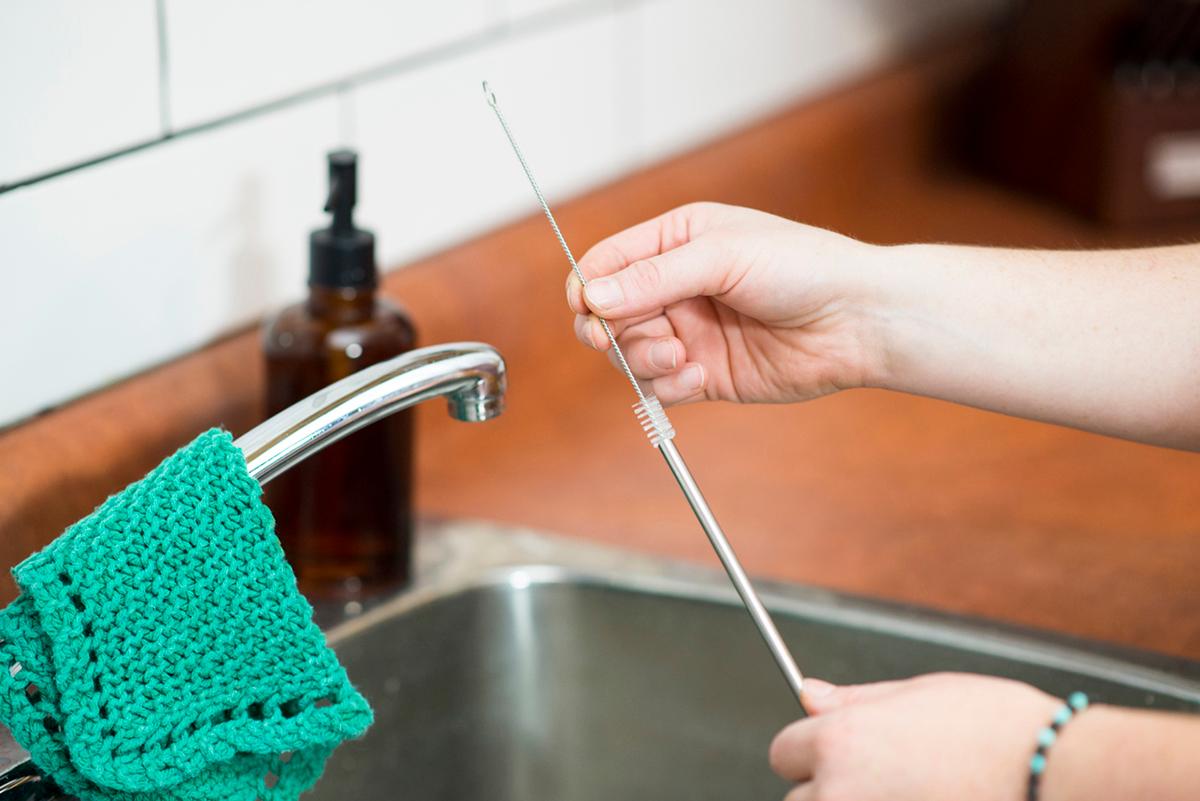 Metal straws are generally considered safe. Metal straws won't break if you drop them and they don't bend easily, so you don't have to worry about cutting your lip or mouth on a jagged or sharp piece of the straw. (Also, glass straws are great alternatives to single-use plastic straws, but they do break easily, especially if you drop them in the sink or against tile.)
Article continues below advertisement
When searching for a metal straw, you should make sure the straw is made of a high quality 18/8 stainless steel. That means either 304-food grade stainless steel or medical grade stainless steel, which are also corrosion resistant, meaning that it will not degrade over time, leaving a nasty metallic sort of taste into your beverage. This is another advantage metal straws have over plastic straws, as plastic leaching can cause harmful toxins and chemicals — such as Bisphenol A (BPA) — to leach into your food and drink (especially if the plastic gets heated up). BPA exposure has been linked to causing cancer, infertility, male impotence, heart disease, and more.
While metal straws are considered unbreakable — and their durability is certainly an advantage for a reusable product — it can also be a disadvantage. Metal straws should not be used while walking, exercising, operating any machinery, or driving. A freak accident in England made headlines earlier this year after a woman drinking from a mason jar through a metal straw fell. According to the Washington Examiner, the metal straw remained intact, but impaled the woman through the eye, killing her.
Again for safety precautions, metal straws should not be used while in motion or while driving or operating machinery.
Article continues below advertisement
Are Stainless Steel Straws Toxic?
When searching for a metal straw, you'll want to make sure that it is made from the best quality stainless steel. Look for a straw made of food grade 304 stainless steel or 316L medical grade stainless steel.
All stainless steel is pretty durable in that it resists oxidation and corrosion, making it a great material choice for a reusable product like a straw. 304 stainless steel is food grade, so it is a safe option for a straw, but it has also been known to not be as resistant to heat and scratches. The sulfur and fatty acids in certain foods and drinks could have an effect on the stainless steel over time. While 316L medical grade stainless steel straws are generally more costly, there is less of a chance of the straw wearing over time.
While inexpensive types of stainless-steel straws may be tempting, straws made of cheap metal could potentially leach heavy metals and plasticizer, making them no healthier an option than plastic. Always make sure your metal straws are made from either food- or medical-grade stainless steel.