Late Feminist Author, bell hooks, on Environment and Intersectionality
Author bell hooks passed away on Wednesday, Dec. 14. In addition to writing about feminism, the famed author also wrote about the environment.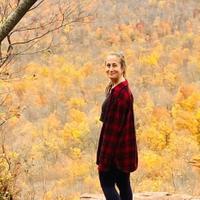 Sadly, the world of feminist authors has lost a great one — on Wednesday, Dec. 14, scholar and activist Gloria Jean Watkins, who went by the pen name bell hooks (written in all lowercase), passed away. As the author of incredible literature such as Feminism is For Everybody and Communion, she was widely beloved in the realm of Black women writers.
In addition to her pieces on feminism and equality, bell hooks' quotes and pieces on the environment were truly inspirational.
Article continues below advertisement
"I think we are obsessed in the U.S. with the personal, in ways that blind us to more important issues of life," hooks once stated in an interview with Black Rose Anarchist Federation.
"I just think if we could take all the obsession with the personal (inaudible), and personal judgment and have people be concerned about the environment, what a different world we would live in," she added.
Article continues below advertisement
bell hooks once wrote a profound essay called "Touching The Earth."
"Touching The Earth" is a beautiful essay in hooks' book Belonging, in which she details her personal — and Black people's — connection with nature.
"When we love the Earth, we are able to love ourselves more fully. I believe this. The ancestors taught me it was so," it begins.
The essay delves into her family history, explaining that she came from a long line of farmers who lived in the south. It goes on to detail how her relationship with the Earth dates back several generations.
"Living in modern society, without a sense of history, it has been easy for folks to forget that Black people were first and foremost a people of the land, farmers. It is easy for folks to forget that at the first part of the twentieth century, the vast majority of Black folks in the United States lived in the agrarian South. Living so close to nature, Black folks were able to cultivate a spirit of wonder and reverence for life."
Article continues below advertisement
"Growing food to sustain life and flowers to please the soul, they were able to make a connection with the Earth that was ongoing and life-affirming. They were witnesses to beauty."
She explains that when Black people migrated North to live in cities, they experienced psychological despair, referencing fellow feminist writer Toni Morrison's The Bluest Eye.
"For many years, and even now, generations of Black folks who migrated north to escape life in the South returned down home in search of a spiritual nourishment, a healing, that was fundamentally connected to reaffirming one's connection to nature," she wrote.
She goes onto explain that environmental movements are often whitewashed, saying more needs to be done to make environmentalism intersectional. Needless to say, it's an essay worth reading.
Article continues below advertisement
hooks also wrote quite a bit about the importance of intersectionality, in general.
In many of her works, hooks wrote about how Black women have been marginalized in all structures of society. These were highlighted in books such as Ain't I A Woman?: Black Women and Feminism, as well as Feminist Theory: From Margin To Centre. Intersectionality is such an important part of environmentalism and our community as a whole, and to this day, we have bell hooks to thank for educating people on that matter.
BIPOC communities face environmental injustices on a regular basis, and sadly, more vulnerable communities will continue to be on the front lines of climate change if we don't further integrate environmentalism.
Therefore, it's absolutely crucial to listen to the words of bell hooks, and decolonize how we think about protecting the planet. That said, our thoughts are with bell hooks and the many lives she touched.