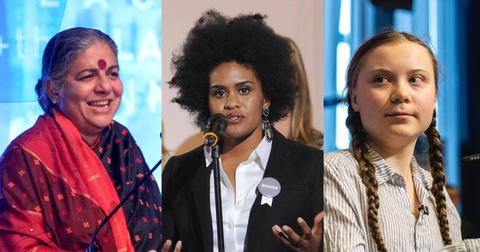 7 Women Killing It in the Environmental Space, In Honor of International Women's Day
By Sophie Hirsh
Get green news right to your inbox!
Thanks for signing up!
Despite the patriarchal oppression still going on in the world, women in pretty much every field are managing to kill it day after day. And the environmental field is no exception. There are numerous women around the globe who are fighting to preserve the planet — so in honor of International Women's Day, which is today, March 8, now seems a great time to go over a few of the women pioneering the fight against climate change.
In the past, women have been at the forefront of the environmental movement. For example, there was Marjory Stoneman Douglas, the feminist and conservationist whose 1947 book The Everglades: River of Grass spread awareness for our need to conserve The Everglades. And then there was Rachel Carson, the environmentalist whose 1962 book Silent Spring clued millions into what pesticides were doing to the environment. Since then, so many women have continued to dedicate their lives to the Earth.
More From Green Matters
.

Food

Lab-grown meat and plant-based meat are on the rise.

.

Business

The results are pretty harsh.