Mystery Object Found on an Australian Beach Is Likely Space Junk — What Does That Mean?
Investigators looking into a mystery object found on an Australian beach say it is most likely space junk. Here's more details about what it's from.
More and more every day, scientists are making new discoveries about the cosmos. Whether it's perfecting photographs of black holes or predicting when stars will explode, there's so much we know about the stars — and so much yet to learn. So when an unexpected object appears from space, people are always intrigued about the mysteries it can reveal.
Article continues below advertisement
On July 15, 2023, a large mystery object found on an Australian beach had people baffled as to its origins. What is it, and where did it come from? Keep reading for everything you need to know about the object, explained.
Article continues below advertisement
What is the mystery object on the Australian beach?
CNN reports that the unidentified copper-colored cylinder object turned up July 15 on a beach in Green Head, a town 155 miles north of Perth. Police cordoned off the object to investigate and eventually rendered it safe, the Western Australia Police Force said in a statement. The object was removed from the beach on July 18.
Many wondered if the object came from the sea, sky, or space. Although it was covered in barnacles from being in the ocean, investigators ruled out that it came from a sea vessel. Investigators also found no evidence that the object came from a commercial aircraft, states the Western Australia Police Force.
Article continues below advertisement
Initially, it was determined the mystery object "could be from a foreign space launch vehicle." Two days later, the Australian Space Agency confirmed the object's origins.
"We have determined the object is most likely a solid rocket motor casing," the Australian Space Agency tweeted on July 19. "We're continuing the process of identifying the type of rocket & its origin through ongoing engagement with our global counterparts."
Where did the Australian beach mystery object come from?
Now that it's been concluded that the mystery object found in Australia is most likely a rocket motor casing, many speculate that it may have come from a 20-year-old Indian rocket that was used to launch a satellite, reports the Australian Broadcasting Corp (ABC).
Article continues below advertisement
"We're pretty sure, based on the shape and the size, it is an upper-stage engine from an Indian rocket that's used for a lot of different missions," European Space Agency engineer Andrea Boyd told ABC.
ABC also reports that there have been about 50 Indian satellite launch missions since the 1990s.
Article continues below advertisement
What is space junk?
Space junk is another term for man-made orbital debris from broken satellites and spacecraft in Earth's orbit. According to NASA, space junk can be as small as paint flecks and as large as nonfunctional spacecraft or abandoned launch vehicle stages.
NASA says the U.S. Department of Defense's global Space Surveillance Network (SSN) tracks more than 27,000 pieces of space junk. But there is much more debris floating in space that, while too small to be tracked, is "large enough to threaten human spaceflight and robotic missions."
Article continues below advertisement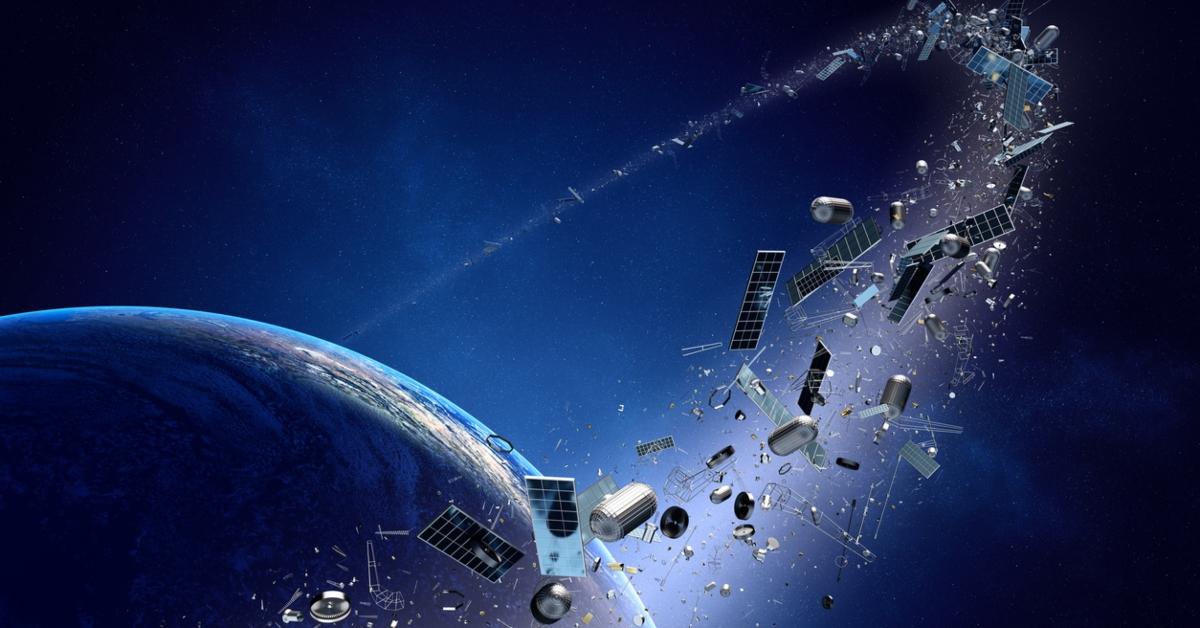 Is space junk dangerous?
Space junk is usually harmless to us on Earth unless a large piece reenters the Earth's atmosphere. In November 2022, CNN reported that remnants of a Chinese rocket booster plunged into the Pacific Ocean after falling from space. The Chinese rocket booster was 108 feet long and weighed about 22 metric tons in 2022.
Another rocket booster reportedly crashed into the moon in March 2022, possibly creating a new crater measuring about 65 feet wide. It was later determined that the rocket booster also came from a Chinese spacecraft.