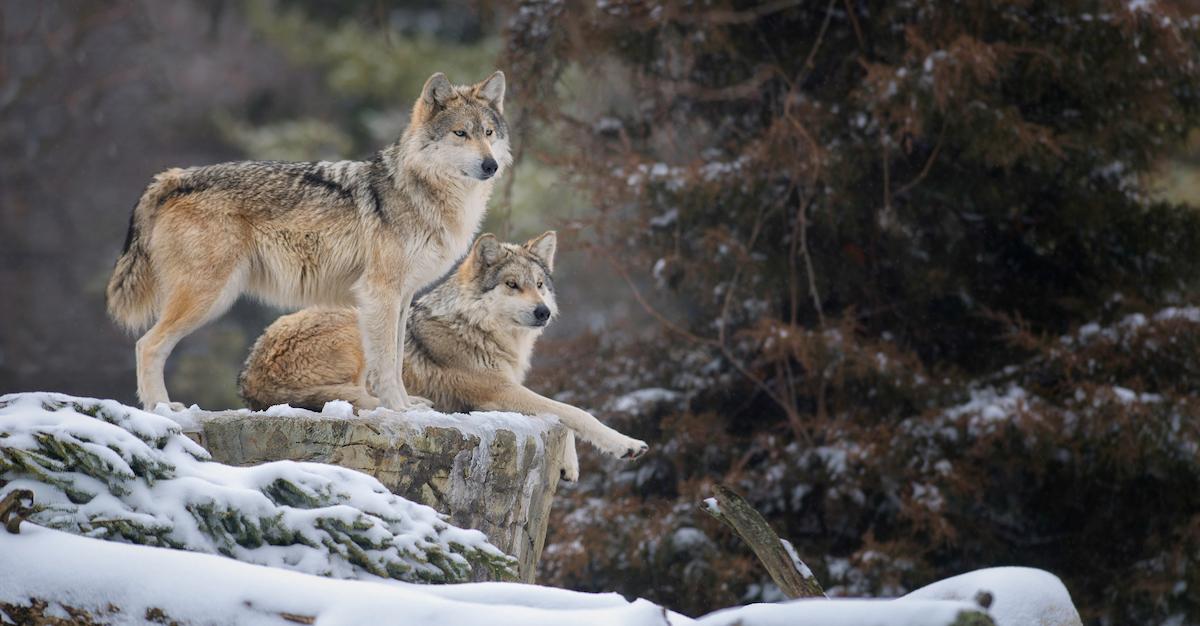 Protecting New Mexico's Coyotes Would Further Protect the Endangered Mexican Wolf
Why are so many Mexican wolves dying? The endangered subspecies is often mistaken for coyotes — so many are advocating to protect coyotes, too.
The endangered Mexican wolf population continues to wane, and conservationists want to do something about it.
Farmers in New Mexico and Arizona are constantly confusing the endangered species for coyotes. So in an effort to protect their livestock, they end up killing the federally protected mammal. Now, 14 conservation groups are now rallying against the FWS to also protect coyotes, in hopes of preventing Mexican wolves from being unlawfully killed.
Article continues below advertisement
"If people are going to confuse Mexican wolves for coyotes, then it makes sense to stop killing coyotes in the areas where wolves are recovering," Greta Anderson, deputy director of Western Watersheds Project stated. "Our petition demonstrates that even professional wildlife agents can't seem to tell wolves and coyotes apart, and if it's that hard to really distinguish between the species, both should be protected by the Endangered Species Act for the sake of the rare Mexican wolf."
"Illegal mortality is the leading cause of death for Mexican wolves, and research shows that undetected wolf deaths are likely as high or higher than known wolf poaching. Outlawing coyote killing in occupied wolf habitat in Arizona and New Mexico would be a simple and effective solution to the poaching problem," David Parsons, former coordinator of the Mexican wolf recovery program also stated. "If the Service won't prosecute people for mistakenly killing wolves, making it illegal to kill coyotes should substantially reduce Lobo mortalities."
Article continues below advertisement
How can we protect the rare Mexican gray wolf? By protecting coyotes.
Environmentalists are urging feds to enlist coyotes as an endangered species throughout Arizona in Mexico — to actually protect the incredibly rare Mexican gray wolf.
Conservation groups petitioned U.S. Interior Secretary Deb Haaland and the USFWS to protect them, as many are mistaken for Mexican gray wolves. As this is the leading cause of death of the highly endangered species, according to AP News, doing so could exponentially reduce unwarranted wolf deaths.
Article continues below advertisement
"It's an outrage that merely saying 'I thought it was a coyote' serves as a get-out-of-jail-free card for anyone who shoots one of these highly imperiled animals," Michael Robinson from the Center for Biological Diversity stated via AP News.
Farmers argue wolf reintroduction leads to increased livestock losses, but the Mexican wolf population is still very small, with only about 196 left in New Mexico and Arizona — despite this being the sixth year in a row the population has increased.
And although the government has made efforts to educate hunters to learn the difference, nothing has helped. Since coyotes can be hunted year-round, with no hunting license in both southwestern states, this is a last resort that would hopefully protect both beloved animals of prey, in turn.
Article continues below advertisement
What are the arguments against enlisting coyotes, to protect Mexican gray wolves?
Protecting coyotes in the name of protecting the Mexican wolf, however, is considered controversial.
According to ABC News, Republican Sen. Crystal Diamond of Elephant Butte is just one politician that spoke out about the proposed idea. She noted her family lived on a ranch that was frequently roamed by wolves, and thus, has deemed the coyote proposal "absurd." She called it "weaponization" of the Endangered Species Act, on behalf of environmentalists.
"What this does is further discredit the value and the intent of what the Endangered Species Act was created to do," she stated, per ABC News.
As of right now, the USFWS has not expressed whether the petition will be considered or not. However, our fingers are crossed on behalf of New Mexico and Arizona's biodiversity, and for the highly endangered wolf subspecies.